Boodle Art & Beyond, and its sister, Dessert Studio and Restohaus recently opened their doors to Cebu's discriminating palate, which added a unique spin to the already diverse and rich culinary options in the metro.
The idea-turned-family-business originally started at an extra space at home. When the business gained traction and interests from neighbors, friends, and travelers, the home space could not accommodate the surge. The plan of expanding became perspicuous.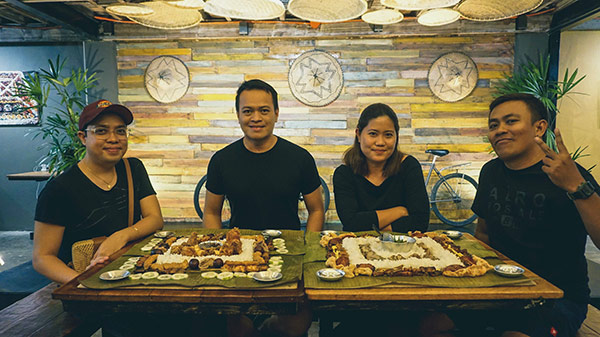 The family purchased an unused warehouse and converted it into a chic restaurant. The wooden shelving is made into fine furniture. The lighting fixtures set the comforting ambiance, while the boodle art paintings that hang on its walls reinforces the kind of creativity that the restaurant offers. Each element added a stunning compliment to the interior design.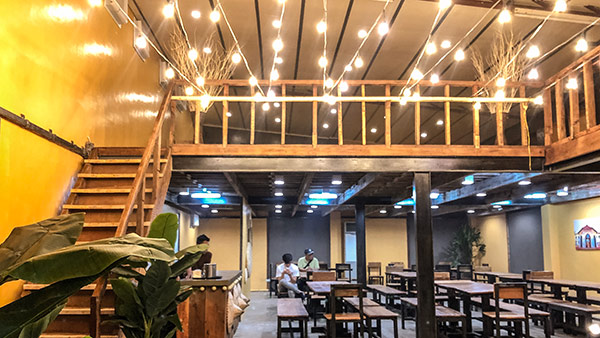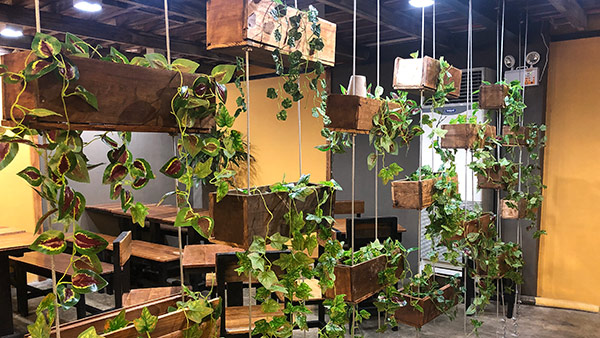 Boodle Fight
Boodle Art & Beyond is inspired on Boodle fight, a Philippine army's group-dining style. Troops gather around a long table where food options are spread across. Rice is normally at the center while the dishes, such as fried or grilled seafood or meat, lumpia, pancit, chicken or pork adobo, and tropical fruit slices are distributed around it. Eating is done bare handedly.
Though the food choices on the table may have evolved as time passes, the camaraderie gets stronger and the experience becomes a lot noteworthy. Ranks and social classes do not matter around the boodle fight table. You eat together and finish all the food together.
Boodle Art & Beyond
Boodle Art & Beyond offers various boodle fight package for guests. Each package comes with unlimited rice and are good for four persons. You can bring another person but you need to shell out 100-peso more. The additional person will enjoy the unli rice as well.
The seafood and meat options are the following:
Meaty Lovers (₱ 1,800)
All Time Fave (₱ 1,800)
Land & Sea (₱ 2,200)
Oceanic (₱ 2,800)
Meaty Lovers
The meaty lovers package came with chicharong bulaklak, lechon kawali, grilled pork belly, baked chicken, chicken cracklings, and Bicol express.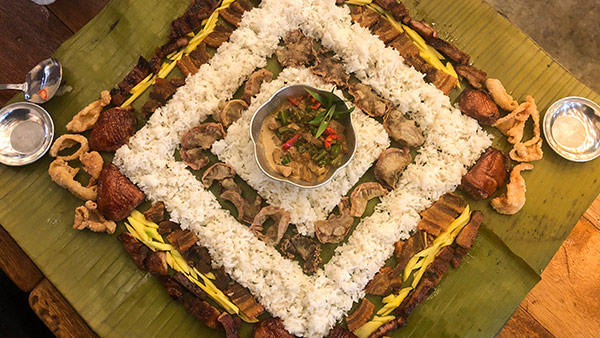 All Time Fave
When you order the All Time Fave package, expect fish balls, tempura (Cebuano style), ngohiong, pork barbecue, fried atay and batikon, chicharong bulaklak, chorizo, and crispy chicken.
Land & Sea
For the Lad & Sea package, you can enjoy the chicken cracklings, buttered shrimps, grilled squid, crispy bangus, grilled pork belly, kinilaw (na isda), and baked scallops.
Oceanic
For the Oceanic package, you will get calamari, crablets, inutakang alimango, steamed crabs, buttered shrimps, grilled squid, fish kebob, and baked scallops.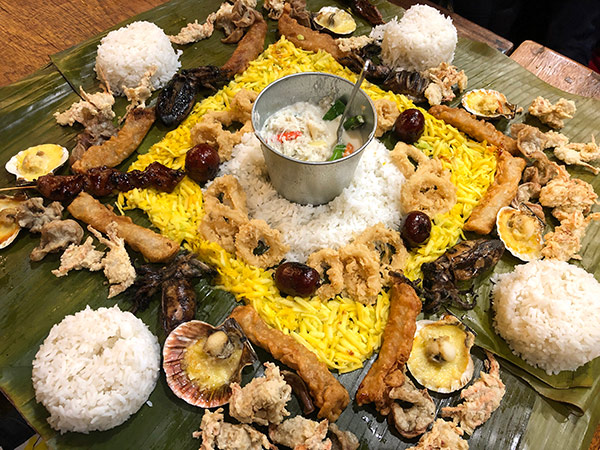 You may also customize your boodle. Just make sure the you contact the restaurant in advance.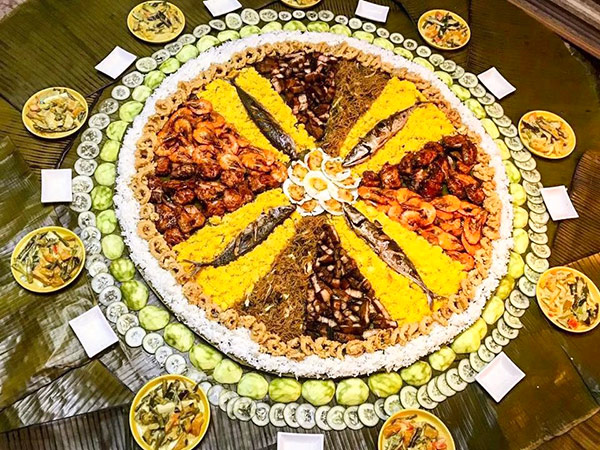 Dessert Studio and Restohaus
Dessert Studio seats adjacent to Boodle Art & Beyond. The restohaus offers specialty cakes that are made from real fruit. They also serve hot brews and set meals.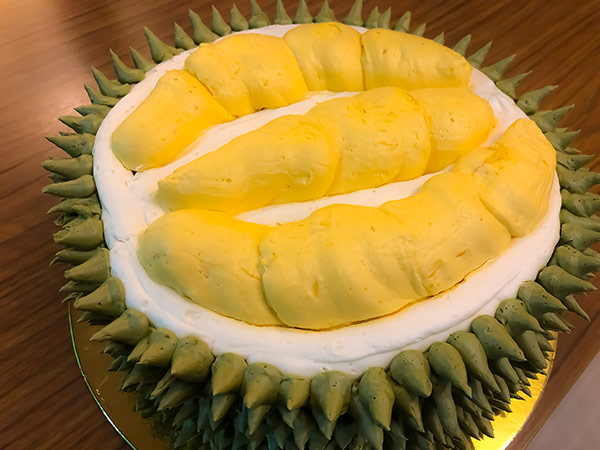 Durian, jackfruit, and avocado cakes are must-try. They also have kiwi, strawberry, blueberry cheesecakes, and many more.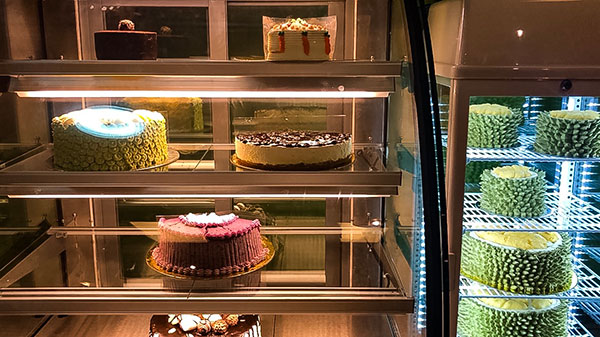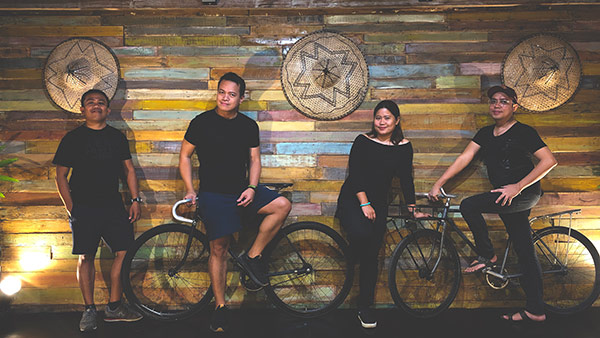 Bookings and Reservations
Boodle Art normally takes time to prepare. We suggest that you reserve at least 4 hours before your visit, so by the time you arrive at the restaurant, the food is ready to be served.
For bookings, you may visit Boodle Art & Beyond's Facebook page or call any of the following numbers:
(032) 236 0640
(032) 516 3270
+63 997 075 6705
+63 932 725 0078
Address: 10 Tres Borces Extension, Brgy Kasambagan, Cebu City