The second to the last stop of the first ever Cebu Food Crawl, a foodie event organized by Cebu Bloggers' Society (CBS), was Gibbs Hot Wings.
I did not have any expectation. But the idea of having a hot and spicy treat after almost a day of great munch is worth anticipating.
After our coffee break, we were driven to the Streetscape Lifestyle Mall branch of the Gibbs. Coy Oliva, the restaurant owner, warmly greeted us. He even talked about the humble beginnings of the business.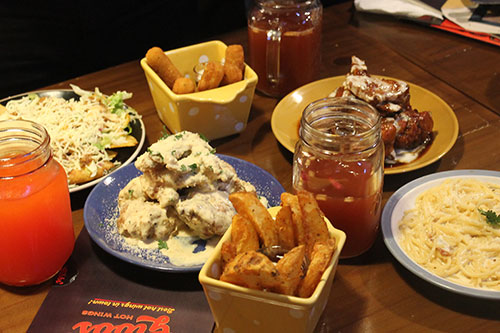 "We started simple. Our hot wing have been the pulutan (finger food) of choice for me and my friends whenever we get together. Then my friends started to ask us to make more for them to bring to their family or friends. Eventually, they started ordering…"

– Coy Oliva
And so, they open a shop at an extra space at their home. Then people started coming to try their hot wings. At present, they successfully put up a second branch in Banilad.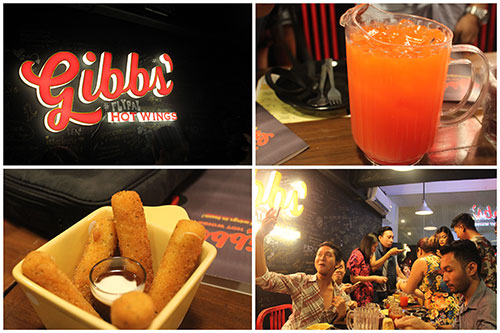 After the story telling, starters were served. The potato wedges, mozza sticks, and tacos partnered with house blend juice were extra ordinary.
We were also able to try the yummy pasta on their menu; the bacon n' mushroom carbonara and spag n' meatballs.
Gibbs Hot Wings Signatures
Afterwards, the mains where served according to increasing hotness.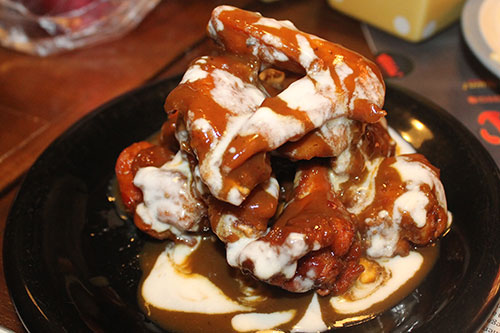 The spicy honey garlic wings gave a perfect blend of creaminess, sweetness, and spiciness. It was like a first love. The sweetness was a bit shy, the creaminess was just enough, and the spiciness was not as passionate.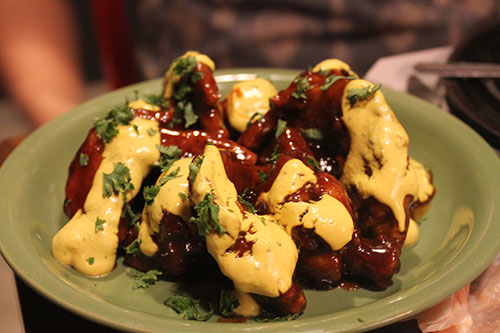 In a moment, a plate of hickory mustard wings was carefully laid to the dish-filled table. Shutters started clicking even it was still on the hands of the waiter. And then, it slowly disappeared.
The famous smoked pork rib recipe made the chicken wing dish extra special. The flavor actually fits. It was like a strong sensation that could burst anytime.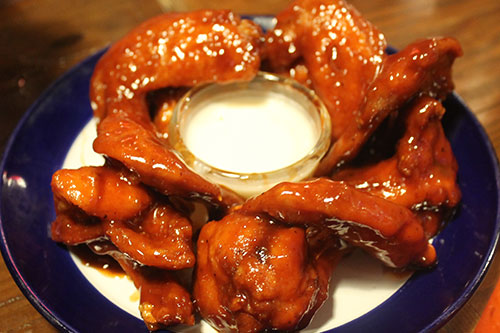 Gibbs Hot Wings, the restaurant's specialty, comes in three "hotness" levels: hot, original, and insanely hot. They also Gibbs' hot wings level 4 and Gibbs hot wings level 5, which of course are way hotter. You must take extra caution when trying levels 4 and 5 especially if you have low scoville tolerance.
I wasn't sure what level I tasted but that was super hot. Not everyone had able to take another bite. Some even asked for ice cream, which were readily available, to flush the chili sting.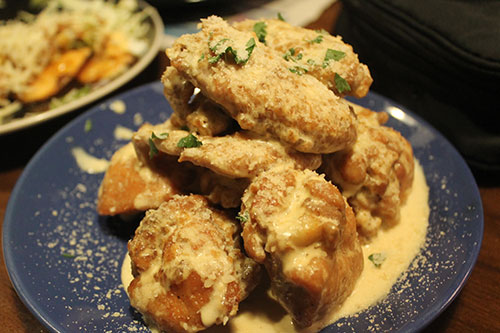 If you have enough of the hot wings, you can also try their Angel Wings which are cooked in cream, garlic, and cheese. It was tender, creamy, and yummy.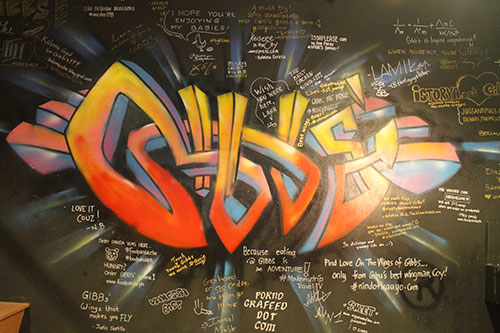 Gibbs' hot wings surely serves one of the best hot wings in town.
You may visit Gibbs Hot Wings at the following locations:
2/F Streetscape Lifestyle Mall
Paseo Saturnino, Ma. Luisa Road,
Banila Cebu City
Contact #: +63 (32) 349 2103 | +63 922 642 4888
Main Branch
Holy Family Village 2,
Banilad , Cebu City
Contact #: +63 (32) 268 6967 | +63 922 265 6818
You may also check their Facebook page at: https://www.facebook.com/gibbshotwings