I'm easily get dragged lately. My friends' invites don't need some sort of persuasion and my nods don't show any stain of hesitation. It is even surprising that I was able to exchange sleeping (my favorite pastime ever) with exhausting activities. Ironic, isn't it? Well, as they say, we have to get out from our comfort zones sometimes – and I am taking it literally – we were going for Binondo food trip.
Before I went to Manila's Chinatown (Binondo), I was engage in a night-long technical documentation scuffle. Yeah, I do technical documentation for a living and the job is nocturnal. That is why I almost forgot my creative writing. Now, I am trying hard to mend it back. Going back to the topic, I attended a drinking session after my shift, a treat by a friend who received her regularization papers that night. I went home to bathe and change then proceeded to Binondo afterwards.
The group agreed to meet in San Lorenzo Ruiz Basilica. I was late, as expected, but was not the last one to arrive. We made an agreement beforehand that whoever comes late will treat the group with dumplings at Dong Bei which I didn't conform (That is what I remembered Marx!). Marx, the organizer and host arrived too late (nearly an hour behind schedule) and the agreement Marx made became a subject of waggery.
Wai Ying
[Address: 810 Benavides St., (near corner Salazar St.) Binondo Manila]
First stop, Wai Ying. Hakaw (₱50.00/4 pieces) is the most popular in Wai Ying's menu, a dimsun made of shrimp, shrimp, and shrimp and of course with their special ingredients. Their siomai is also a hard to beat when we talk about taste and flavor. Though a little costlier than those sold in carts, it was still cheap (₱50.00/4 pieces) for its quality. It wasn't only made with ground meat and flour but with pieces…PIECES of shrimps.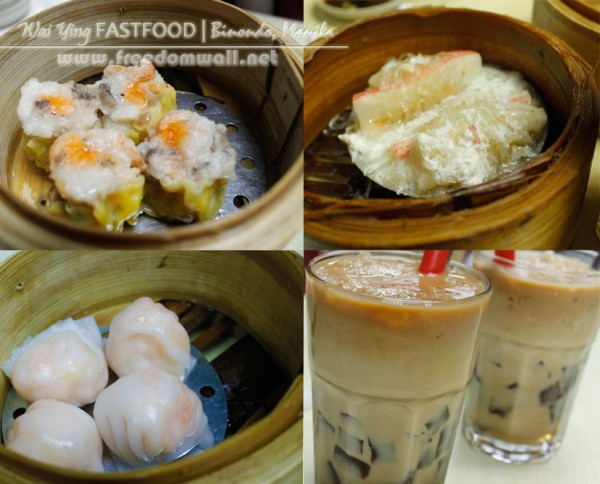 If you want to complete you meal, try their fried rice. A glass of milk tea with jelly (₱60.00) is a good compliment. If you're a fan of crab, you must include seafood roll (made from crab sticks, egg, and misua noodles)  in your order.
Dong Bei Dumplings
[Address: 642 ET. Yuchengco St. cor. V. Tytana St., Binondo, Manila]
The waggery stopped here. The ringleader of the the-late-will-treat-us-dumplings agreement and the last one to arrive gave up this time and treated us with kuchay (garlic chives) dumplings (₱100.00). The fried pancake dumpling (₱100.00) is also a must-try.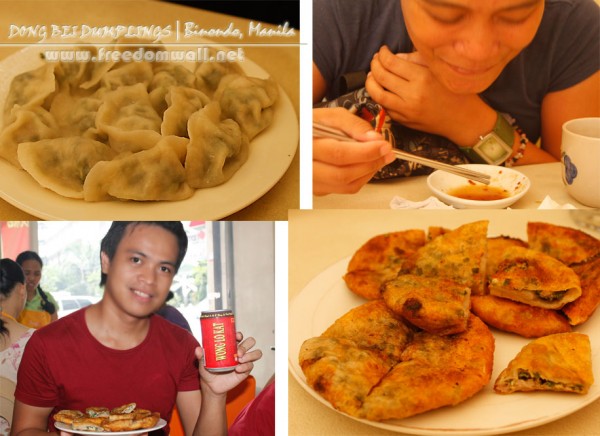 After the spicy chomp, take a gulp of Wong Lo Kat (₱35.00) to refresh.
LGA Fastfood
[Address: 847-G Ongpin St., (near the Manila-Beijing Friendship Bridge) Sta. Cruz, Manila]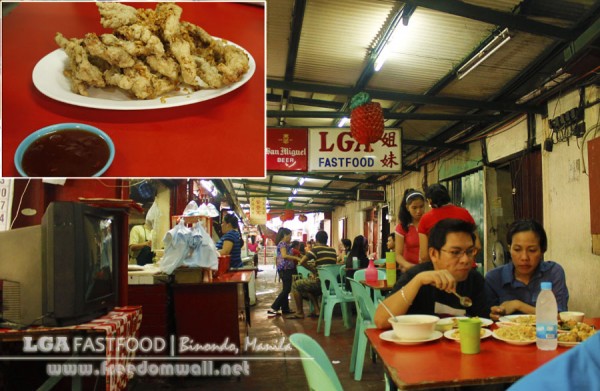 If you want to try something bizarre, order a plate of fried frog legs (₱150-160) at LGA Fastfood. I am not a fan of exotic meat since my taste buds usually take a lot of time to accommodate the new flavor. Or, it is a psychological rejection, wherein I cannot accept the idea of serving frogs as food. But for that sake of the dealings and since boys don't cry, I tried. It was a nice experience though (no sleepless night afterwards). Maybe I need some mental conditioning to unforcefully succumb the flavor of these exotic goodies.
Shining Star Restaurant
[Address: 739 Ongpin St. cor Salazar St., Binondo Manila]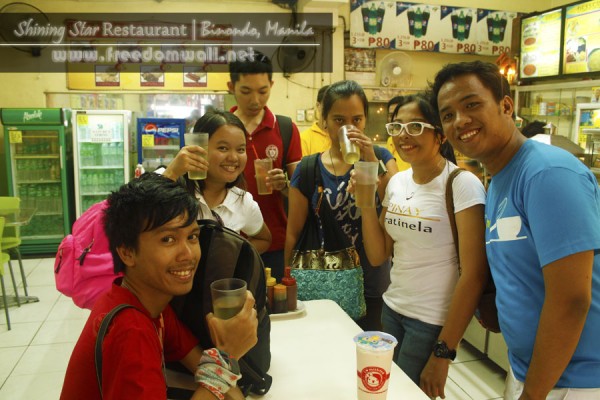 After a peculiar frog munch, we proceeded to Shining Star Restaurant to refresh with their healthy cogon grass (Imperata cylindrica) root juice (₱15.00). The taste was't too odd for me since I tried braised bark and root juices before. Don't expect a highly good taste but exemplary health benefits. Extracts of the cogon grass root is believed to lower blood pressure, remedy acute nephritis (a kidney disease), and many more.
Tasty Dumplings
[Address: 620 Ongpin St., Binondo, Manila]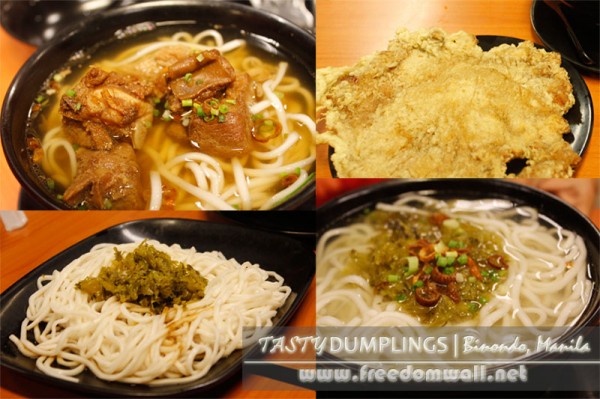 We were at Tasty Dumplings but we ordered noodles instead of dumplings. Porchop Noodles (₱115.00) is their best seller and most popular. I had no idea why but their porchop tasted a lot more flavorful than any other porkchops in town. Spare ribs noodles (₱115.00) is also recommended.
At Tasty Dumplings, the trippers white flags are half raised.
Rosso Asian Kitchen
[Address: Sabino B. Padilla (former Gandara) St., Santa Cruz, Manila (near the corner of Ongpin Street)]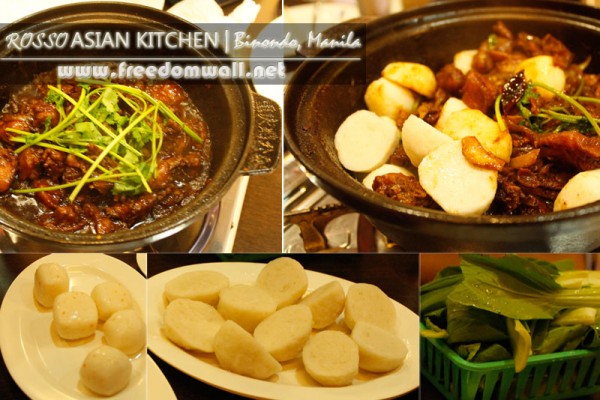 The supposed 2nd to the last stop of the original seven foodie stops had climaxed our trip after almost everybody raised their white flags (except Christian. I hope he won't bite me for divulging this secret). A spicy chicken hotpot with celery, five cheese balls (yes, only five and we're seven), squid balls, and pechay toppings was a satisfying munch. At ₱650.00++, the shabu-shabu made our day but it will only be fully complete when they added two more cheese balls. This may be the reason why Christian craved for more and decided to stop in another resto after we parted ways.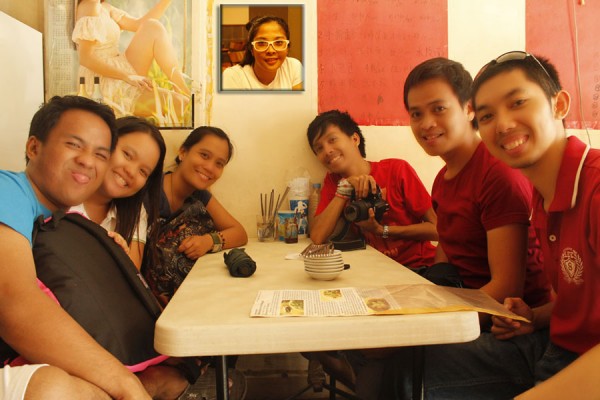 We scheduled the trip at 12:30PM, started at 1:00PM, and separated passed 6:00PM. I should not forget to mention that each of us spent less than ₱400.00 for the entire food trip (excluding our fares to get there).