To put the record straight, the 3,000-peso budget excludes my round trip airfare, which I got for ₱1,500 and my expenses and accommodation in Puerto Princesa, which falls on another budgeting category.
Expense Summary
To give you a quick summary, refer to the following table.
| Expense Description | Amount |
| --- | --- |
| Cherry Bus: Puerto Princesa to El Nido | ₱370 |
| First Night Accommodation: Our Melting Pot Hostel EL Nido | Free |
| Day 1 English Breakfast: OG's Pension House and Restaurant | ₱230 |
| Combination Tour: Tours A & C of Northern Hope Tours | ₱1500 |
| Day 1 Dinner | ₱180 |
| Belle île's Mango-Nutella Crepe (you must try this) | ₱100 |
| Second Night Accommodation: Our Melting Pot Hostel EL Nido | Free |
| Day 2 Breakfast | ₱70 |
| Belle île's Condensada Banana Crepe (you must try this, too) | ₱100 |
| Day 2 Lunch | ₱70 |
| Cherry Bus: El Nido to Puerto Princesa | ₱370 |
| Total: | ₱2990 |
I only spent two days in El Nido, so that is probably one of the reasons why I kept my budget at minimum.

After landing at Puerto Princesa International Airport, I took a quick stroll around the city and searched for something interesting within. Then I noticed that the city was too dark at 6:30PM. The street lights were off and the business establishments closed early—brownout engulfed the entire city. I found it hard to move around the unlit dusk, so I decided to proceed to San Jose Bus terminal. I shelled out ₱25 for the trike fare, which I did not include in the table above.
Since the next bus on queue was a non-A/C, I waited for another which was scheduled to leave the following hour and a half. I didn't have that much sleep. Hence, I really needed a comfortable ride for me to, at least, relax a bit while on the road. I paid ₱370 for the fare.
The 5 to 6-hour ride has two designated pee-stops, one in Roxas, which is 2-hours away, and the other is in Taytay.
Early Morning Walk at El Nido Town Proper
I arrived in El Nido's Poblacion terminal past two in the morning. The town proper was still a kilometer away. When I saw a lady tourist declined a tricycle ride and walked towards the town all by herself, I followed suit. Since I was really shy, I maintained a significant distance.
Tada! A Surprise at Our Melting Pot Hostel
I reached the doors of Our Melting Pot Hostel at 3AM. I was quite surprised with its look. It was still under-construction. There was no reception, no guards, nor any welcoming scent. A guy, who arrived few minutes before me, greeted me when I opened the door. I thought he was a guest too. After our short conversation, I learned that he was there to bring some construction supplies. He woke the young caretaker who was sleeping in an unfurnished room. The caretaker was surprised when I arrived earlier than expected. Well, It wasn't the plan though. The brownout in Puerto Princesa made me decide to leave the city early.
He showed me a dorm type room, the only room that was habitable that moment, and then allowed me to stay in a bed, without mentioning a fee. I thought, maybe its free. Well, I was just there to sleep for less than 4 hours and I did not avail any of their promised amenities. And yes, it was free.
Awesome Breakfast, But Duh, That was Expensive!
I walked around the town early in the morning. It was pretty small that I explored it for an hour. The beach wasn't that impressive, it looked like being invaded by the shop owners. I took my expensive breakfast (yes, I believe that a ₱230-meal is expensive) at one of El Nido's fine beachfront restaurants—OG's Pension and Restaurants.
Haggling for the Tour. I saved half. Jealous?
Before going back to the hostel, I dropped by at the booking office of Northern Hope Tours to confirm my attendance. I initially booked for Tour A but when I noticed from their booking board that they offer combination tours, I took the sheer opportunity to join, which they allowed. That also meant savings for me. Tour A usually costs ₱1,200 while Tour C is around ₱1,400. I only paid ₱1500 for both which also included free use of the snorkel, life vest, and a sumptuous lunch.
Island Hopping! Simply Amazing
Joining me in the Island Hopping tour were the travelling couples Mel and Arrel and the newly weds Nizah and Gymland. They were cool but I was in an awesomeness moderation. I lost a tooth a week before that trip which caused me some inferiority complex, minimizing my talking powers. We also had a cool and ever handsome boatman, Captain Jones, and an accommodating guide. I forgot his name, but he is Captain Jone's son.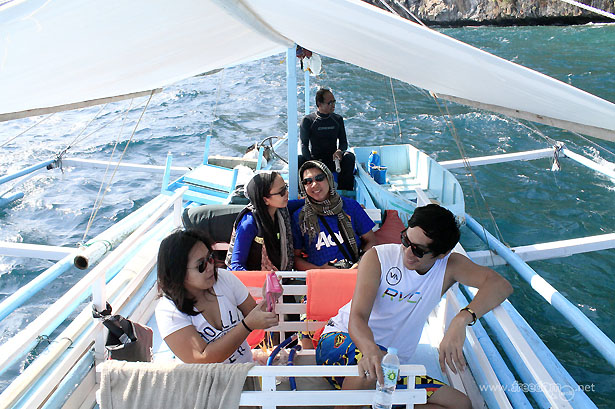 We hovered at one side of the helicopter island first and peeked at Hidden Beach, but we weren't able to dock because the waves weren't cooperative that time.
Captain Jones slowly and carefully navigated the rough sea to bring us to the other side of Matinloc Island, the calmer Tapiutan Straight. We stopped at Matinloc Shrine, and then spent some leisurely moments to capture every details of its astounding beauty. The final stop of Tour C was the Talisay Beach in Tapiutan Island. It was where we had our lunch and did some great snorkeling activities.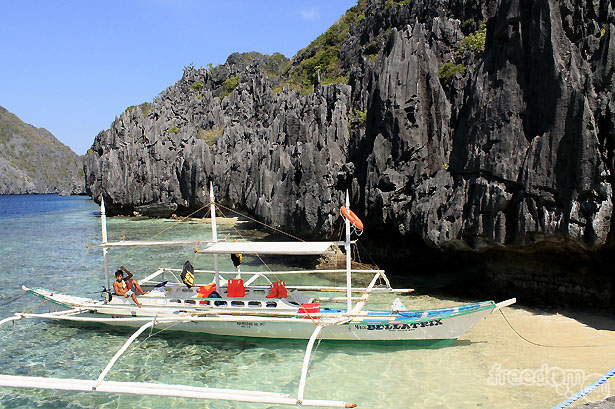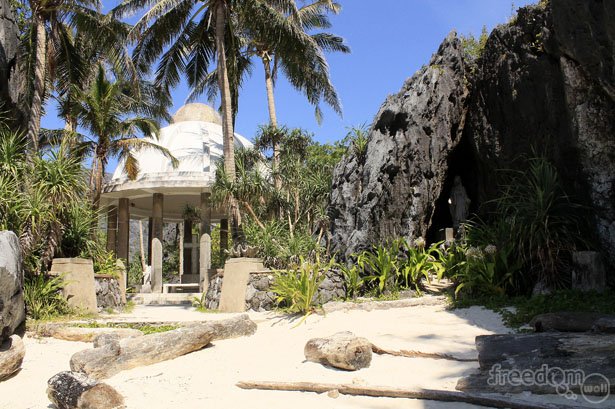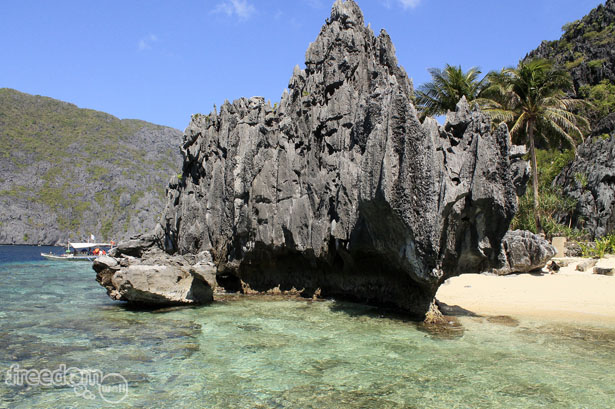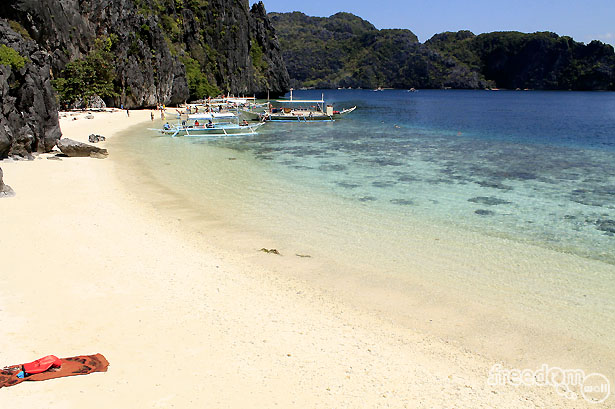 We headed to the second leg of our tour after our lunch. We swam across a rock hole just to see the strip of the Secret Beach. I am an adventurous type of guy and any little spot that cost an effort to see is pretty awesome for me. I got a little cut when I hit a barnacle-infested rock, but it was a small price to pay.
We also visited the Secret, the Big, and the Small Lagoons. Since I did not bring any protection to water-proof my cam, I missed a part of my job to document the places we'd been. I saw Mel brought a dry bag but I was shy to borrow it. It was only on the later part of the tour when I eventually used her wet-shield.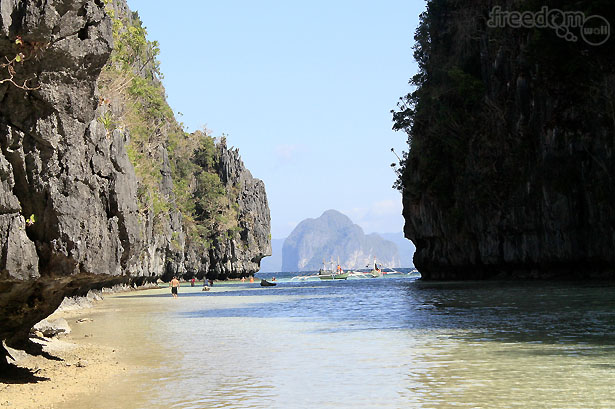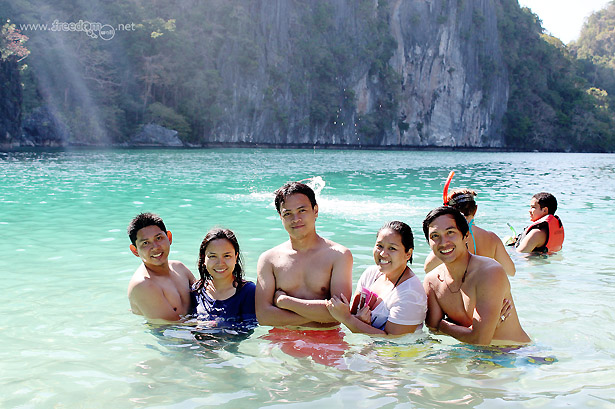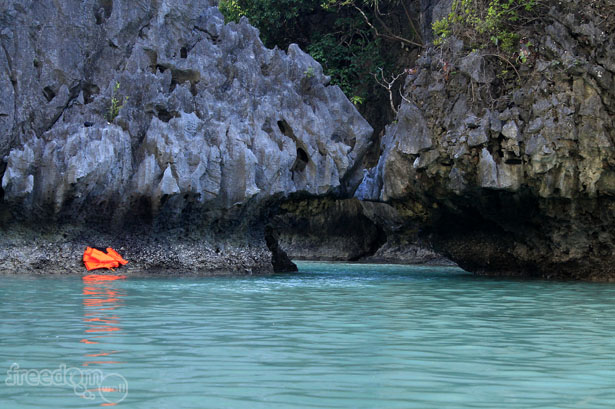 We parted ways after the island hopping tour, each filled with accouterments, memories of the awesome day of fun and adventure.
Parting Ways
I returned to the Our Melting Pot immediately after the tour. It was already past five in the afternoon, so I expected the power to be up. By the way, electricity in El Nido is available only from 02:00PM to 06:00AM. But when I reached the hostel, the place was dark and sultry. The reason [they gave] was, there's a Municipal activity so the electricity of some residents and select commercial establishments are cut to channel the power supply to the activity grounds. Our Melting Pot was one of those select few.
Using my phone's flash light, I was able to take a shower and change clothes. They said the lights would return by 11PM, so I went out to have my dinner. I also tried the Banana-Condensada crepe of Belle Île. It tasted really good.
I returned an hour to the hostel around 10PM. I was dog-tired already so I tried to endure the heat trying to sleep. It wasn't a success, hence, I ended up waiting for that elusive cool air from the window-type inverter. The owner visited us from time to time to check us, and offered to take us to any hostels available in town. It was just a hassle to repack our stuff, so we declined. Then later, he offered a refund to those who already paid their accommodation. He also approached me and told me that I don't need to pay mine. Yay! That was again free.
At 11PM, Tada! the lights eventually went on. I then settled myself and felt every cool breeze from the air-conditioning unit.
I woke up when the power went off [again] at 06AM. So I went out and spent some ample time at the beach. I was thinking to take Tour B, but I was worried that I couldn't get a quality sleep before going back to Manila. In the end, I decided to return to Puerto Princesa. I still need to report to the office few hours after my arrival in Manila so a better sleep is very important on my last day.
I took the 09:00AM bus to Puerto Princesa and arrived in the city after 6 hours.
It was my first time in El Nido and it was memorable, even though I traveled alone. Captain Jones, his son, Mel, Arrel, Nizah, and Gymland were just few of the interesting people I met and had a fun with during that trip.