Palawan, dubbed as Philippines' last frontier, is probably the country's most ecologically-diverse, and its most stunning group of islands. One of the reasons that make the province truly a wonder is El Nido, a municipality situated at the main island's northern tip. It is a host to a conglomeration of imposing islands. White strips adorn the edges of its verdant mounds that are surrounded with perfectly clear, aquamarine waters.
The karst massifs, on the other hand, are towering, emanating pride and greatness of mother nature. This, together with the marine marvels below its seas and gorgeous white stretches continuously draw local and international tourists of any income classes.
One of these days, you may find yourself wading through its shallow coasts or sitting on the edge of an outrigger boat waiting excitedly for your next island stop.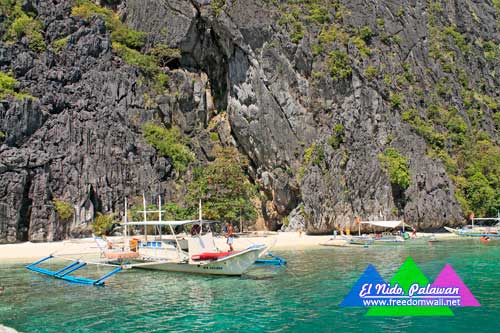 Getting to El Nido may or may not require you a fortune. That will completely depend on your planning and bargaining skills. You may find the guide below handy.
How to get There
The fastest way to get to El Nido from Manila is expensive. But if you have the cash, you can book a flight with Island Transvoyager, Inc. (ITI) or with AirSwift. ITI has daily Manila (MNL)-El Nido (ENI) flights with Manila departures at 07:00AM, 11:00AM, and 03:00PM. Return flights are scheduled at 09:00AM, 01:00PM, and 05:00PM. One-way ticket costs around ₱6,750. AirSwift, on the other hand, leaves Manila at 03:15PM. El Nido to Manila flight departs at 12:55PM. AirSwift also service Cebu-El Nido and vise versa.
A cheaper option is to wait for a Manila (MNL)-Puerto Princesa (PPS) promo flight. Philippine Airlines, Cebu Pacific Air, and Air Asia offer daily flights to Puerto Princesa and occasionally run promotions wherein a two-way ticket may go down below ₱1,000.
From San Jose Bus terminal in Puerto Princesa, you can take either an A/C bus or van to El Nido. RoRo and Cherry bus lines offer trips every two hours wherein the two bus companies' departures alternate every hour. The UV Express/Van, on the other hand leaves when full. Fare starts at ₱370 for the bus while the van collects ₱400 – ₱500, depending on the season or volume of passengers. Travel time is 6 hours.
You can opt to take a ferry from Manila to either Coron or Puerto Princesa but this will eat a lot of your time.
If you are coming from Coron, you can ask around the town for boat trips to El Nido. Fare is usually ₱1,500 for locals and ₱2,500 for foreigners.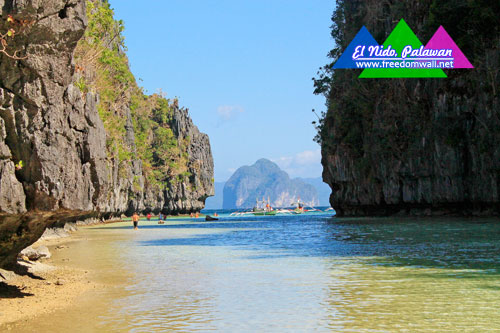 Things to Do in El Nido
Island Hopping
Tourists visit El Nido for island hopping. The Municipal Tourism Office had able to find a way to organize the tours. They allow accredited boatmen and operators only to offer such tours.
The tour prices are standardized, however, select tour operators offer discounts especially when it is a lean season (off-peak).
Here are the tours that you may opt to go:
Tour A (Awesome Lagoons) = ₱1,200/pax

Big Lagoon
Small Lagoon
Secret Lagoon
Shimizu Island
Seven Cammandos Beach

Tour B (Caves and Coves) = ₱1,300/pax

Pinagbuyutan
Vigan and Snake Island
Cadugnon Point and Cave
Pinasil Island and Cathedral Cave
Pangalusian Island

Tour C (Hidden Beaches and Shrines) = ₱1,400/pax

Dilumacad and Helicopter Island
Talisay Beach (Tapiutan Island)
Matinloc Island and Shrine
Secret Beach (Matinloc Island)
Hidden beach (Matinloc Island)
Star Beach
Kulasa Beach (Matinloc Island)

Tour D (Island Beaches) = ₱1,200/pax

Bukal Island
Ipil Beach
Nat-Nat Beach
Cadlao Lagoon
Paradise Beach
The rates above already include lunch, but exclude the ₱200/person ETDF.
[infopane color="4″ icon="0049.png"]Note that before you can proceed with your tour, you have to settle the ₱200/person Eco-Tourism Development Fee (ETDF) which is good for up to 10 days of stay. You can pay this at any accredited tour operator.[/infopane]
Experience the Bird's eye view of EL Nido Bay at Taraw Peak
The Taraw Peak offers an enchanting panorama of El Nido. Defeat your fear and conquer the limestone mountain [or taraw in local dialect] of El Nido to see the entirety of this vibrant municipality.
You just need to shell out ₱500 for tour guide who can assist 2-3 persons for the challenging climb.
Have a Noteworthy Walk at Mangrove Eco Park
Only a few had experience this so far. Josiah, through his blog article; "Mangrove Eco Park in El Nido, Palawan, Philippines", seemed to enjoy the visit.
Beach bum at Nacpan and Calitang Twin Beaches and Maremegmeg Beach
Nacpan and Calitang twin beaches are just another stunning beaches in El Nido.  While the rest of the tourists flock to the island hopping tours, you can hire a trike to these beaches and enjoy the privy with your friends.
A trike to this beauty cost ₱1,500 while the  van cost around ₱2,500. You can book this transport at any accredited tour operator in town.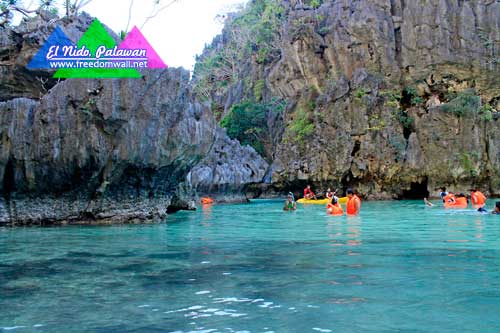 Where to Stay in El Nido
There are a lot of accommodation options to choose from in El Nido. Whether you are a budget conscious or just don't care where you gonna put your money, you can always find a place for your stay and enjoy the jaunt.
If you want pure luxury, class, and elegance on your beach bumming days, you can stay at El Nido Resorts in either Lagen or Miniloc Island. A stilt or beachfront cottage will just cost you more or less USD1,000.
If you visit on an off-peak season, you may be able to get up to 50% discount at Agoda.
If you are afraid of the island's silence to deafen you, you can book a room at El Nido Garden Resort or at El Nido Beach Hotel and experience both the rumble of the town and a pampering stay.
On the other hand, lodging houses and hostels are widely available at El Nido town proper. Here are your options.
You can also check more El Nido hotels at Agoda.
Notes, Tips, and Reminders
Electricity is available only from 02:00PM to 06:00AM the following day.
Bring enough cash for the tour. There are no ATMs available in the town.
Before you can proceed with your tour, you have to settle the ₱200/person Eco-Tourism Development Fee (ETDF) which is good for up to 10 days of stay. You can pay this at any accredited tour operator.
You should try Belle île's Condensada Banana Crepe and Mango-Nutella Crepe.
Travel as a group or join a small group to save on some expenses. For instance, the transportation to Nacpan and Calitang twin beaches and the tour guide to the Taraw Peak.
You can save if you bring your own snorkel and underwater cam, though these stuff are available for rent.
BE A RESPONSIBLE TRAVELER OR TOURIST. Always remember to internalize and follow the "traveler's creed": Leave nothing but footprints, take nothing but pictures, and kill nothing but time.
---
First published on April 26, 2015