Getting to Guimaras is an awfully long journey from Cebu. The two lengthy bus rides and the three rough see crossings discouraged my friends from joining. It was a rushed and spontaneous travel spree, so plane tickets were unjustly expensive. Eventually, only two of the more than five interested pushed through with the tour.
We headed to Cebu's North Bus Terminal few minutes past midnight to make sure that we can secure a seat of the earliest bus bound for Bacolod. To our dismay, the bus ran out of available seats really fast. We were an hour early of the scheduled departure, and yet, we were about to suffer a terrible discomfort.
The next bus on queue was scheduled to leave two hours and half after the first one. Taking it was not an option. Hence, even though we were really sleepy, we hopped on the first bus. We stood along the isle the entire trip. Well, not until Bacolod. We decided to cut the trip in San Carlos, and then transferred to a more spacious public transport.
We arrived in Bacolod past 10 in the morning, had our brunch, and then boarded a fast craft to Iloilo. From, Iloilo's Ferry Terminal, we transferred to Ortiz Wharf, where we boarded an outrigger to Jordan, Guimaras.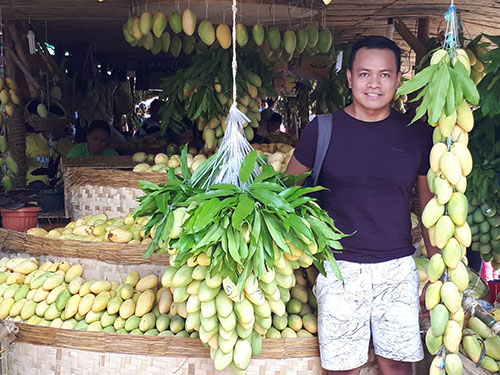 We finally set foot in Guimaras Island around three. Imagine—that was 11 hours or travel time from Cebu City.
Guimaras Island Tour
Instead of gracing the festival, we headed on a land tour first. Our first stop was Guimaras Windmills which are spread in the municipalities of San Lorenzo, Sibunag, and Nueva Valencia. Since San Lorenzo is a host to more than 20 of them—27 to be exact—we opted to see these huge freestanding metals from there. It was a butt-numbing ride, since we were cramped in a motorcycle, but was all worth the pain and time.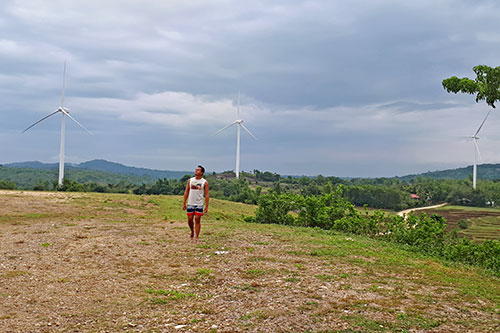 Manggahan Festival
We joined the locals in celebrating the Manggahan Festival after the windmill visit. Free concert, market bargains, street demonstrations, and mango all-you-can-eat were the festival highlights. I planned to join the unlimited mango-eating contest, but we arrived late for the day's registration. That was sad!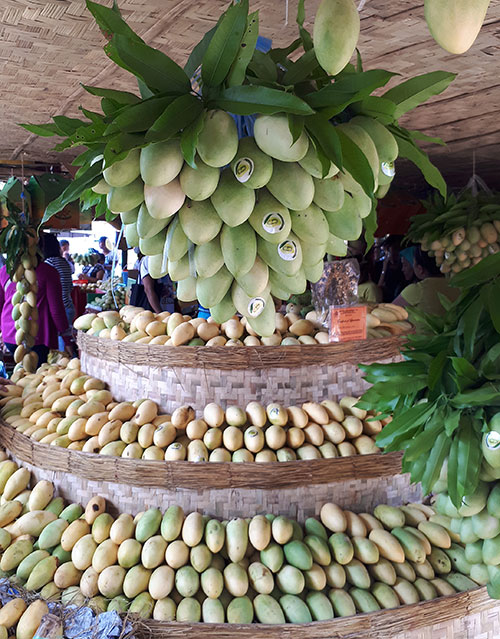 Trappist Abbey
And so, we headed to our next stop. Unfortunately, Trappist Abbey was close on that visit. We had double sad face here.
And because it was already late and our accommodation was still 45 minutes away, we decided to halt the land tour and proceeded directly to Barangay Tando in the municipality of Nueva Valencia. (Insert the third sad face here.)
Santa Ana Bay and Mango Plantation
Along the way, our habal-habal driver showed us Santa Ana Bay and the largest mango plantation in Guimaras province. We couldn't appreciate them at dusk.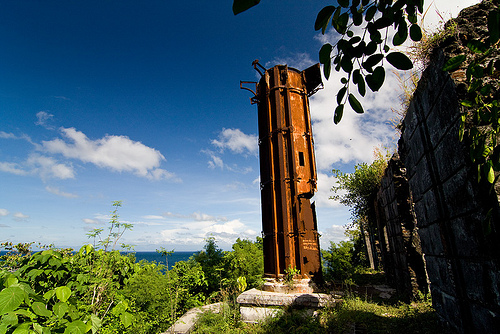 Guisi Lighthouse
The crossing going to Guisi Lighthouse was along the way while we were on our way to Nueva Valencia. Since it was almost dark, we decided to skip it. The unusual gloom partly influenced our decision as well.
Cabugan Adventure Resort
Cabugan Nature Resort was still a boat ride away from Sitio Duncaan in Barangay Tando. The resort offers free two-way boat ride for guests. Though it is not situated on a separate island, reaching the resort by foot is pretty difficult. It is surrounded with swaps and heavily-vegetated mangrove areas.
We were assigned to a Sunrise Room. By its name, it is facing the east. But it was not really a room but a cliff-side hut with rattan hammock on its receiving area, a bed for two, a ceiling fan, a back-up stand fan, and an en-suite toilet and bath. From our windows, we can see the amalgamation of small islands of Barangay Tando Bay.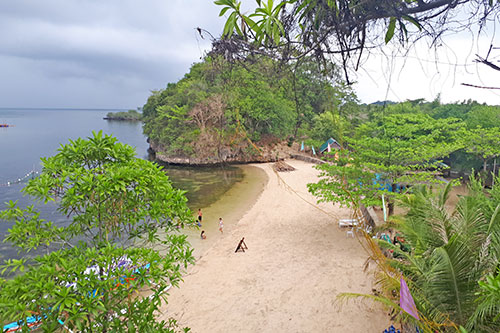 Cabugan also features a lagoon for kayaking, a sleek white strip for beach bumming, and a stunning vantage point for both the sunrise and sunset.
The resort staff can also arrange your island hopping activities. In fact, we were scheduled for one on the second day of our visit. Since it rained so hard, we decided to cancel the supposed highlight of our Guimaras visit.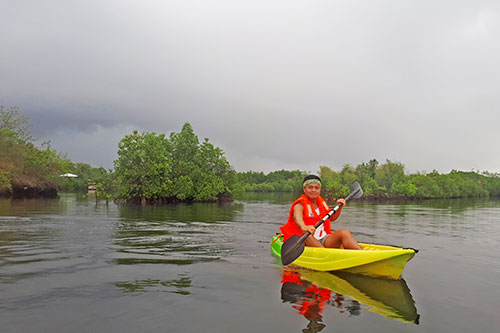 How to Get There
Depending on your origin, you can take a flight to Iloilo. Flights to Iloilo City are available from Cagayan de Oro, Cebu, Davao, General Santos, Manila, and Puerto Princesa. International flights from Hong Kong and Singapore are also available via Cebu Pacific Air.
If you are coming from Concepcion, return to the town proper, and then hop on a bus to Iloilo City.
If you are fresh from Islas de Gigantes, return to Estancia, and then hop on a bus to Iloilo City.
From the airport or bus terminal, take any available public transport to either Parola or Ortiz Wharf, and then transfer to an outrigger boat to either MacArthur's Wharf or Jordan Jetty Port.
The boat fare from Iloilo City to Guimaras is ₱14 if you travel at day time or ₱20 for night trip (6PM to 10PM). Travel time is less than 30 minutes.
Guimaras Tour Fees
To see the land-based attractions in Guimaras, you may opt to hire any of the following:
Habal-habal—₱700 to ₱1000, depending on your haggling skill. This can carry two and will take you to different sites in Guimaras.
Tricycle—₱1,200 to 1,500. Trikes can carry up to five individuals.
Multi-cab—₱2000 to ₱2500
If you want to go island hopping in Nueva Valencia, you can hire a small outrigger banca that can carry up to 10 individuals for ₱500 for the first two hours. You have to shell out ₱150 every hour after that if you extend your tour.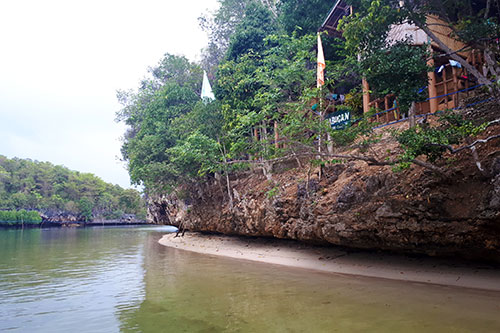 You can have your resort in Nueva Valencia to arrange your island hopping tour. If not, you can also rent boats at Barangay Tando.
Tips and Reminders
The attractions in Guimaras are spread across the island. It may take up to 45 minutes to get to another spot from one spot. Make sure you have allocated enough time. One day is enough for the land tour.
Allocate at least half of your day for island hopping.
The mango pizza in The Pitstop is a must-try. The Pitstop is located along the National Highway in San Miguel, Jordan, Guimaras.