Its beach may not be as powdery nor as popular as Boracay and Palawan's but its water is equally pristine and clear. The dark, dull rocks that protrude from the fine ivory sand set a grody yet spectacular contrast in the beach front. The slopy terrain of the coastal area offers an unusual experience wherein you can do quick sand surf, slide, or even build a hillside sand castle.
Cabongaoan Beach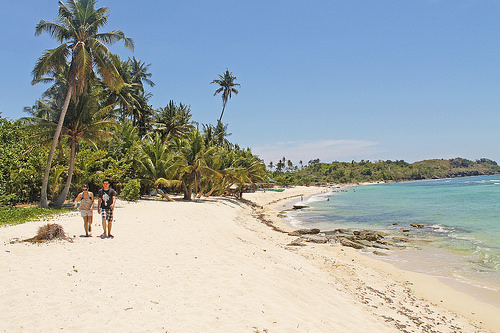 The surrounding community is slow-paced, opposite of the standard city living. Cabongaoan beach is relatively peaceful and the visitors are not significantly noticeable in number.
The Challenging Ride
However, reaching this privy poses a challenge. If you have your own wheels, make sure it is all-terrain or, at least, with high tires. Crossing the roads with a sedan needs extra cautions. You need to have your speed really slow while constantly on the look out for large holes and rocks. It would be lot more challenging during rainy season.
But if you are a budget nomad, you have to sustain an hour tricycle ride from the town proper to Cabongaoan beach. Half the road is paved but the other half is a bumpy drive.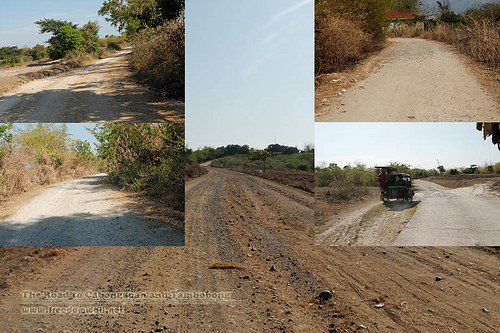 For footloose travelers like us who are always on the hunt of getaways, we face tough barriers with determination and inspiration that something exceptional is waiting in the other side.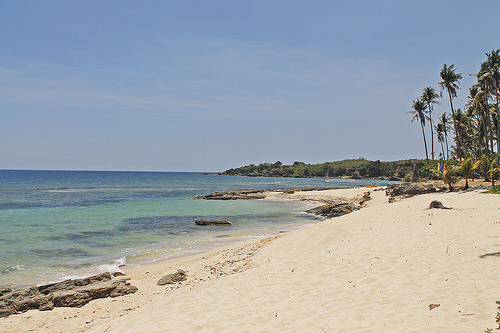 It was 4:00AM one Saturday morning when we boarded a Victory Liner bus bound for Alaminos City in Pangasinan. Travel time is usually 4 hours but our trip reached 5 hours. Then we took a jeepney from Alaminos to Burgos town where we bought some stuff and packed-lunch, and rented a tricycle to Cabongaoan.
It was already lunch time when arrived at beach so we ate first before we made a relaxing dip and took some photographic souvenirs.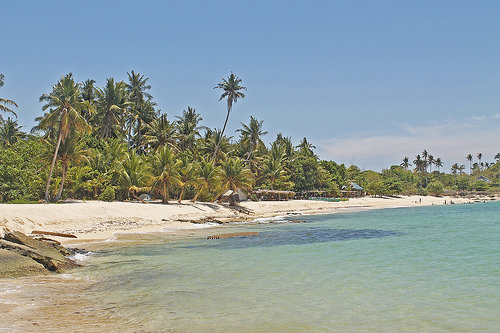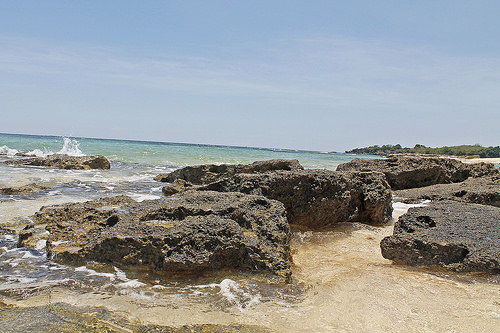 It was really an awesome experience with friends.
Our tour to Cabongaoan, by the way, was just a day side trip. Our actual destination is Tambobong Whitebeach, Culebra Island, and Cabacungan Cove in the neighboring town, Dasol, also in Pangasinan and I will talk about it in the next article.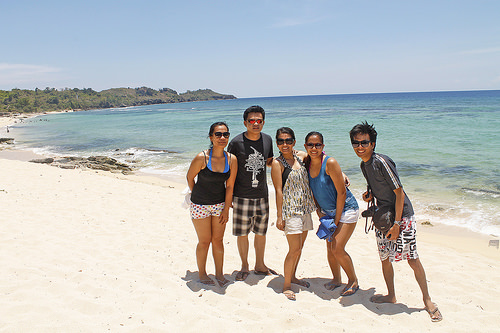 How to Get There
From Manila, board an Alaminos-bound bus. Victory Liner has trips every hour as early as 3:00AM and then get off at Alaminos terminal. Travel time is 4-5 hours and the fare is around ₱360.
From Alaminos City, hire a tricycle to the Burgos- or Dasol-bound jeepney. A ride to Burgos town proper will add another 45 minutes to your total travel time. The fare will not go above ₱30.
Get off at Burgos market to buy food and drinks for your group. As of this writing, sari-sari stores in the area sell very limited stuff, so make you bring all you need for your beach bumming experience.
From the market, you can hire a trike to Cabongaoan beach. A two-way trip cost around ₱500. The trike can carry up to 3 persons.
Suggested Itinerary
If you visit Cabongaon Beach, make the entire experience complete by including Culebra Island, Tambobong Beach, and Cabacungan Cove in your trip.
Visit the article entitled: Burgos and Dasol, Pangasinan Beach Bumming Itinerary and Guide, for more info. It includes an itinerary, a travel guide, tips, and other suggestions.
[toggle title="
Read more about our Burgos + Dasol, Pangasinan Tour
" state="opened"]
Soaking to Vent the Heat Out in Cabongaoan Beach, Burgos, Pangasinan
[/toggle]