I could feel the biting chill as we whisked along the narrow passage to Salagdoong beach. The morning sun was barely peeking through the amalgamation of leaves and branches forming an archway. Passing through the man-made Molave forest felt like royal.
According to my habal-habal driver, the man-made forest is 60 years in the making and stretches nearly two kilometers. The forest offers comforting shades and exhibits a relaxing ambiance to all beach goers.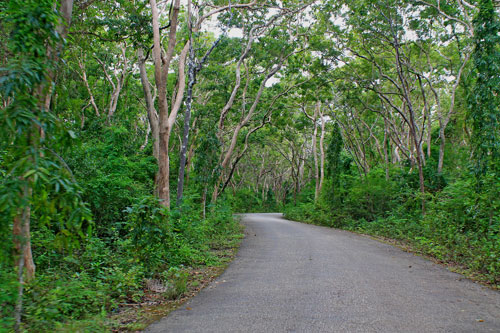 Salagdoong Beach Resort
The other end of the engineered woodland is Salagdoong Beach Resort. The government manages the area and they collect ₱70 as entrance fee. I am not sure it that already includes the parking fee for the motorcycle I rode to the reach the beach.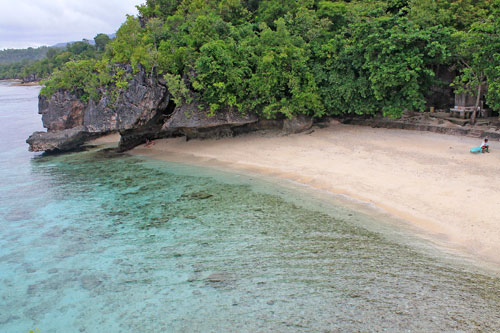 The sand isn't that imposing. It was coarse an pebbly. However, the water was stunningly clean and impressive, especially in the cliff diving area. Its color is like a gem which shades cover everything in between green and blue.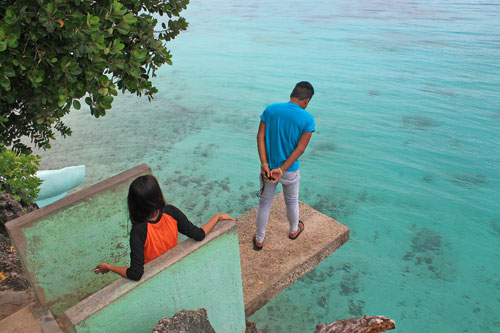 There are two cliff diving ledges available for guests and enthusiasts – the highest of which is 20 feet. The water below it is perfectly translucent making it to appear shallow – you would hesitate jumping off the platform. Peer pressure, however, would eventually convince you to take the leap.
Accommodations
Salagdoong Beach Resort has air-conditioned rooms for guests who would like to stay overnight. Hotel Agripino also operates in Salagdoong beach. For bookings, contact +63 910 200 2552, +63 906 822 9044, or +63 0918 771 4714.
Cottages, on the other hand are available for those who prefer day tours.
How to get there (commute)
The closest airport with commercial flights to Siquijor is the Dumaguete-Sibulan Airport. From Dumaguete City port, you can choose either a RoRo or a fast craft to the Municipalities of Siquijor and Larena. Fare starts from ₱150 up to ₱220 depending on the vessel type.
From either Larena or Siquijor, you can rent a habal-habal to take you to Salagdoong Beach. Please note that the closest port to Salagdoong beach is the port of Larena.
There is a chartered (non-scheduled air taxi) flight from the General Aviation Terminal of the Mactan-Cebu International Airport to Siquijor. This is offered by Midsea Express using BN 2A-21 Islander plane. The fare can be divided between 8 passengers (max). You can contact Midsea Express via: (032) 512 4241, (032) 495 6976, or +63 949 894 1129.