Whenever I travel, excitement always wakes me earlier than usual, no matter how tired I was the night before. My visit to Candi Prambanan is schedule at 6AM but I was wide awake at 4 o'clock. I had finished all the preparations and I couldn't go back to sleep so I had to kill the time watching unfamiliar television shows.
At 5:30, I left the hotel and walked towards the closest TransJogja Station which I pre-determined during my research. It was 10 minutes walk. I asked the station master for directions and he was accommodating enough to inform on what Bus to ride and which station to transfer. That was easy! I reached Prambanan few minutes past 6 in the morning and I had to walk additional 5-10 minutes to reach the temple.
I availed the USD30 Borobudur-Prambanan Entrance Pass package – when I visited Borobudur the day prior, hence going through the gate was fast and easy. Like Borobudur, Prambanan's surroundings were well-landscaped, though you could still see rubbles of destroyed stupas.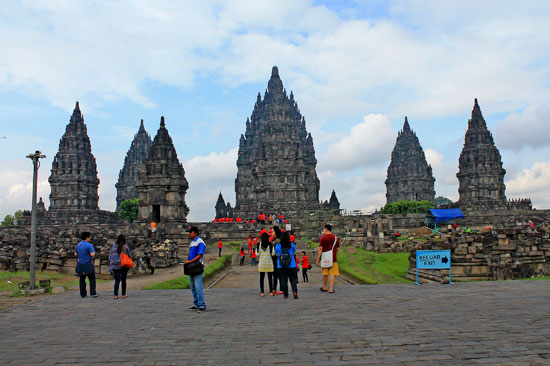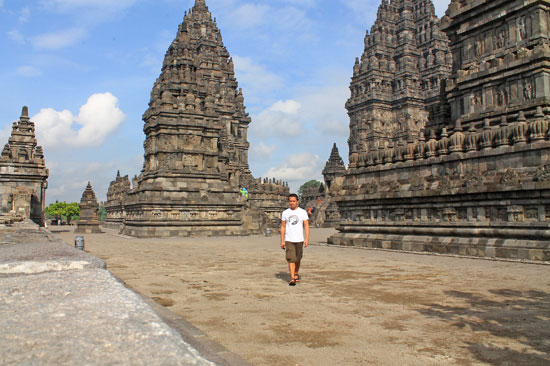 Candi Prambanan or Candi Rara Jonggrang was the Hindu tribes' answer to rise of the Buddhist's Borobudur. It was believed to be constructed in 850 AD under the rule of Rakai Pikatan, the king of the Sanjaya Dynasty of the Medang Kingdom, Central Java that time. It was then extensively expanded by the succeeding rulers of the subsequent kingdoms.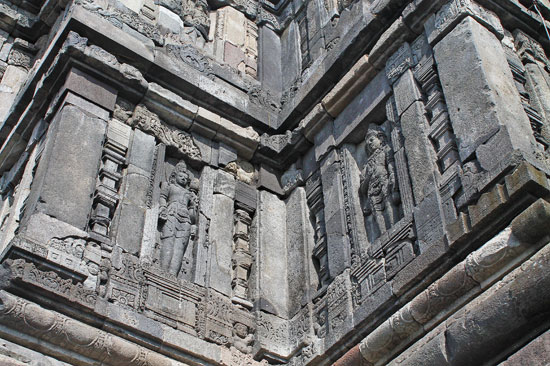 The temple was abandoned in 930 AD due to some shift of powers and was destroyed during the great earthquake that struck Central Java in the 16th Century.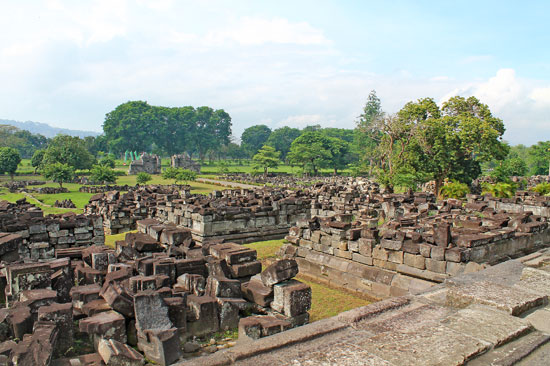 The temple was decorated with interesting wall carvings, telling some stories of the Indonesian society on such period.
Originally there were a total of 240 temples standing in Prambanan which is made up of:
3 Trimurti temples: These are the three holiest main temples dedicated to Shiva, Visnu, and Brahma.
3 Vahana temples: The three temples located in front of every Trimurti temples dedicated to the vahana of each gods; Nandi, Garuda, and Hamsa
2 Apit temples: The two temples located between the rows of Trimurti and Vahana temples. One is on north while the other stands on the south side
4 Kelir temples: The four small shrines located on 4 cardinal directions right beyond the 4 main gates of Prambanan's inner zone. I believe this is an equivalent to the Gopora of Angkor Temple.
4 Patok temples: The four small shrines located on 4 corners of inner zone.
224 Pervara temples: The hundreds of temples arranged in 4 concentric square rows; numbers of temples from inner row to outer row are: 44, 52, 60, and 68. Most of the Pervara temples are destroyed.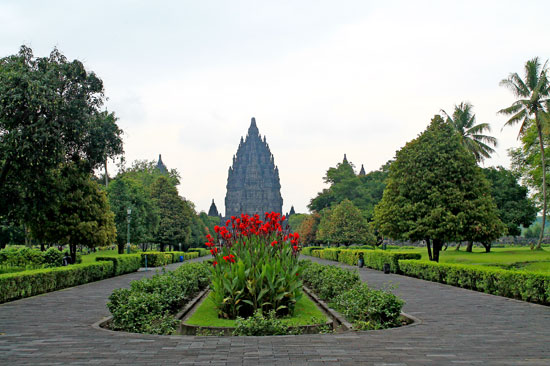 It's better to take the tour early in the morning to avoid the scorching heat – mind the tropical sun. After exploring Prambanan, I also headed the neighboring temples. Will write about it on my future articles.