With my right foot on the 6-inch street gutter, my left extended a bit backwards, and my torso slightly leaning forward, my lap was strong enough to support my 8-kg crammed backpack. But before I did the drill, I had my eyes scanned the surroundings. I was in Pasay so I was a bit wary to the passersby. When I felt it was safe to open my bag, I searched for my face towel, unzipping almost every pockets. I believe that it was the downside of making last minute preparations, locating stuff would not be easy.
It was just 4:00AM and I'm sweating excessively. Thanks to the MRT footbridge that requires a lot of horsepower to cross. I was going to meet unfamiliar faces that morning so I need to look civilized before greeting them.
I knew I wasn't the first one to reach the rendezvous. Because I had no idea who to approach, I settled silently in one vacant table and texted my contact, Nick, that I already arrived. He replied that he was on his way, and so, I wasn't talking to anyone until his arrival.
The second person I talked to (after Nick) was Reynard – a seemingly soft-spoken and fair guy who happened to seat opposite of me. The conversation was, an exchange of hi and hellos, nothing more. Then, Nalie waved enthusiastically, with doubts, unsure if I was with the group. When she confirmed that I belong, her uncertain smile turned resolute.
Things were getting clearer when we all gathered and headed to the bus station – I am joining a group I just met in a 2-day/1-night beach camp. There was this uneasiness and mixed thoughts. I even isolated myself in a bus, but it was to sleep and to muster my lost joules.
After more than 3 hours, we reached Nasugbu in Batangas. We assembled in a sidewalk while waiting for the others who bought for our survival supplies. Moments passed, a jovial guy approached me asking if we were going to Fortune Island. I was hesitant to answer at first – what is it for him anyway, and why he chose to talk to me among the cluster of unassuming folks. After some chat, I learned that he was supposedly part of the group who arrived late at our meeting point in Pasay then followed us using a separate bus. Yeah, he was Jayson and was overdosed with confidence. I mean, I would not do what he did if I am on his shoes.
When we were all gathered, we hired three trikes to Fortune Island Resort to meet our boatman. After settling the bills (400/pax for overnight landing fee and 7000 for the boat (up to 15 pax)), we navigated to the island which took nearly an hour.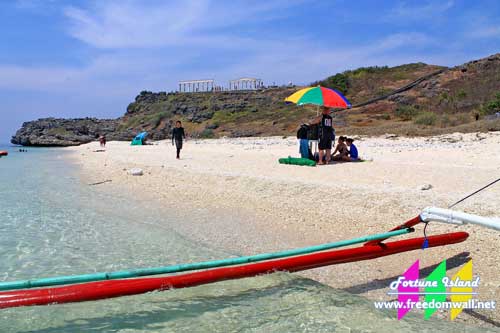 At close encounter, everybody was awed with the seascape and its awesome backdrop. The clear water, the evident underwater wonders, the white sand, and the columns of the ruined cliff house worked perfectly to entice every adventurous souls in us. The heat was a big frowner though.
The island was surprisingly populated that time and almost every shade was occupied. Good thing that there were few generous campers who were willing to share their space under the shadows.
We rested a bit while Nick prepared our lunch. While waiting, stories and talks about achievements, past travels, businesses few of them ran, and non-familiar movies sprouted. I was surprised of the mention about the local movie "That Thing Called Tadhana", but the topic focused merely on how the movie indirectly affected the infamous happenings in Sagada. In the end, they all agreed that it's all about personal responsibility. There were few talks about people, mostly on ideas.
I joined a group of strangers before in Sagada and they were equally interesting. The Sagada group, however, was very light to be with and not that intimidating compared to the Fortune Island group. We had highly successful individuals in the Fortune Island team.
Lunch time came, yeay! The pan-grilled pork chop tasted really good, all thanks to Nick.
Unlike Anawangin, Calaguas, Cagbalete, and Borawan, every nature's call in Fortune Island was problematic. With no restroom and no freshwater source, surviving a night in the island requires a lot of skills. But, let us not talk about it further, those two facts are enough for you to imagine things.
When the sun wasn't that hurting, we proceeded with our beach bumming and swimming activities under the shade of the protruding rock. With a mediocre height, everyone can cliff dive.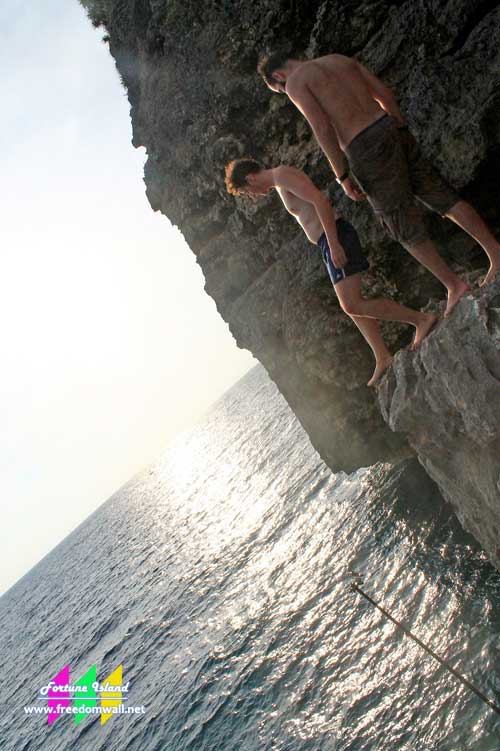 We weren't contented with the short fall, so we trekked to the southwestern side of the island to challenge the 20 to 30-ft heights. I was proud to be one of those who took the leap. Some said no while most of the guys gave it a go. Reynard, Jan, Olaf, and Nick even jumped from the highest accessible edge.
Photo ops followed after the soul-snatching taunt.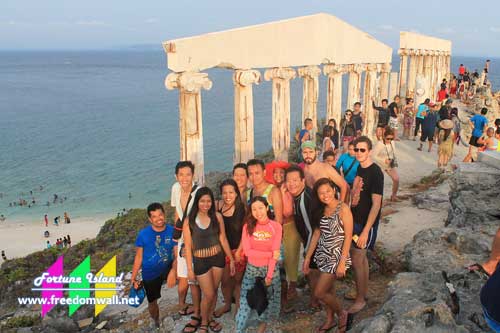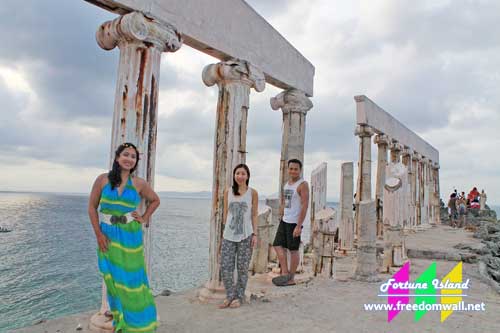 At night, we talked about some personal stuff. The girls were quite open and were willing to share while some of the guys, including me reserved the details on questions like "What is your happiest moment?" and "Your relationship status".
The following day, we continued with our beach bumming and photo ops. Then I noticed that I started to feel really comfortable with the individuals I just met.
Before going home, we had an awesome lunch at Nasugbu's Kainan sa Dalampasigan.
If you want to join them (or us) in our future trips, join us at Meetup.com