Our Day 3 in Thailand wasn't an ordinary day but a big protest weekend. Our hostel posted places to avoid because of the massive protests and most of our designated stops for our day 3 were on the list. Actually, Wat Saket, the Royal Pavilion Mahajetsadabadin, Wat Ratcha Natdaram, and Wat Suthat were scheduled for Day 1 but were moved because of the protest. We couldn't reschedule it again since, technically,  it was our last day in Thailand and we're heading to Siem Reap the next day.
Despite of the threat, we still headed to Wat Saket. To reach our first temple, we boarded the Khlong Express Boat at Hua Chang Pier and got off at the Phanfa Leelard (or Phan Fa Lilat) station. The Khlong boats, by the way, navigates the Saeh Seap canal daily from 05:30AM to 08:30PM (until 07:00PM only on weekends).
[one_half]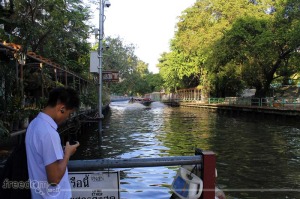 [/one_half] [one_half_last]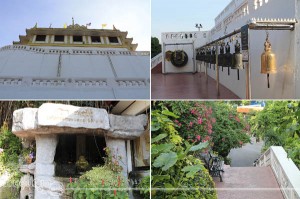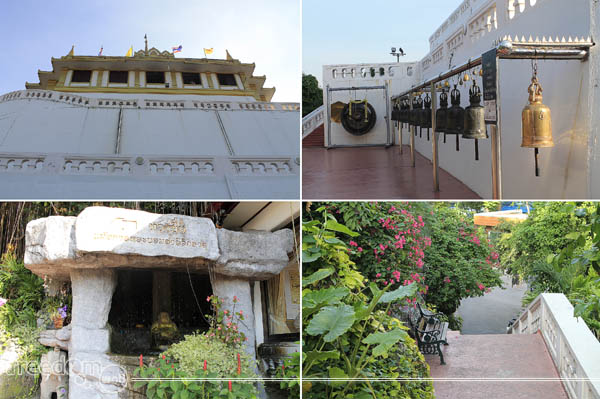 [/one_half_last]
From Phan Fa Lilat pier, we headed directly to Wat Saket which was few steps away from the said pier.
The after the early morning hike to the Golden Mount (Wat Saket), we moved to the Royal Pavilion Mahajetsadabadin which was located at the corner of Rachadamnoen Klang and Maha Chai Roads. The Rachadamnoen Klang Road lead to the Democracy Monument and it was one of the major protest location.
When we reached the Royal Pavilion Mahajetsadabadin, we noticed that the surroundings were filled with protesters' camps (tents) so we decided not to stay longer. We took some photos then proceeded to the nearby Wat Ratcha Natdaram Worawihan but it underwent some repairs.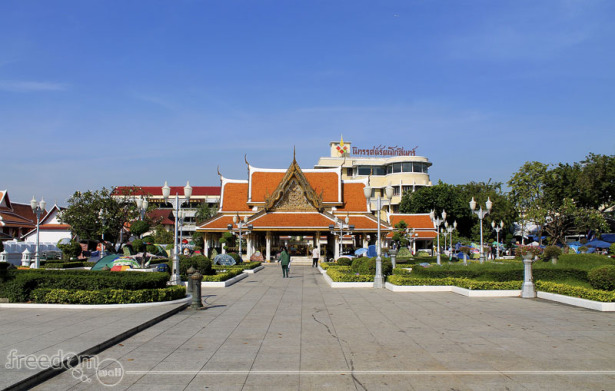 We walked further south and stumbled to Wat Thepthidaram Worawihan. We were hesitant to go inside since we didn't see any individuals coming in and out. But upon seeing an information poster close to the gate, we checked the inside and it seemed like abandoned. We saw some random strangers sleeping to its corridors.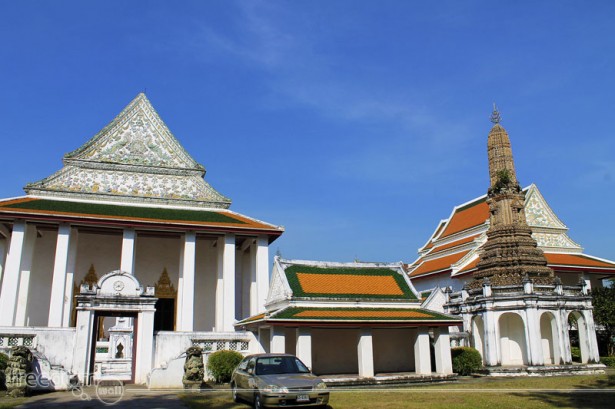 After checking Wat Thepthidaram Worawihan, we consulted our map on where to go next. The Giant Swing (Sao Chingcha) was nearby so we continued walking south and turned right upon approaching Thanon Bamrung Muang (a street). Along Thanon Bamrung Muang were series of shops selling religious items, amulets, and Buddha images. Perhaps, it was the biggest of its kind in Bangkok. It was comparable to the religious stores along Tayuman in Manila.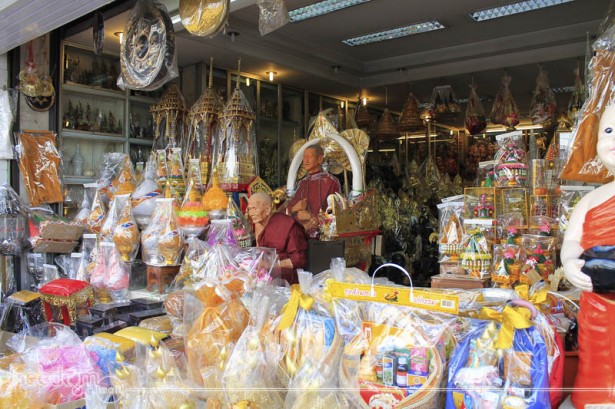 We then turned left when we reached Siri Phong Alley and looked for a good spot to capture the Sao Chingcha (Giant Swing) to our lenses. As we moved closer, we found another spectacle in the city, the Wat Suthat. Well, we did not waste time and explore the inside of the temple.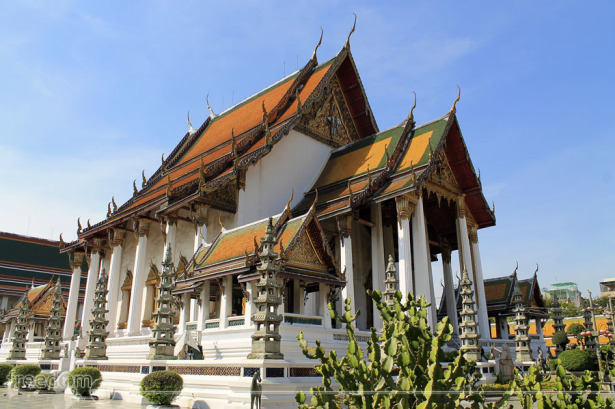 After an hour, we continued our walkathon and we weren't actually sure as to where we were going. We blended in and allowed our feet to lead us. Then at some point of our journey in the city, we passed a market, a good place for bargain. Since shopping wasn't a priority that moment, we just continued walking, resisting every buying temptation.
Finally, we reached Wat Ratchaburana Ratchaworawihan (Wat Liap). There was an event when we checked Wat Liap so we decided not to get in. Right across was a park that housed the monument of King Rama I.
[one_half]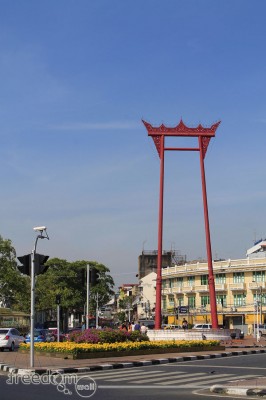 [/one_half] [one_half_last]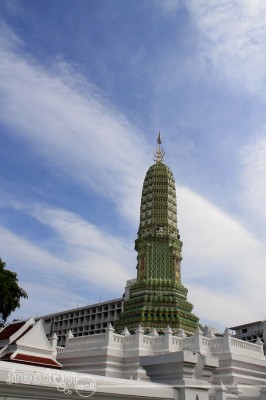 [/one_half_last]
After the tiring walk, we boarded a Chao Phraya Express boat at Memorial Bridge station to return to our hostel without any delay (I was very sure that there's no protest along the river).
We rested for a while before we headed to Siam Paragon to see Catching Fire.
Wanna see our Day 3 Trail? Check this link.