We missed whitewater rafting when we visited Cagayan de Oro (CDO) and Camiguin in 2013. So, when the group returned to Mindanao two years after, we could not afford to skip the activity for the second time.
First thing we did when we reached CDO was look for Kagay, the most popular white water rafting organization in CDO, and booked a slot for 5. Despite the sun burn and aching feet we got when we visited Asik-Asik Falls in Alamada, Cotabato, and Tinago and Maria Christina Falls in Iligan, everybody anticipated with enthusiasm.
In preparation for the big event, we agreed not spend the night with booze and sleep earlier than usual. That, at least, would help us build some energy for the 3-hour paddle. But, honestly, we didn't need that sleep – really.
Since all of us are first timers, we only paid for the lower section run (beginner's). The ₱700/head fee includes a jeepney transfer from our hotel to the drop-off point (they call it put-in) and vice versa, use of helmet, life vest, paddle, and raft.
No one was allowed to raft without undergoing the safety orientation. Kuya Joel, who later became our guide, oriented the entire batch about the do's and don'ts, hazards to avoid, and even told us stories that made us reluctant to do the rafting. Well, those stories did not bother us for some reasons.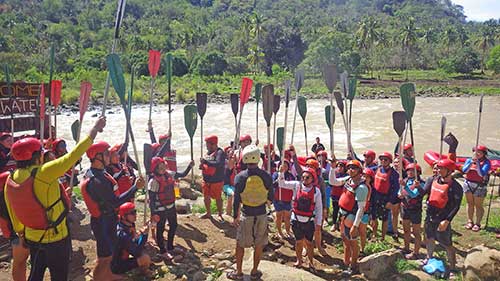 Before going to the actual rapids, we exercised the paddle commands. We were arranged in a way where strong paddlers are seated in front. I was lucky to be one of the two and was quite pressured to the responsibility of steering the girls to safety.
When Kuya Joel thought we were ready, he set us forth with him as overall in-charge with the steer paddle.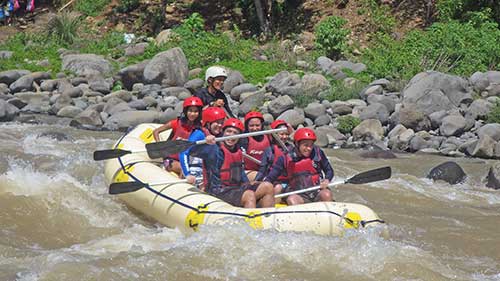 It was a very exciting first rapids not until a friend, Teddy, fell. The group aboard, including myself just stared at him and couldn't make any action. We pulled him up only when Kuya Joel initiated the rescue. When we got Ted to safety, we started laughing at it. Instead of telling people that he fell, we could tell the other group that he just jumped – and, it was all Kuya Joel's idea.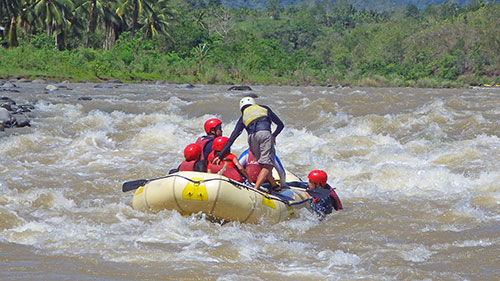 After every rapids is a calm area. When it's calm, we were silent. Since there were 14 rapids, then we had to pass more than 14 calm areas. Not to mention, smaller rapids, a.k.a bonus rapids, were not counted. So, to keep us at our energy level, Kuya Joel told us some short stories.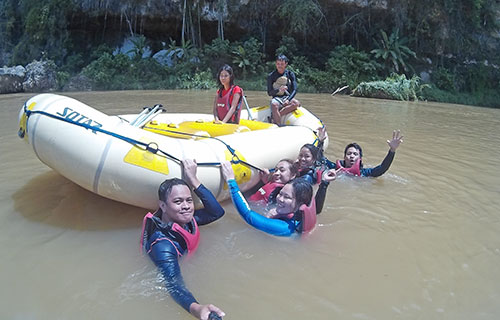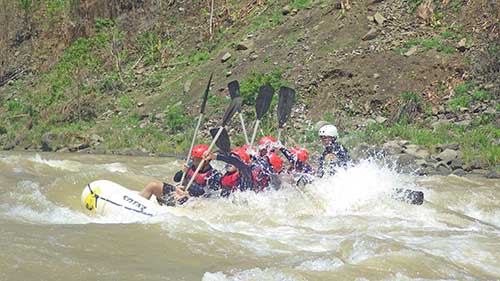 These are the titles I assigned to the stories I remember.
The Crying spectators – When PGMA left
The Lava Rocks
Dan Drop – where dan drops
Monkeys Looking up
The Trained Monkey
Boysen's first Project
The Condom Factory
The Indebted Falls
Name the drop
If you're curious about what these stories are all about, then book Kuya Joel as your guide. It's good to hear when he's the one narrating them. I couldn't even differentiate which has a serious ending, which is fiction, and which is not.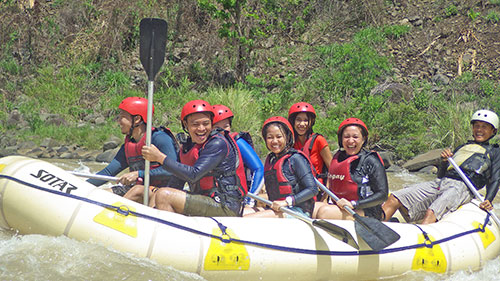 At one of the earlier rapids, Kuya Joel instructed us to hold each other and stand. He probably intended one of us to fall. The thing I noticed was that, we weren't the only one enjoying the stunt, our guide who was our spectator that moment, enjoyed watching as our knees trembled.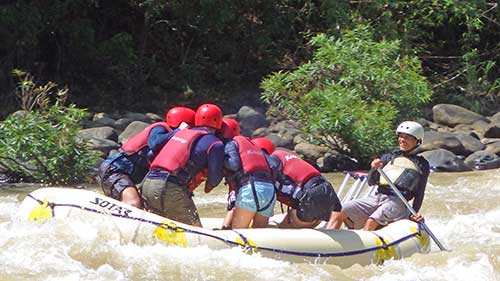 He steered us to bump a rock and even lead us to the roughest side of the rapids. It was all FUN, FUN, and FUN!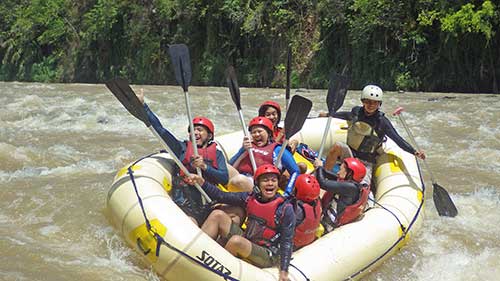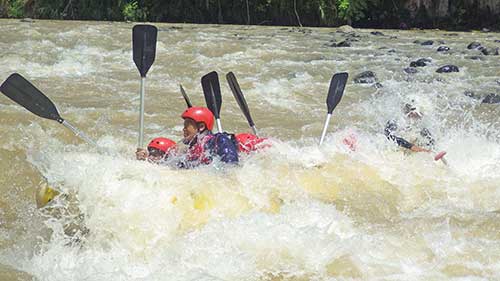 Below is our video when we challenged one of the rapids.
[video_embed maxwidth="500″][/video_embed]
To book for your future whitewater rafting in Cagayan de Oro, book your slot with Kagay WhiteWater Rafting.
Address: Corrales Avenue, Corner Rivera St., Cagayan de Oro City
Email: dankaamino@yahoo.com
Website: www.kagaycagayandeororafting.com
Contact #s: +63 917 712 2442 | +63 917 712 2323 |+63 922 388 6200 | +63 88 852 1021
Trip Schedule:
Hotel pick-up for the morning trip: 07:30AM
Hotel pick-up for the afternoon trip: 12:30PM