When I only had a week to my birthday, I constantly searched for a quick weekend getaway that is close to Manila. Then I found Alibijaban Island in San Andress, Quezon. Unfortunately, there weren't enough transport information in the web so I did not take a risk. I will bring some officemates with me, hence, I couldn't afford for a possible misadventure. A day before the trip, we then settled for Borawan Island via the Municipality of Padre Burgos in Quezon Province.
After some research, we found out that we can do some island hopping to the neighboring Dampalitan Beach and Puting Buhangin (with Kuwebang Lampas).
We boarded a bus to Lucena City one Saturday morning without any itinerary and contacts at hand. I asked my friends to bring with them at least ₱2,000 as budget (that includes emergency fund already).
From Lucena Grand Terminal, we transferred to a minibus bound for Unisan and got off at the bus stop in Padre Burgos. The bus stop happened to be close to the Tricycle terminal. We asked one of the on-duty trike drivers if there is a closer resort for us to stay. The Tamarind Tree Resort was nearby and one of them took us to gate of the resort, which is facing the shore of Barangay Basiao.
[one_half]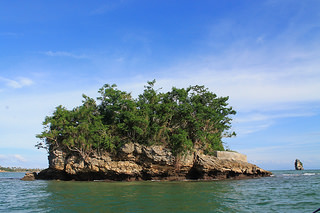 [/one_half] [one_half_last]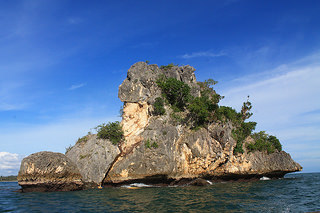 [/one_half_last]
We couldn't find any caretaker so the trike driver suggested us to rent a tent and spend the night in Borawan Island instead, which we all agreed. Luckily, Kuya Niño was in the beach that time, fixing some of his outrigger bancas. He offered to bring us to Borawan Island Resort for ₱1,200, including the stopover in Dampalitan Island. Yeah, it was a bit expensive – but we had no other choice then, so we took it. We also rented a tent from him. Kuya Niño told us that he couldn't bring us to Puting Buhangin since the sea is quite rough.
Dampalitan Island
We bought some supplies from the market then we set sail after few preparations.
We arrived in Dampalitan beach after few minutes. It was calm and tourist-free. In fact, we almost owned "Eden" during that visit. The water wasn't that imposing though, because it was a bit rocky below. However, I liked the overall impression – the white sand beach with grown, tall pine trees (think of Anawangin, this is just a way silent).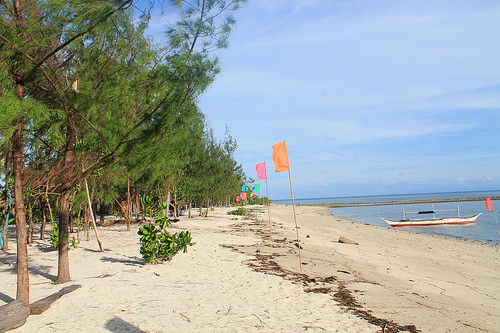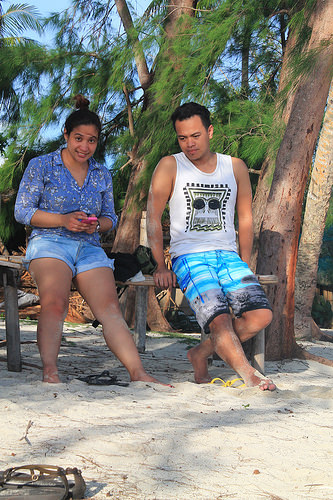 There were residing families that manages the island. They took care of the sanitation and maintenance in exchange of the ₱60 entrance fee. There were also cabanas available for rent and you can opt to stay overnight for an additional fee.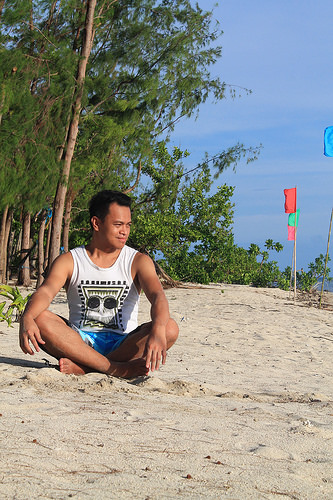 We waited until sunset to witness something that, according to the rumors, is spectacular to behold. Sadly, the clouds weren't cooperative – it blocked the sky from our perspective. We sailed to Borawan with a bit of disappointment.