Boracay is famous all over the world, thanks to its beautiful beaches. Even though it reaches the peak of its popularity, people still arrive there and find themselves not knowing what to do. Since tourists are left without any other choice, they book their tours through independent vendors at the beachfront, which tend to be costly.
So, those of you who plan to visit Boracay soon, plan your trip in advance to save on your travel expenses. Getting familiar with the attractions available will help you understand if the vacation is a right idea. Boracay is a small island, but that doesn't mean you have to spend all your day just laying at the beach!
All these attractions are easily done by yourself, or you can book this Boracay all inclusive package. You can add any tours you like and enjoy discounts if you book by group. It can actually make your whole vacation a lot cheaper. Also, you will not undergo the hassle of dealing with touts.
1. Enjoy the uncrowded strip of Puka Shell Beach
The beautiful Puka Beach is less crowded unlike the White Beach. However, like Boracay's famous white strip, Puka features a clear, viridescent water and fine to pebbly white sand.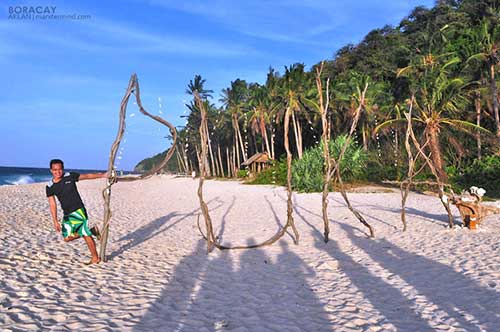 You can reach Puka Shell Beach by taking a tricycle from any point of Boracay Island. Puka is also one of the stops if you book an island hopping tour.
2. Sail on a traditional Paraw boat
Paraw is a traditional outrigger boat, usually used for fishing. It is perfect for navigating easily through shallow waters, allowing you to explore the smaller beaches around Boracay. You can rent a boat and sail yourself, or pay a bit more for a private tour guide to come along.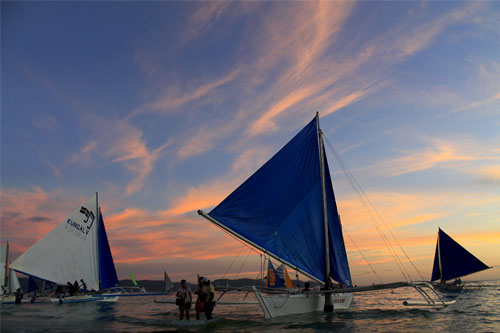 This activity is especially recommended before twilight—when the sun is slowly disappearing from the horizon—so you can enjoy the spectacular sight of the sky as it changes it colors.
3. Helmet diving
This is a bit strange, but trust me when I say it's also a lot of fun. Helmet diving is basically putting on a helmet connected to an air hose, and walking on the ocean's floor. You'll need to take a boat ride to the helmet dive floating platform, where a licensed instructor awaits you. For your own safety, the instructor will brief you about the dos and don'ts.
Helmet diving is perfect way to experience the beautiful underwater world without paying for an expensive nitrox and dive training. It is great for people who don't like scuba diving or don't have the time to get certified for it. This activity doesn't require any additional diving gear or past experience. This activity basically fits for anybody.
4. Kite surfing at Bulabog beach
Located on the opposite side of White Beach, Bulabog is almost as beautiful as its famous counterpart. The great thing about this beach though, is how much less crowded it is.
Bulabog, however, offers much more than that. Thanks to strong winds all year round, this beach is considered one of the top kite surfing sites in Asia. Parasailing is also a popular activity. You'll get to enjoy an amazing view of Boracay from high up in the sky.
5. Enjoy a pampering massage and spa treatment
There are a few specialized massage parlor and spas across the island, mainly found around the White Beach area. These can be quite costly, but it's a lot of fun and a great way to relax after a long day. This activity is especially perfect for couples. What else could be more romantic than sharing few hours at the spa together?
If you are looking for a cheaper alternative, you could always just get a massage at the beach instead. It won't be at the same level of course, but it's still fun nonetheless. There's even something nicer in having a massage in a relaxing beach setting, instead of at some remote compound.
6. Cliff jumping at Ariel's point
This site can be included in most of the island hopping tours you take, but it deserves its own mention as well. It might be better to book for a standalone package, so you have enough time to explore everything the place has to offer. There are many agencies who offer this tour, and you can also book it directly through your hotel or resort.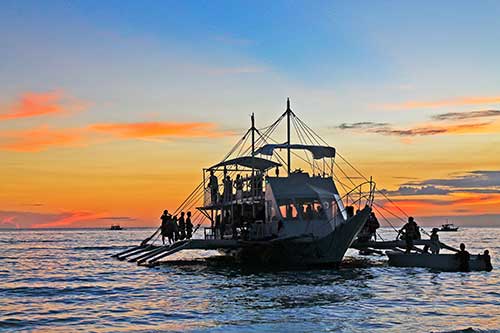 The most notable attraction are the 5 different cliff jumping platforms, with heights ranging from 3 to 13 meters. Apart from that, you can also try the other fun activities on the island, such as kayaking and snorkeling. If you book the package, there's also a free BBQ buffet included.
7. Thrilling zipline with amazing views
The zipline is located at the top of Mt. Luho – Boracay's highest point. You'll have to do a bit of climbing, but since the mountain is only 110 m above sea level, it shouldn't be too difficult. Climbing to the peak is already rewarding in its own right. You'll get a splendid view of the whole island.
You can then take the zipline instead of making your way back by foot. Those of you who already tried this attraction somewhere else might find this one a bit underwhelming. But still, it's quite fun to fly over the beautiful island of Boracay and enjoy the stunning scenery around it.
8. Have some fun at the beach with extreme water sports
These are mainly found on White Beach, but are accessible at other beaches as well. Some of the beach resorts even offer water attractions as part of their all-inclusive package deals. Otherwise, you'll have to pay a small fee to enjoy the different rides.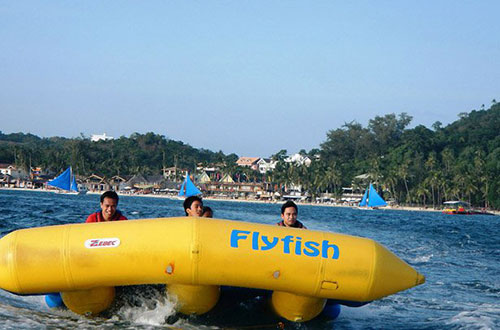 Water sport attractions include the Banana boat ride and Flyfish. These are perfectly safe and suitable for most ages, as long as you comply with the safety instructions. Other attractions include surfing and wakeboarding. Lessons are available if you are a beginner. There's also stand-up paddling, available at both White Beach and Bulabog.
9. Ecotourism – become a part of Boracay's solution
This one is Boracay's best known secret – Simply put, the island is just too small. With millions of tourists visiting each year, and numbers constantly rising, the island is not prepared to accommodate all of them. This causes a serious problem and puts Boracay at risk from an infrastructure and environmental point of view.
Luckily, local authorities are well aware of the risks involved and are doing the best they can to fix it. You can be a part of the solution, by volunteering to help make Boracay a better place. There are beach cleaning missions going out regularly – you can find more information here.
10. Don't forget to party and have fun!
With so much activities you might be too tired to enjoy the Boracay nightlife. However, you should still make a special effort to do so, at least for one night. After all, along with the beaches, this is the island's main attraction and the reason why so many people come there.
The whole area around White Beach is just packed with bars, restaurants and nightclubs. You could easily spend the whole night drinking, dancing and having a blast. If that sounds like a bit too much, just going out and sitting at one of the places by the sea is fun enough. You can enjoy a drink, listen to some local band and watch the huge crowds as they make their way along the beautiful beach area.