Samsung Electronics officially announces the first motion-controlled angry birds App for its Smart TVs. Angry Birds is one of the most popular smartphone game apps worldwide with over a billion download.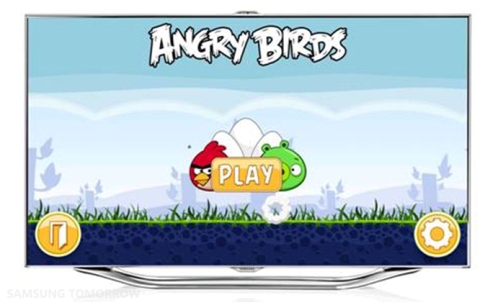 Conventionally, Angry Birds is played by touch-drag-release control scheme to fire a slingshot. But with Samsung Smart TV you can do it remotely without touching the TV screen. The game will respond to the gamer's gestures to set off the slingshot and activate each bird's unique abilities.
Samsung Smart TV will become the first TV to offer the world's most popular game and set a new standard in the industry by offering a game for Smart TVs controlled by hand gestures. Samsung will continue to develop various content that bring family members together in front of the TV, allowing consumers to enjoy new experiences via Samsung Smart TVs.

-Kyungsik Lee, Samsung Electronics' Vice President for Visual Display Business

The motion-controlled app will be launch this July and will be available on Smart Interaction-enabled 2012 Smart TVs models by updating to the latest firmware.