I have been always reluctant to apply for a postpaid plan because I am not consuming too much monthly load for calls, texts, and internet. I already have a performing HTC Explorer which I can connect to my office's or to my neighbor's WiFi network. I can also subscribe to unlimited services (call, text, or data) whenever I want to. Also, It is prepaid so I don't have to worry for monthly obligations.
So what made me decide to take that UnliData Plan offer? There are two factors, actually. First, I am a blogger so I have to constantly stay online to check what's new for me to blog and, to easily build readership. Social networks are blocked by our office firewall, hence I can connect whenever there's a need. I am also offering some services (on-line help, blog start up assistance, and DNS and shared hosting assistance) wherein email and social networks are my only mode of reaching out clients. Finally, the plan is bundled with a very interesting phone, the Samsung Galaxy SIII mini.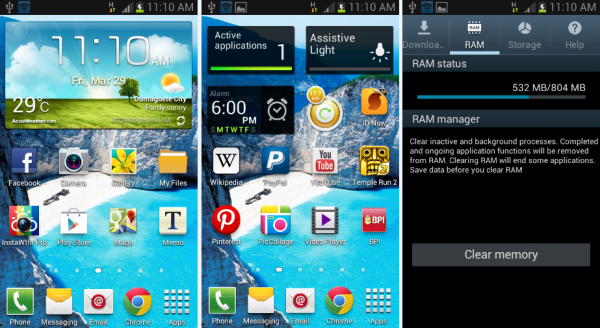 Galaxy SIII mini is a downgraded version of Galaxy SIII. Its CPU is slower at 1 GHz dual-core with 1GB RAM compared to Galaxy SIII's 1.4 GHZ quad-core with 2GB of RAM. Camera is downgraded to 5MP (for main) and VGA (for front) from SIII's 8 and 1.9 megapixels main and front cameras respectively. There are also differences in storage capacity, network connectivity, display and pixel density, GPU and chipset, and some other functionalities.
On the other hand, some of SIII's premium features are retained to the mini version like S-Voice, Smart stay, popup play, and direct call. S-Voice is a voice command assistance app where you can ask to search and call a contact, get your directions, search the internet, update your Twitter and Facebook, and open an app for you. Smart stay is a feature wherein your display stays up as long as you are looking at it. Popup play allows you to watch or play videos while doing other things. Direct call dials the number of the person you are currently texting or replying with by just lifting the phone to you ear.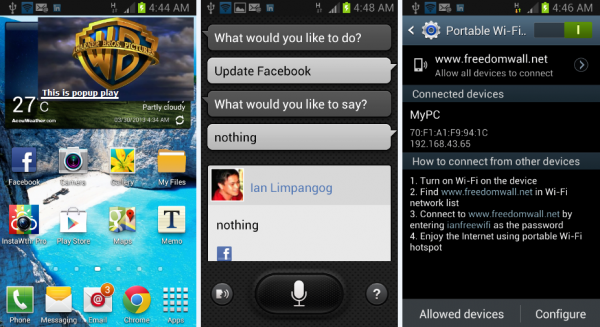 Even though SIII mini is just a downgrade of a better performer predecessor, it didn't fall short from my current needs. In fact, it keeps on surprising me. I can install a 32GB micro SD for my music, document, and movie files, there are several compatible free apps for document editing, and I have a portable WiFi hotspot and tethering options for me to share internet to my other devices.
The 4-inch screen size fits perfectly for a comfortable-grip dimension. Unfortunately, the battery drains fast just like other smartphones. In my experience with 3G data always on and background application always running, the battery lasted only 6 to 8 hours. I haven't tried testing the battery performance if the mobile data is off. To keep powered on the go, I got 5600 mAh Ipaky power bank as power backup.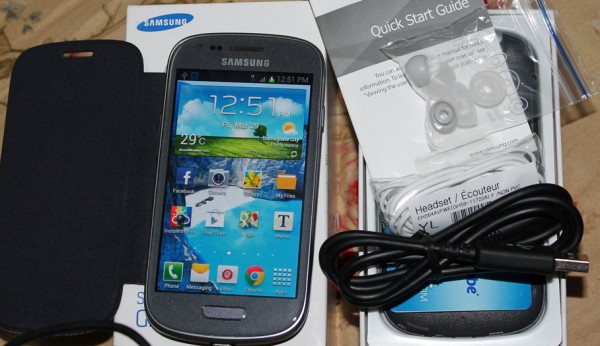 The box I got from Globe Telecom which is free from UnliDate Plan 999 contains the Samsung Galaxy SIII unit, a charger, a data cable, a cute white earphone with 3 pair of free extra earplugs, and a startup guide. I also get a cool flip front cover that is integrated with back cover, so I got an extra back cover now since I am not using the original. My internet experience with Globe so far is smooth.