If you're using Instagram in your Android or iOS devices, check if there is an available update, because in the new version, you have an option to name the people in your photos.
Previously, you have to mention your friends in the captions and comments to send them notifications about your new post but in the latest update of the app, you can tag them in the photos and send them alerts. This means more reasons to connect and easier way to inform your Instagram pals that you just have uploaded photos.
Tagged images are collected in a new section in your profile called "Photos of you". If you are the one who uploaded and tagged (yourself) the photo, then this will show up in both the "Photos of you" section and your main photo feed. But if you are only tagged from others' photo, then this will only show up in the "Photos of you" section. Also, you can't tag yourself or other people in photos that you didn't personally upload.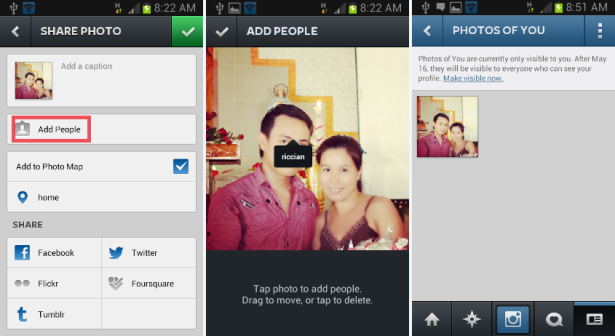 Tagging comes a potential embarrassment so Instagram includes an option to hide, remove, or report photos. To avoid the embarrassment in the first place, you can change your settings to require your approval before anyone could tag you.
By default, all "Photos of you" are set to appear starting May 16 but you can make those tagged photos appear as soon as you like.
Try updating now and check the feature yourself.