Something cool is coming this May 2012 in the Philippine gadget stands, the Nokia 808 Pureview. The latest Nokia phone is not powered by Windows Phone 7 OS but with the near-dead platform, Symbian Belle. The phone's soft launched came after the announcement of Nokia and Microsoft's partnership to topple Apple's iOS and Google's Android. Symbian OS, by the way, is currently maintained by Accenture.
What is making Nokia 808 Pureview a lot interesting is its integrated 41-megapixel camera backed with Carl-Zeiss optics which Nokia aptly renamed as Pureview and a performing xenon flash. It is about capturing and housing a billboard-size image in a compact smartphone. Good thing that these pixels haven't jammed when fitted in a small camera sensor. It actually merges multiple pixels into one forming vibrantly sharp images with better zoom capabilities – without losing image clarity.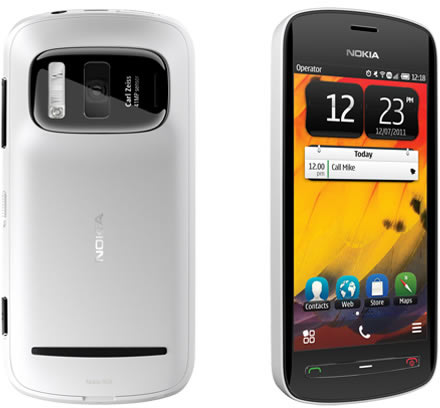 You can also take full resolution 38-megapixel (7152 x 5368) with 4:3 mode or 34-megapixel (7728 x 4354) with 16:9 mode images with the Nokia 808. Other still outputs include 8, 5, and 3-megapixels.
Apart from its paramount still imaging capabilities, Nokia 808 can shoot full 1080p HD video with 4X quality zoom bundled with "Nokia Rich Recording" technology that records superior audio qualities.
Price tag is estimated to be at PhP26,000.00 to PhP30,000.00 when released in  the Philippines.
Nokia 808 Pureview specifications are as follows
4.0″ display @ 360×640 pixels
1.3GHz single-core processor
512MB RAM
16GB internal storage
up to 32GB via microSD
WiFi 802.11 b/g/n
Bluetooth 3.0
HSPA 14.4Mbps
41-MP Carl-Zeiss rear camera w/ Xenon flash
1080p video recording
GPS w/ aGPS support
Nokia Symbian Belle
Camera Specifications
Carl Zeiss Optics
Focal length: 8.02mm
35mm equivalent focal length: 26mm, 16:9 | 28mm, 4:3
F-number: f/2.4
Focus range: 15cm – Infinite (throughout the zoom range)
Pixel Size: 1.4 microns