Ramen is a personal favorite. I could finish a large bowl in one sitting. However, I couldn't have it as often as I wanted to. The price tag is not something that I can afford for everyday munch.
So, when a friend recommended to try the ramen offered in a Japanese "carinderia" along Ayala access Road near Gorordo Avenue intersection, I visited the eatery immediately after office.
The stall is pretty small, it can only accommodate up to 8 diners at any given time. The kitchen is cramped too, you can see them prepare your food. The menu is printed on laminated paper and some were just hand-written on origami-adorned wall.
Menu revisions are quite evident. The new offers are penned on paper cutouts and then taped on the tattered menu laminate.
You can feel that the humble shop is not solely for business but to express passion and creativity as well.
Kushi Kazu Offers
Kushi Kazu, unlike any other eateries around, serves katei ryouri, or "lutong-bahay" in our term, but of Japanese cooking. They have two ramen versions on the menu; the original shoyu ramen and, of course, my favorite spicy tantanmen for only ₱99 per bowl.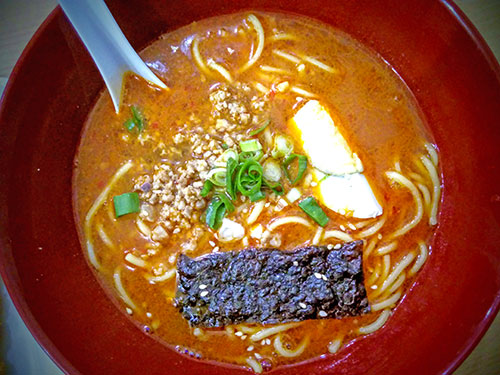 When paired with 3-piece gyoza with rice [₱45] and house tea [₱10], your Japanese dining experience will be sulit (worth it).
They don't use some ordinary rice. The aroma, the freshness, and the stickiness will make you feel you are having an authentic washoku shokuji (Japanese meal).
Patron's favorite are katsu curry rice [₱99], katsu rice [₱99], and ramen [₱99]. You may also try their kani (crab meat) tempura [₱35 per 3-piece serving], kushi katsu [₱35], and gyoza [₱35 per 3-piece serving].
Kushi Katzu also serves katsu and korokke sandwiches, chicken and pork katsu don, and tantandon. All these will give you a yummy Nihon treat whether for a light snack or for a complete meal.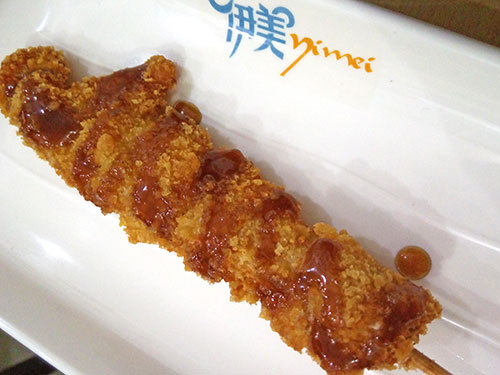 You may be asking but unfortunately, Kushi Katzu does not serve sushi and sashimi. According to the owner, securing the freshest of ingredients is a bit of a challenge for them, so they settle for serving meals with easy to find ingredients.
They occasionally offer maki rolls, though.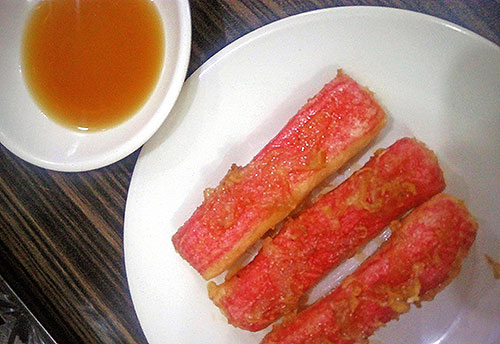 Contacts and other Info
Address: Ayala Road near corner Gorordo Ave., Cebu Business Park, Cebu City
Contact #: +963 933 763 0052
Open Hours: 10:00AM – 02:30PM and 5:00PM to 12:00MN
Facebook: Facebook.com/KushiKazu