From afar it shimmers, seems enticing every gazing individuals from the main island's shore. The White Island in Camiguin is like a floating gem wherein you'll be tempted to touch it once you see it. You want to feel its texture, dazzle its luster, seize its beauty, and experience its wonder.
White Island is pure white sand island that floats 1.4 km (0.87 mi) off the northern coast of Mambajao, Camiguin's capital. The tide constantly re-size and reshape the island and sometimes divide it into even smaller islets.
The island was the first stop of the day 2 of our Camiguin tour last July. We made it our first stop since we don't want to be there when the sun's heat is at its strongest. Also, the boatmen service to island only until 10AM. The sea become erratic after that time.
The boat rental to the island cost around ₱400.00 and has a capacity of 6 persons plus an additional ₱20.00 environmental fee per individual. We were thirteen and they didn't allow us to rent 2 boats only. They were strict in their safety implementation (not allowing more than 6 passengers in one boat) so we ended up leasing 3 boats. Well, at least, we were comfortably seated.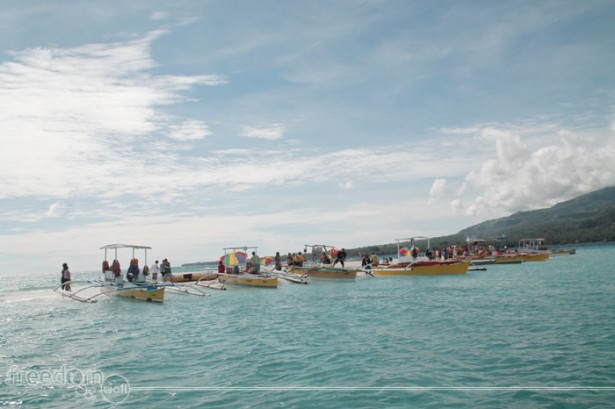 While we were getting closer to the island, we can't help ourselves but be awed. It was the common reaction and everybody got really excited to touch the shore.
It was nearly 7:00 in the morning when we reached the island and there were several tourist exalting every moments they had. Lucky us, the island was spacious enough to accommodate another wave of incoming mobs. We settled to an area away from everyone and rented a big umbrella to shelter our stuff and, of course, ourselves. Though it was only 7:00AM, the heat was already painful.
As expected, we jumped and shot. [Mawawala ba ang jumpshots?]. And after few takes, we started to drench into the clear deep.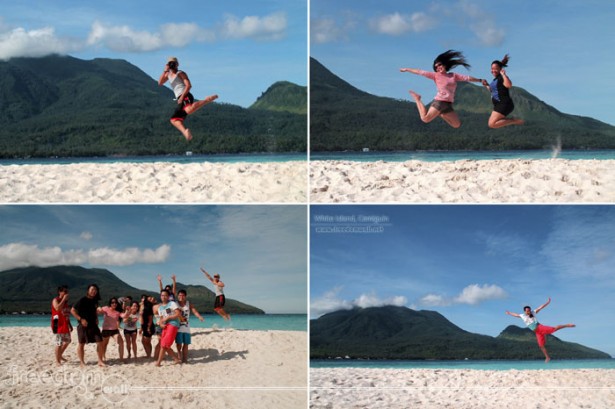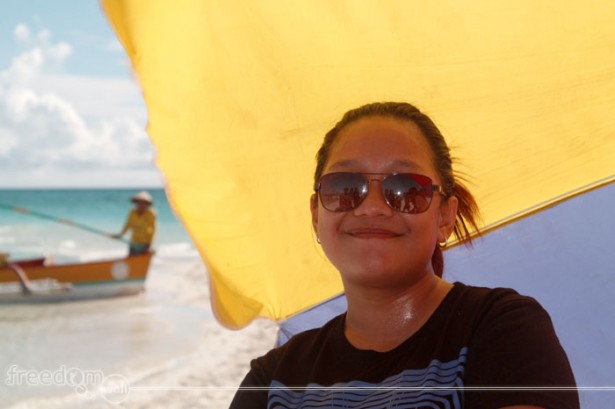 We met a fisherman offering some weird snacks and Kevin was brave enough to take a bite. At first, he watched Kuya demoed the right way of eating the sea urchin (locally called Salawaki or Swaki). Then by himself, he took a piece and carefully clipped it with his fingers. He halved the spiky creature and devoured the yellow-orange gooey inside. He seemed to enjoy it but it wasn't enough to convince the rest to try it.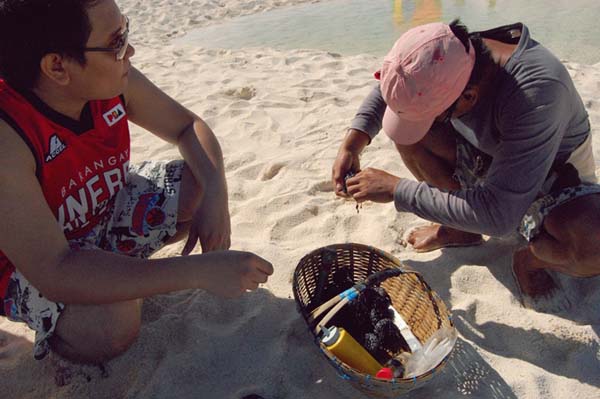 We reveled every moment left for us in the island but when we started to feel tingly (maybe because of the jellyfishes), we decided to proceed to our next destination. Also, the sun was no longer healthy for us.
We headed to Katibawasan falls after that.