Fresh from our runaway camp in Borawan Island, we headed directly to Hinguiwin Falls without any idea what to see, what to encounter in the trail, and what to expect.
A day before, while on board the minibus from Lucena to Padre Burgos, I happened to glance a "not-so-artistically"  designed banner – asking passers-by to pay a visit. It said that Hinguiwin falls is just a kilometer away from the highway where the banner is posted. Then I thought; why not give it a shot.
[If you want to know how we enjoyed our tour in Dampalitan and Borawan, visit my other article entitled: "Borawan Beach and Dampalitan Island: An Unplanned Trip to Quezon Province"]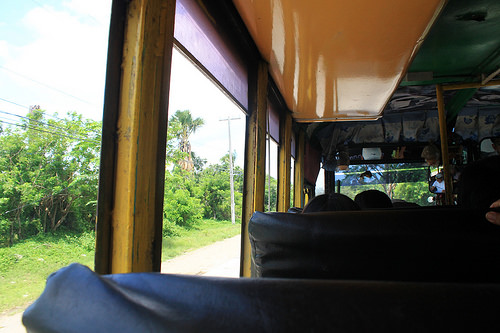 I asked my companions if they're game for a possible trek. They all gave me a thumbs up. So, we arrange the visit after our island hopping and overnight camp.
We boarded a Lucena-bound bus from Padre Burgos and paid ₱10 for the 15-minute travel to Brgy. Hinguiwin. We started the trek immediately after getting off the bus. The road was paved halfway while the 2nd half of the path is quite muddy.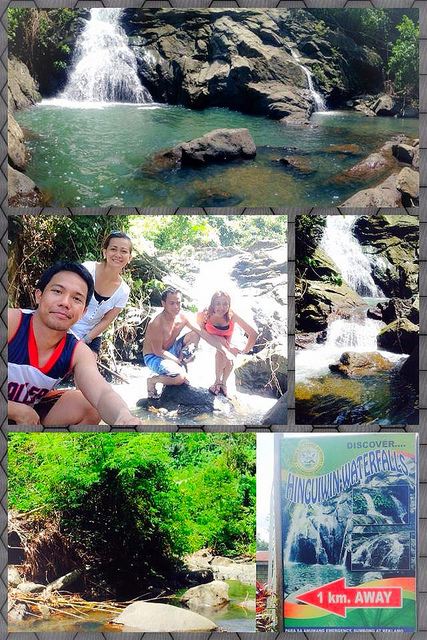 Remember to ask every local you meet along the way. There were no signs pointing you to the falls along the trail so it's better to get a constant update that you're on the right track. 
After 45 minutes of walk, we finally reached the falls.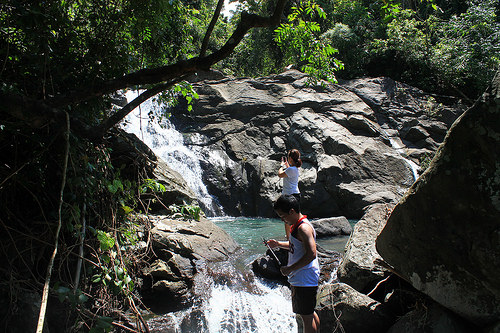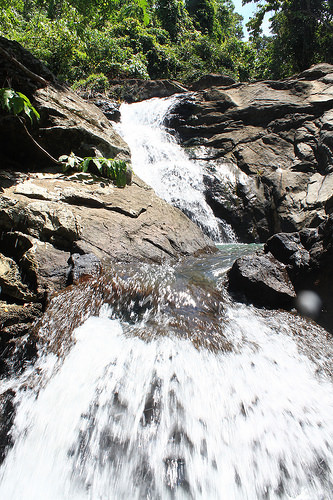 The waterfalls has two main cascades that run from the 15 to 20-feet rock wall and drops to the emerald-green natural pool.
Ted, Cess, and Cookie decided not to get wet. I, however, plunged into the deep without any hesitation. As expected, the water was cold, and it gave me an invigorating chill under the sun's heat. We stayed there for a while and headed to Lucena afterwards.
The upper level of the falls, by the way, serves as the reservoir that supplies utility water to the entire Barangay (Brgy. Hinguiwin). Hence, if you happen to visit the area, always keep it clean.