August 24, 2013, the Day 1 of our Hong Kong + Macau Tour, was probably one of the longest day I had. At 1:00AM, end of my shift, I met my friends in Valero St., Makati, and then waited for the van that will bring us to Clark International Airport. We left Makati at around 1:30AM. We picked up some of our companies waiting somewhere in EDSA.
The travel was smooth and fast. We reached the airport at 3:00AM. Too bad, it was closed that moment. Thus, we waited another hour for it to open. We were also still early for our 7:20AM flight though.
Philippine Travel Taxes
[table style="1″] [tr][th]Passenger[/th] [th]First Class[/th] [th]Economy Class[/th][/tr] [tr][td]Adult[/td] [td]₱2,700.00[/td] [td]₱1,620.00[/td][/tr] [tr][td]Children*  (2-12 years old)[/td] [td]₱1,350.00[/td] [td]₱810.00[/td][/tr] [tr][td]Dependent of an OFW*[/td] [td]₱400.00[/td] [td]₱300.00[/td][/tr] [tr][td]*S
ubject for an additional ₱200.00 processing fee for Reduced Travel Certificate.
[/td][/tr] [/table]
Arrival in Hong Kong International Airport
We arrived in Hong Kong International Airport after 1.5 hours. Upon seeing the airport, I couldn't help but be impressed. Its facilities and design are ultra modern. There were trains that brought us from our designated arrival gate to the main terminal, where the immigration counters were located. The signs and guides were all tourist-friendly.
[one_half]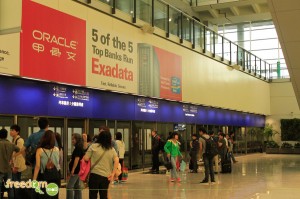 [/one_half] [one_half_last]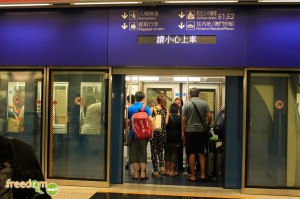 [/one_half_last]
I passed the immigration check after answering one question from the immigration officer; "How long will you stay?". Most of us did, except for one who was brought to the interrogation room for not showing the hotel booking and return tickets, which copies were on the hands of our other companion. A friend handed her the copies when we saw her escorted to the interrogation room. We waited nearly an hour before seeing her in the arrival hall.
[infopane color="4″ icon="0049.png"]Make sure you have the print of your return tickets and hotel booking at hand. Have it ready in case the immigration officer asks for it. The immigration officers have different degrees of "strictness" or "stringency". If you travel as a group, have your individual copies as well.[/infopane]
Travel to Tsim Sha Tsui, Kowloon
We rented an Octopus card at the airport's arrival hall. Each of us paid HKD150.00 each—that included the consumable HKD100.00 and the refundable deposit of HKD50.00 (which covers the card cost).
We took Bus A21 to Tsim Sha Tsui station in Kowloon where our accommodation (the Burlington House branch of H.K. Taisan Guest House) was located. Tsim Sha Tsui, by the way, was the 13th bus stop. The fare was HKD33.00.
[one_half]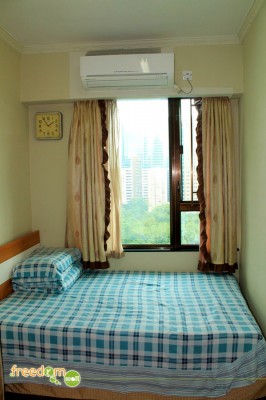 [/one_half] [one_half_last]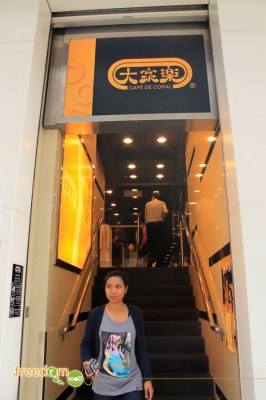 [/one_half_last]
H.K. Taisan Guest House occupied the 15/F of the block B of Burlington House. Ate Yolly, the caretaker, was very accommodating. She even allowed us to cook. She also offered discounted Hong Kong attraction tickets.
As recommended by ate Yolly, we had our lunch at Cafe de Coral, just a few blocks from our hotel. Set meals start at HKD35.00. Before having lunch, we rested for a while, since most of us still hadn't slept the day before. We waited for the other batch to arrive from Singapore.
Peak Tram and Sky Terrace
It was past 4PM when we headed to the first leg of our tour. We took the MTR and got off at the J2 exit of the Central Station. We walked across Chater Garden, and then followed the signs along Garden Road. The Peak Tram station was beside St. John building.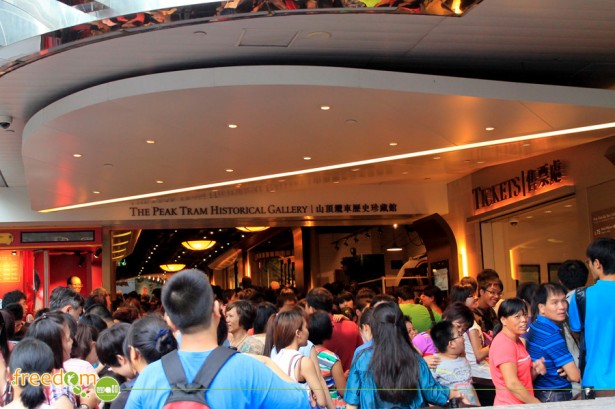 The Peak Tram + Sky terrace + Madam Tussauds ticket bundle costed HKD275.00 when you buy it in the station. We paid only HKD220.00 at Taisan Guest House for the same ticket bundle. Some online merchants sell it for even lower price.
It was Saturday afternoon so the queue was longer than usual. The line to the ticket counter was even longer. So when you visit The Peak, make sure that you have bought your passes in advance.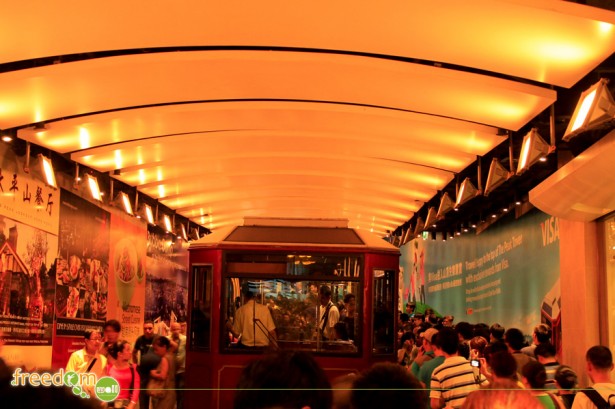 Upon reaching the Peak Tower, we separated. Some of us went somewhere else while the rest including myself went up to the Sky Terrace, a viewing deck on the top of the Peak Tower. It was really disappointing since the fog covered our  view of the city. If only we can ward those clouds off. Still, we never lost hope and waited nearly an hour just to witness the panoramic cityscape (We already had too much of this waiting game). However, it was a failure. The clouds did not give us a 100% unhampered view.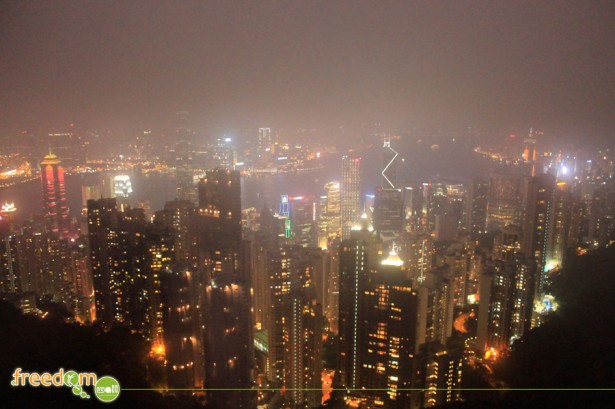 Madam Tussauds Wax Musuem
The night became cooler and cooler at the top so we proceeded to our next stop, Madam Tussauds Wax Musuem. It was located at the lower floors of the Peak Tower. Select Hollywood celebrities had their wax figures in the museum. These include the famous celebrity couple, Angelina Jolie and Brad Pitt; the Wolverine, Hugh Jackman; the Iron Man; the great actress, Meryl Streep; Madonna; Robert Pattinson; among others.
There were also Chinese celebrities, historical personalities, famous artists, and athletes.
[one_half]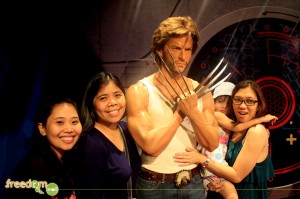 [/one_half] [one_half_last]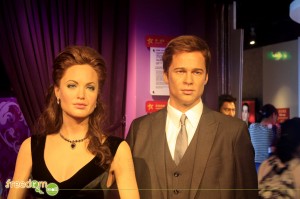 [/one_half_last]
The tram operates until midnight only so we headed back to our hotel before it closes, or we lose our ride back.