Before the walkathon in Bangkok, let us talk about our amazing race in the Philippines first. I did not go on leave a day prior to our trip. I took a mid-shift work schedule wherein I came to the office at 03:00PM and left at 12:00AM. I had all my stuff ready to make sure that by the time the last second ticks to midnight, I am ready to go and catch our 08:00AM flight.
Our airport of departure was in Clark, and, as per my research days prior, we can take Victory Liner to Baguio or Five Star Bus Co. to any point in Pangasinan and get off at Dau bus stop. So, we headed to Victory liner terminal in Pasay. Sadly, all their trips to Baguio untill 3:00AM were fully booked so we ran to the Five Star Bus terminal, which I guess, is half a kilometer away. Good thing that they had a trip to Dagupan which will also make a stop in Dau. We boarded the bus at 12:45AM and it left at exactly 01:00AM.
The travel was smooth and we reached Dau 15 minutes before 3:00AM. We then took our breakfast at the nearby fast food restaurant and stayed there until 03:30AM. After that, we rode a jeepney to the main gate (I had no idea why they call it a main gate but it was like a transport terminal to any point in Clark, Mabalacat, and Angeles in Pampanga).
A jeepney driver who was waiting for airport passengers approached us and offered to take us directly to the airport for only ₱250.00. I thought it was expensive, and since we were still early for our flight, we decided to wait for more passengers to share the fare with. It was already 30-minutes past 4 in the morning and there were no other passengers coming, so we took the offer.
When we reached the airport, a Genesis Bus came with lots of passengers. I asked one of the passengers where they come from and she said they were from Trinoma which left at 03:00AM. (Why didn't I found this schedule during my research? It could have been a smooth trip for us. We'll, it was a knowledge learned.)
So guys, remember, the earliest bus from Trinoma in Quezon City to Clark International Airport leaves at 03:00AM.
The newly renovated Clark was spacious and clean and it was exactly opposite of the way it looked the first time I'd been there.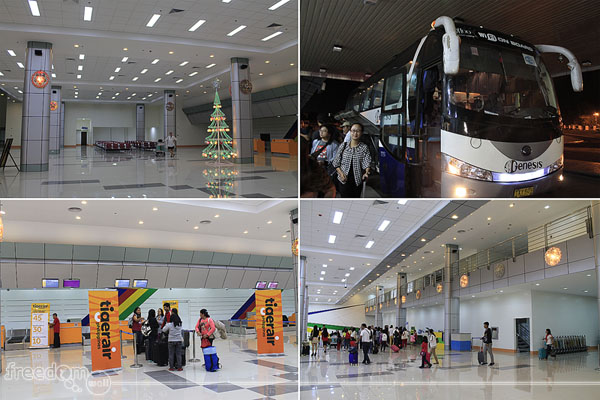 The plane left on time and it costed us 2 hours to reach Bangkok. After passing the immigration, we changed some our US Dollars with Thai Baht and headed to the Airport Link (City line) station. We boarded the train and got off at Phaya Thai station then transferred to BTS for National Stadium station where our hostel, Lud d Bangkok Siam Square, was located.
What welcomed us in National Stadium was a long line of protesters – we had no idea that it was a big protest day in Bangkok.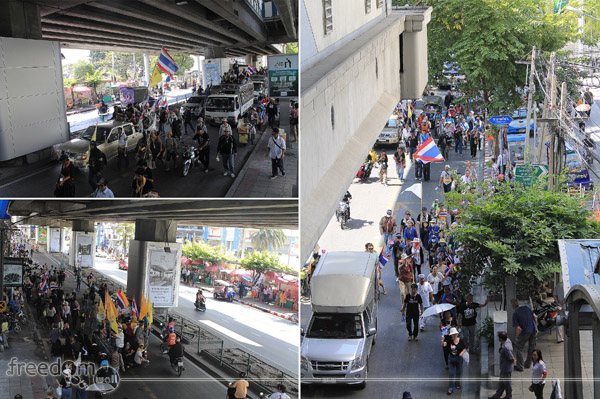 Since we were early for check-in, we left our baggage in Lub d and headed to the neighboring MBK mall to take our lunch. We were lost for an hour looking for a good place to eat. We grabbed the mall's map near the elevator and look for restaurants. We found the MBK Food Island on the 6th floor with great selections of Thai food. We rented an MBK card and loaded it with local currency (Note: The stalls accept card payments only). The MBK food island card is valid on the day it was loaded and the unused funds can be refunded, also on the same day.
We headed back to the hostel to check-in. The receptionist asked us where we will be heading first. We told her that we are going to Royal Pavilion Mahajetsadabadin, Wat Saket, and its neighboring temples. She said it was bad for us since the area is one of the prime location of the on-going protest. We decided to rest for the moment and figure out later on how to fix our itinerary.
The supposed short rest turned into a deep sleep and we only got awake past 5 in the afternoon. But instead of remaining idle the rest of the day, we decided to go on a walkathon in Bangkok.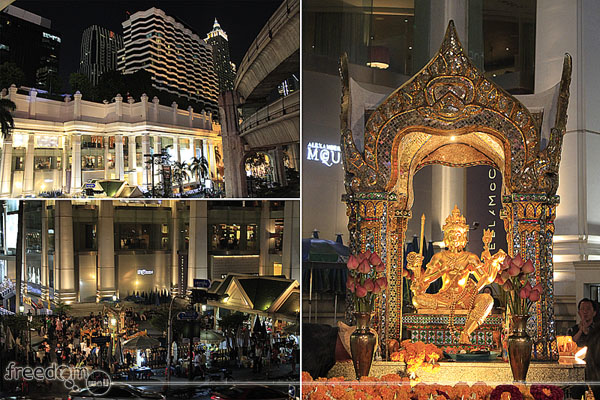 We passed through Bangkok's biggest malls; the Siam Center and the Siam Paragon. We also passed along Wat Pathumwanaram Ratchaworawihan which was already closed. After the temple was the Central World Plaza but we decided not to check the mall since we were still in the early stage of our tour – definitely not a shopping time. In front of the Central World is the dark Royal Thai Police headquarters. Later, we learnt that its power was cut by protesters. And, yes, there was an on-going noise barrage that time. We quietly excused ourselves from the mob and proceeded to the Erawan Shrine, located in the corner of Grand Hyatt Erawan Hotel.
The shrine housed a statue of Phra Phrom, the Thai representation of the Hindu god of creation, Brahma. We stayed in the shrine for few minutes and watched every individuals paying respects.
We continued walking along the BTS Silom line and reached Lumphini Park. The park was a little dark at 7:00PM. We still went in and found several joggers circling the park's perimeter. There is also a free outdoor gym on one side and a local performance or recital on the other with few spectators. Since we couldn't relate to the show, which was done in Thai, we exited the park. We found the monument of Prabat Somdej Pramongkudklao at the corner of Rama IV and Silom Roads.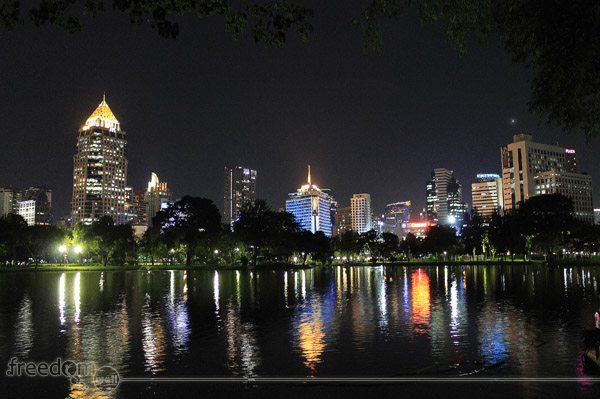 [one_half]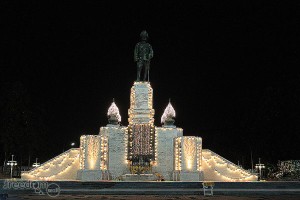 [/one_half] [one_half_last]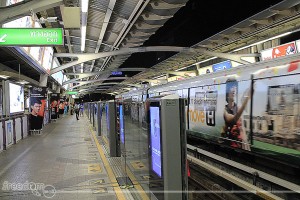 [/one_half_last]
We crossed Rama IV Road and stepped on the entertainment district of Silom. But before exploring the place, we took our dinner at Convent Valley wherein we tried the Peking duck and the local curry noodle soup. The distinct taste and smell of the bai horapha (Thai basil) was really strong. I don't kinda like it at first but I started to get used of the taste after several meals.
Along Silom were RTW and souvenir shops that were best for bargains. A great variety of selections were also available at Patpong Night Market. On the other hand, the Phat Pong Alley is very popular for adult night life but it wasn't a type of place that I would like to hang-out. After few rounds of price inquiries, we boarded the BTS at Sala Daeng station and that ended our day 1.