We stayed in Lub d Bangkok Siam Square on the first leg of our Thailand-Cambodia-Vietnam tour. We spent three nights in the cozy hostel and the experience was totally great for us. Well, not mentioning the strategic location and a lot of freebies for guests, we shared memories with other travelers, and, of course, gained new friends.
Lub d has two branches in Bangkok: one is located in Silom, a place for an excellent night out; and the other is in Siam Square, a shopping haven. For us, we chose to stay in the Siam Square branch. Its not that we are into shopping or we wanted to stay away from Bangkok night life, but Siam Square was just more popular to the ears of Bangkok first timers. Later, I realized that it was a perfect choice for us since my companions were early sleepers. Also, night life was never part of the itinerary to begin with.
Anyway, I 'm sure that whatever branch you pick, you'll definitely have a great stay.
How we got there
From Suvarnabhumi (pronounced: su-wan-na-pum) International Airport, we took the Airport Rail Link (City Line) to Phaya Thai station (the other end of the City line). We paid TH฿45 for one-way ticket. The train operates from 06:00AM to 12:00 midnight.
We transferred to BTS (Sukhumvit Line) Phaya Thai station and paid TH฿25 for a ticket to National Stadium. We got off the BTS Sukhumvit line at Siam Square station and transferred to BTS Silom line. (Note that you don't need to exit the station to transfer to BTS Silom line. You won't get confused if you'd ridden Hong Kong's MTR and Singapore's MRT.)
Lud d Siam Square is just few steps away from the National Stadium station.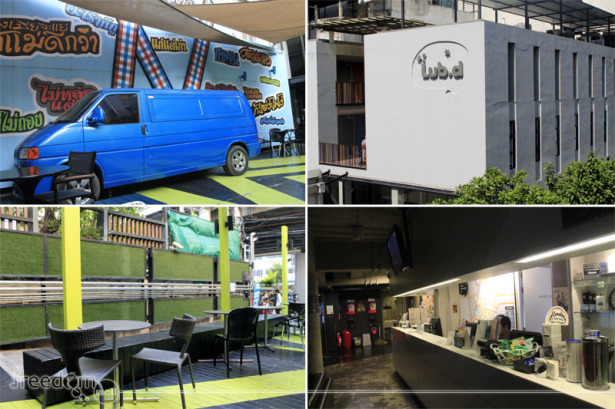 Checking-in
We arrived early in Lub d, 2 hours early for our check-in schedule. They allowed us to leave our baggage. We then headed to the nearby mall, MBK, to take our lunch.
Everything was ready when we returned. The sleek and modern interior and the cool atmosphere was quite impressive.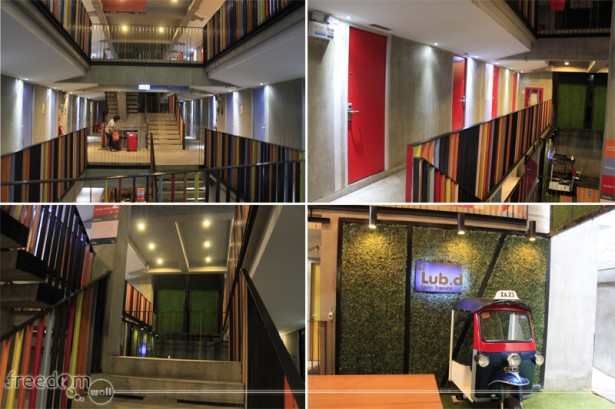 We booked for a 4-bed male dorm and occupied only three. The remaining bed was occupied by a guy from Australia (according to his bag tags) but we hadn't able to chat with him since we were asleep when he arrived and he was asleep when we left for our day tours. He stayed there for a night only.
Then we met Winston, who stayed with us for two nights. He was also from Australia. His wake time was different from ours so we rarely found a good time to chat.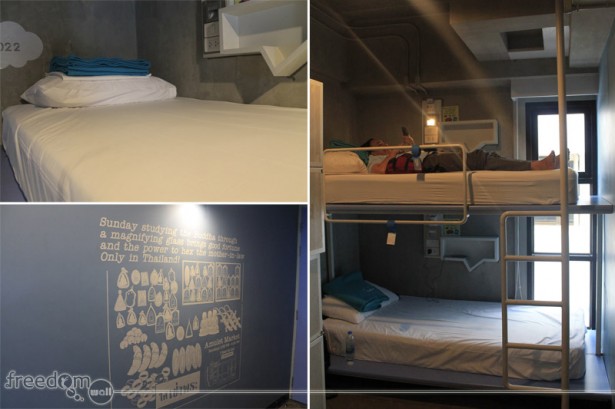 Right across our dorm was a theater which offers free viewing for guests. It would have been perfect if we can bring in some chips and drinks. But that wasn't a big deal for us since they were just thinking for the overall hygiene of the room.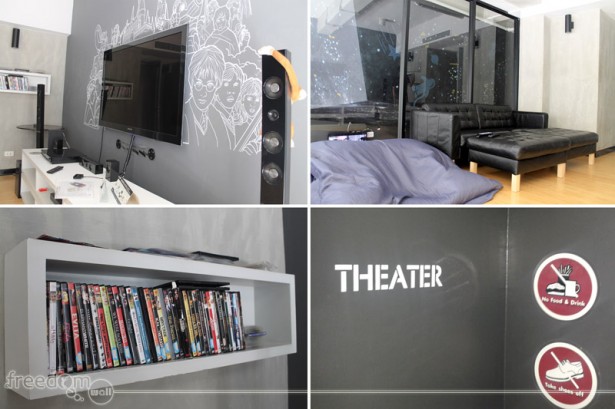 The common toilet and bath has enough room for guests and is pretty well-maintained. Hair dryer and other basic T&B amenities were also available.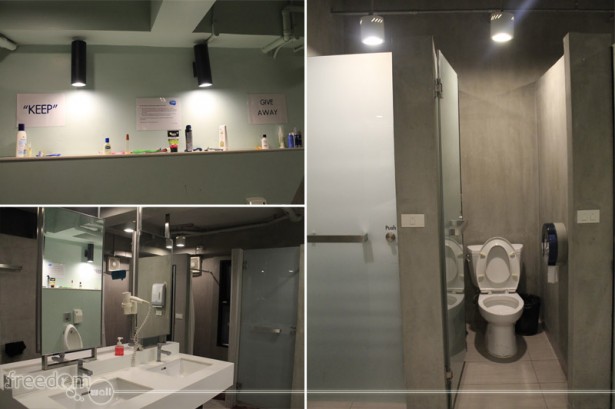 Freebies
If you have some time to spare, Lub d has several books for exchange. You can also plan for your trip using their free travel guides and maps while munching the free popcorn at night. Complimentary coffee and tea is also available from 02:00PM to 02:00AM.
And if you want a hug, everyone is willing to share their warmth.