For four straight days, bloggers from Cebu, Davao, Cagayan de Oro, Bohol, and Manila hopped around Metro Cebu to experience the best of Cebuano food scene. We tasted interesting variety of flavors and witnessed inspiring success stories. On our list were established restaurants and upscale diners, as well as the impressive surviving small players in the industry. I will share about them individually in my future articles.
Cebu Food Crawl Dilemma
Everybody looked weary when we arrived at Ayala Center Cebu activity center. Ayala was the last stop of the last day of the 2016 version of Cebu Food Crawl, which explained the gloom on our faces. Like anyone else, we were drowsy because we were so full.
We were completely aware that it was arrogant to complain waking up early to eat and sleeping late at night with a full stomach. Forgive me, but our digestive juices were not given enough time to recuperate the digestion process. They are equally overwhelmed. We had to taste every food served to us to make sure we can provide quality and constructive reviews, part of the post requirements for joining the food crawl.
Ayala Center Surprise
Tired faces turned exuberant, when Ayala Center showed us their surprise. Jollibee and the gang joined us with their Filipiniana costumes. We almost forgot, thanks to Ayala for reminding us that that day was National Heroes Day.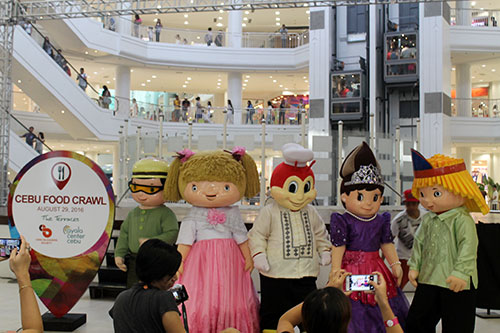 The Progressive Dinner
Our hosts from Ayala then oriented us the mechanics of the progressive dinner. We formed three teams out of the 25 participants, and each member was given a passport. The teams hopped around the participating food establishments for their starters or entrées, main course, and desserts. However, before the team can move to the succeeding stop, each participant must have their passport stamped.
[video_embed maxwidth="500″][/video_embed] The stamps can only be acquired after completing the task assigned by our food guide. Posting a photo on social media with required hashtags and check in was a simple task to complete though.
The team did not allow a member to be left out nevertheless. We shared connections powered by Smart's All Out Surf and encouraged 100 percent participation.
Partner Restaurants
Each Team was assigned four restaurants. Among them are: La Tegola, Chikaan, Casa Verde, and Brique for Team Pink; Moon Café, Laguna Garden Café, Ulli's Streets of Asia, and Majestic for Team Blue; and TGI Friday's, Big Mao, Lemon Grass, and Bo's Coffee for Team Orange.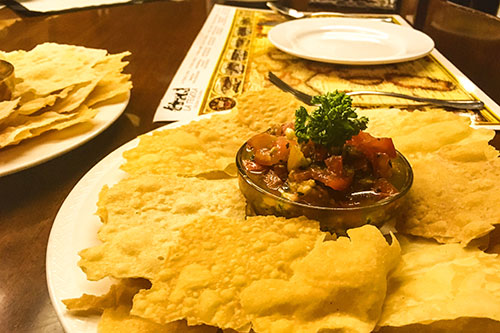 One participating partner was assigned for appetizers. Another served the soup of the day. One was extravagant enough for the main course. Lastly, another restaurant treated food crawlers with desserts.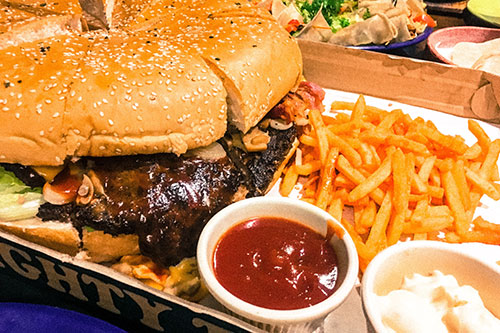 At the end of the progressive dinner, the top five participants with the most post engagement were given with tokens. Though not everybody was awarded, everybody went home happy with enriching food memories.
The recently concluded Cebu Food Crawl forged strong connections, friendships, and even special relationships—a true testament that food bonds people.