The chestnut-brown to ebony timber furnishing, the inky metal frames and railings, and the transparent glass panels give the façade of the newest branch of Rico's Lechon a simple yet elegant look.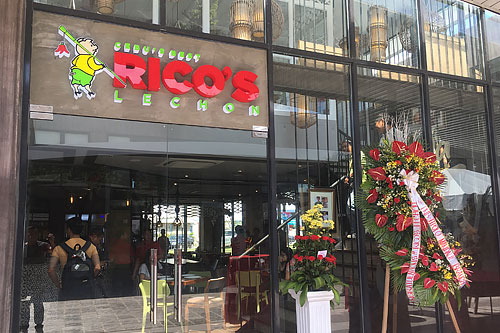 From the inside, the designs are not simple at all. The interiors are carefully matched to the finest details; from the seat upholstery, wall and ceiling hangings, flower arrangements, to lighting works, as well as the creative use of arches.
The stairway works like a mini gallery of Rico himself with his notable guests. Above it are well-crafted bamboo and rattan enclosures that added a rustic yet classy finish to the traditional lighting ornaments.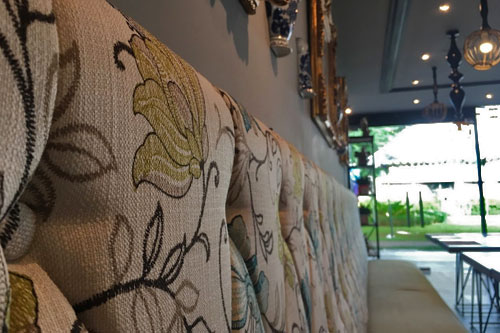 The second floor partitions for event functions are skillfully planned and designed. You may also notice Rico's Lechon's signature apple green motif and the leafy pattern adornments. I heard the brainchild of the stunning interior vibe is Ms Marie Sheila Solon.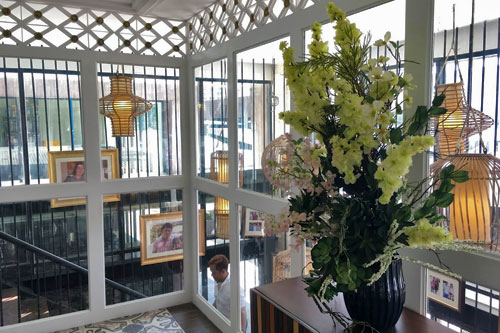 Rico's Lechon Axis Branch
Adding to Rico's Lechon restaurants in Mabolo and Mactan branches is the Axis branch, which is located smack at the city center. The third branch, which happens to be its largest, is situated at Axis Entertainment Avenue, Vibo Place along N. Escario Street, Cebu City. The new location is just few minutes away from Cebu Provincial Capitol and Ayala Center Cebu.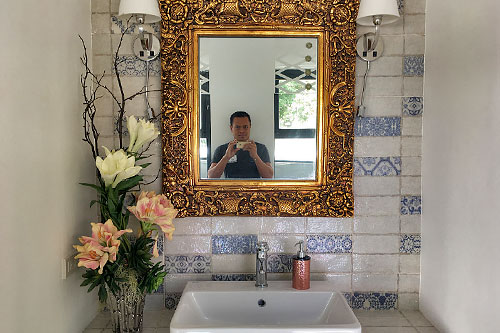 Enrico "Rico" Dionson, the founder and chief executive officer of the city's best pig roaster, noticed the increasing demand of their lechon as well as the frequent request to open up a branch closer to the city center. So, to accommodate the wishes of their patrons, they look for a strategic place for their new branch and found a spacious space in Axis.
The brand new hub is capable of housing 200 diners at any given time and that includes the 100-person capacity function room.
The Opening Ceremony
On December 12, 2016, the third branch of Rico's Lechon started serving the public with Cebu's best-tasting, spicy and original lechon as well as the launch of their newest culinary creations such as baked scallops, kamote balls, and cassava pastel. Other Rico's best-seller are also on the mainstays, including the garlicky squid balls (a personal favourite), kinilaw na tangigue, and pinaku na manok.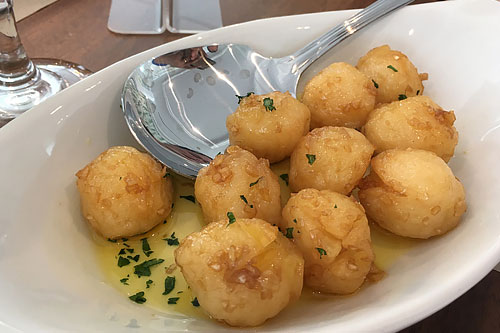 The opening of the restaurant was graced the founder himself, his family, as well as some notable personalities who helped Rico throughout his journey.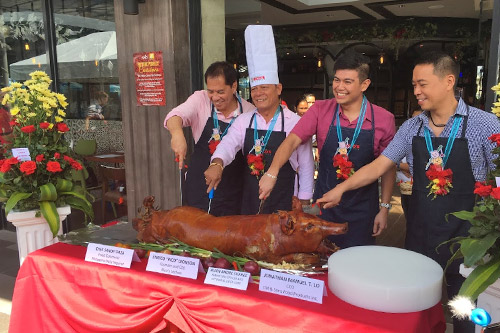 Instead of the ceremonial ribbon-cutting ceremony, they did "lechon-slicing".
Rico's Lechon Axis Branch Information
The restaurant is open from 10AM to 10PM for diners but they will start serving take-aways as early as 08AM. In addition to dine-ins and takeouts, the place is also available for private events and functions.
For more information, visit Rico's Lechon website: www.ricoslechon.com.
Contact numbers: (032) 344 0119 | (032) 239 2830