Have you purchased from Google a custom domain for your blogger but a "Google Error 404: The Requested URL / was not found on this server" appears when opening your domain in your browser? At first, I cannot believed when it happened to me. I was able to use my custom domain before, so I was shocked when one time, such error occurred. I tried my best to trouble shoot and below is the solution I found.
When you purchase a custom domain for your blogger using Google, it is bundled with Google Apps. Before proceeding, please check first your Google Account dashboard by opening it at


http://www.google.com/a/YOURCUSTOMDOMAIN.com
my account for example is…
http://www.google.com/a/freedomwall.net
and make sure you do not use www for your apps (see my screensho below)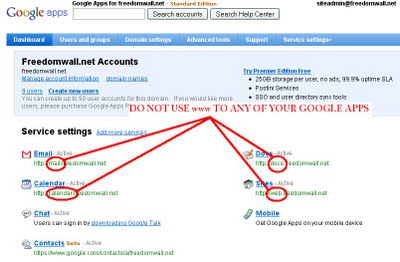 If you used www for any of your apps such as your site (i.e www.yourcustomdomain.com) change it with either www1, web etc. (I assume that your host is blogger.com and not Google Sites)
Log-in to your enom account to change or check your DNS records by clicking 'Domain Settings' tab, 'Domain Name' sub tab and then 'Advanced DNS Settings'. A new page will open and click 'Sign in to DNS Console' (see my screenshots below)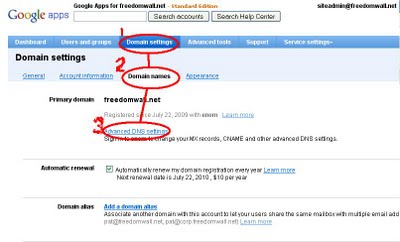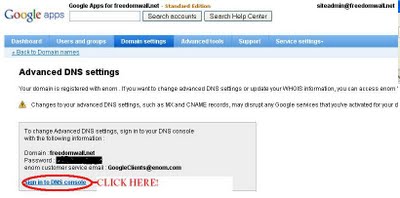 Sign in to your enom account using your domain and password provided. Make sure to assign host wwwto ghs.google.com and to YOURCUSTOMDOMAIN.com. If such addresses are not assigned, click edit and add new. (see my screenshot for reference).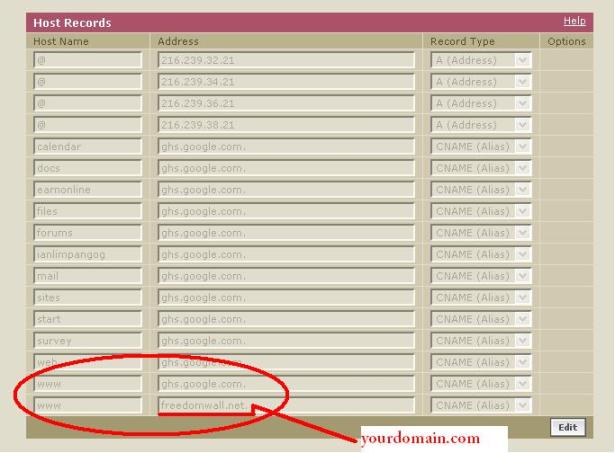 I hope this may help for those who are still experiencing such errors. Contact me for further assistance by leaving a comment below this post