Outlook.com is a professional email service provider that allows you to customize your domain while using it for free. I posted an instruction on how to use your own domain or brand in Outlook.com, however, I am receiving questions on how to access the customized email in mobile devices. Using your mobile device's browser, you can visit  http://m.mail.live.com, login then read your emails. But who would like to constantly check their email using mobile browsers? As much as possible, we wanted to receive new email notifications, which is not possible with smartphone browsers.
If you wanted to access to your email easily and receive incoming notifications, sync your emails with your mobile device. The following instructions shows how to configure your mobile email service using POP3 (Please note that I am using an Android phone in the process. The steps are basically the same for iOS devices and other mobile platforms).
Go to Settings >> Account >> Add Acount >> Email.
Enter your custom email address in the Username field and your password in the Password field. Select Manual Setup.
Use the following information for the Incoming Server Settings then click Next.
POP3 Server: pop3.live.com
Security Type: SSL
Port: 995
Use the following information for the Outgoing Server Settings then click Next.
SMTP Server: smtp.live.com
Security Type: TLS
Port: 587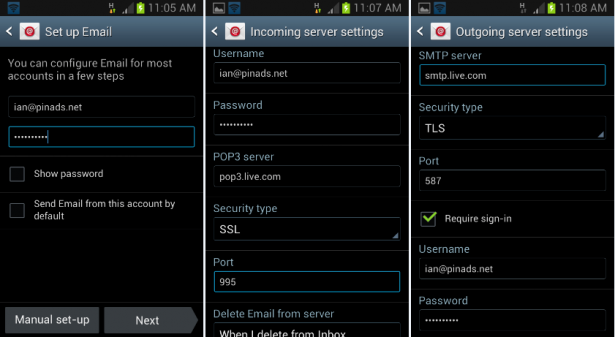 In the following screens, you will be asked to set the frequency of your email sync during your identified peak and non-peak hours. You can also set to receive notifications and set the email as default.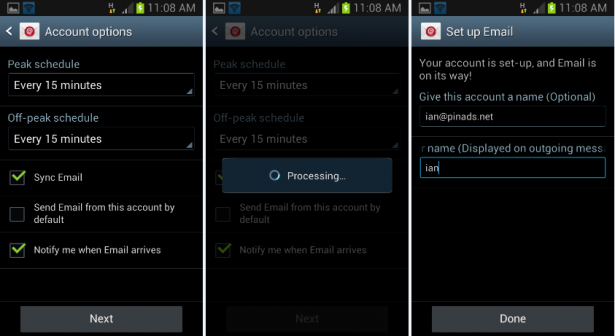 As of this writing, I always failed configuring the email using IMAP so I advice you to follow POP3 setup. Both services may be technically different such as pulling or syncing protocol but are relatively similar.
Also, the process may be different for other devices, just make sure that you input the correct Incoming and Outgoing Server Settings.
Happy emailing!