When you want to start a blog, you will first think of your blog niche or topics you would like to write about such as personal, opinions or commentaries, tech news and reviews, or travel. You can also choose to have a multi-niche blog where you can publish articles of multiple genres. But take note that your blog's success will depend on the quality of your contents, on how often you publish articles, and of course getting a traffic or blog visitors.
Your blog's traffic will depend on your SEO or search engine optimization techniques you utilize but if you have no idea of SEO stuffs, you can start with the basics. Your friends will always be your first target visitors. So how will you inform your friends about your creative output? You can do the manual stuffs like emailing, tweeting, and posting your articles on Facebook. Copying your link and excerpts and pasting it to your wall is not so tedious to do but still tedious. What if Facebook is blocked by your ITs firewall (especially those who are updating their blog using the office or school internet)?
I have simple solution to that and it is RSS Graffiti. RSS Graffiti is a Facebook application that will automatically post your blog articles to your wall or activity threads without requiring you any "copy and paste". All you have to do is allow the app to access your data, authorize the app, and provide your blog or feed URL then you're good to go. You can also configure on how frequent RSS Graffiti will check your latest articles. In my case I choose, as soon as possible.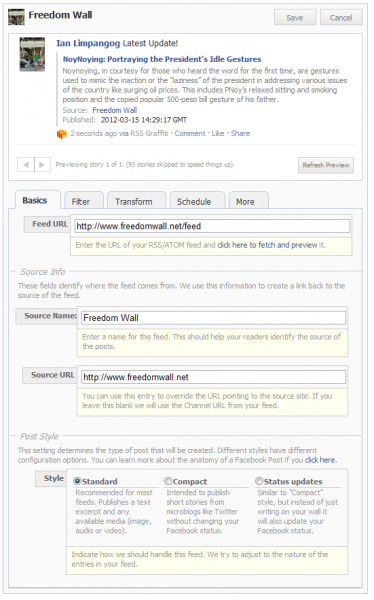 RSS is a great aid for me. Even though I am not logged with my Facebook account, RSS Graffiti automatically informs my friends about my newest publication. Indeed, with RSS Graffiti, you can feed your wall.