Looking at Map, you will find Sohoton Bay as another thick and dark-green plat, seating on the southwest portion of Bucas Grande Island. White strips dot the edges to its islet conglomeration. There are also blue lagoons and shallow areas reflecting a turquoise shade to the satellite cameras. And yes, by merely looking at the map, I couldn't stop my thin arm hairs raising for excitement.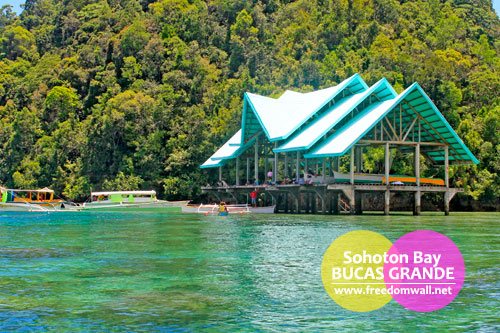 Sohoton Bay is a real stunner in Mindanao. It emanates a pixie world vibe. The conglomeration of karst massifs that seems floating on the shallow yet mysterious waters of Bucas Grande are covered with verdant greens. You will surely get curious on what other enchantments are hidden behind those shrubs. Enthralling and bewitching are more fitting words to describe such beauty.
Sohoton also features a multi-tinged water, covering all shades in between blue and green. It makes a stunning backdrop of your boating photos.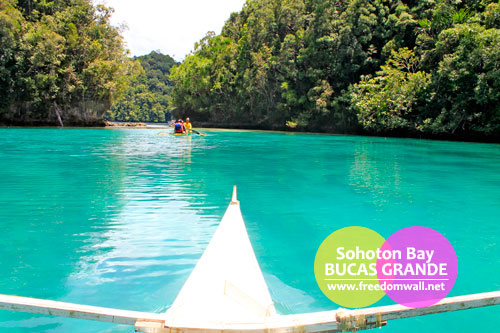 If you want to visit Sohoton really soon, hope this guide will help you.
How to Get There
From Manila [MNL], take a flight to either Siargao [IAO] or Surigao [SUG].
If you arrive via Surigao City, proceed the the city's terminal, and then hop on a van or a Bachelor Express bus (₱100) to Hayanggabon Port. Transfer to a pump boat bound for the Municipality of Socorro in Bucas Grande Island. Another option is to catch the 12:30PM boat (₱150) to Socorro from the Surigao City port.
If you arrive via Siargao, head to Dapa port using any available island transport. From Dapa, you can ride the 8:00AM or 4:00PM boat to Socorro (₱100).
There are several outrigger boats available at Socorro for your Sohoton Bay sojourn. Island hopping rates starts at ₱2000.
If you are coming from Cebu, you can either take a ferry to Surigao or a flight to Siargao.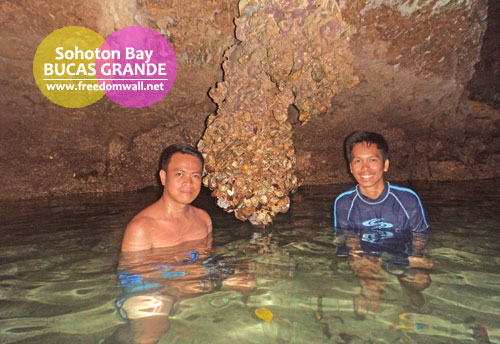 Things to do
Beach Hopping – There are a lot of beach fronts to choose. You can have your lunch at any beach of your choice.
Tojoman Lagoon (Sohoton Bay Jellyfish Sanctuary) – The spotted jellies or sting-less jellyfishes (Mastigias papua) of Sohoton usually surface from the later part of May to early July. You can watch them, but don't touch them. Don't even try lifting the vulnerable species out of the water.
Makukuob Cave – Swim, wade, spelunk, and cliff-dive. That is the full package that you need to complete. Remember, going back and skipping a step is not an option.
Hagukan Cave – Hagukan is named after snoring. Going inside is easy when it is low tide. However, you must be able to hold your breath long enough to get through when its high tide. You won't regret it though. While you're in, you can listen to the fascinating tidal music. It seems like nature's version of 3D surround.
Tiktikan Lake – With the calm water and the enchanting surroundings, you could finish a book when someones paddles for you around the lake.
Bolitas Cave – So pebbly, that's how the cavern got its name.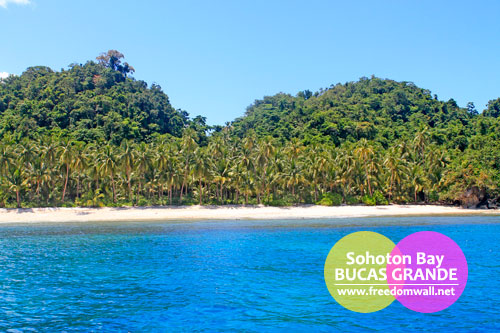 Where to Stay
Club Tara Resort is the closest resort. It is located within Sohoton Cove premises. It features luxurious water cottages (₱8,000++) built on concrete stilts, which come with individual Jacuzzi. Their forest rooms (₱4,000++) are available for couples while the dormitory (₱5,000++) can house up to 6 guests. You can book you accommodations by clicking here.
Not too far away from Club Tara is Balanghai Tara Sohoton Beach Resort which offers humble standard and deluxe cabanas for the non-discriminating guests. The standard cabanas are available for ₱1,500 while the deluxe cabanas can be rented for ₱2,500 per night. You can book your Balanghai cabana by clicking here.
The Hidden Island Resort, on the other hand, is closer to a small community, but still situated on a private island giving you an exclusive stay. Accommodations starts at ₱3,500 but when you are lucky to spot a deal, you can get it at much lower rate at Agoda.