Top brass Filipino travel bloggers? Here's my list in no particular order: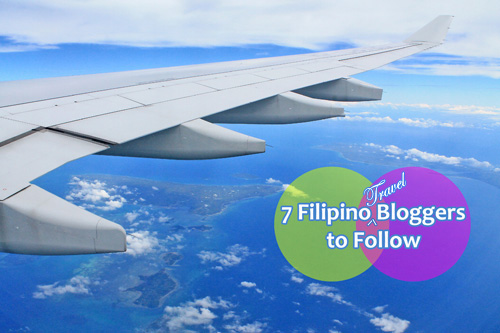 Lakwatsero
Ask Angel everything about travelling around the Philippines, and then he will give you complete and precise travel guides with matching important notes, tips, and reminders. He mastered writing do-it-yourself (DIY) guides that do not only include "how to get there", "where to stay", and "what to do" but also stresses cultural significance, community impact, and environmental preservation. I tend to copy his style (Sorry, Angel!) but I could not do better. And yeah, Google always put Lakwatsero on top of search results.
Pinay Solo Backpacker
Before Lakwatsero enjoyed the limelight, Gael Hilotin or The Pinay Solo Backpacker has long been within the radar range. You may find her travel guides not as updated as Lakwatsero, that is because she had been everywhere before anyone else did. That was when the rates and the fares were way cheaper. Gael also writes for Yahoo! Philippines to give you weekly travel inspirations.
The Poor Traveler
Who else writes the best, most sugary, and artistic descriptions about every destination he has been to? Yoshke and Vins, the guys behind The Poor Traveler, create a masterpiece every time they publishe blog posts.
It isn't about exaggeration but pure creativity, excellent choice of words, and honest inspirations. Their descriptive narratives do not only give you the accurate picture, but also help you replicate the excitement and disappointments (if any), as if you travel with him.
It's no longer surprising if you read Yoshke and Vins on top travel magazines and see them getting featured on TV.
The Pinay Travel Junkie
Gay Emami is another creative guru. She is known as the Pinay Travel Junkie in the blogosphere and is popular for travelling the farthest country a Filipino could explore visa-free. But that doesn't mean that she only reaches out those foreign lands with less stringent border restrictions.
Gay's photo essay series literally reaffirm a saying that goes; "a photo is worth a thousand words". Whenever I read them, they always remind me to work more on my organization, creativity, and vocabulary.
And, don't forget about Luna who adds cuteness to everything.
Pinoy Adventurista
Yoshke said, "seeing the world should not cost you the world" but Mervin, the Pinoy Adventurista, technically defined it. He hasn't explored the world yet but his budgeting tips will change the way you plan for travel.
Before Mervin hops among the posh hotels in Manila and the rest of the Philippines, he stayed in the cheapest accommodations in town and tried the most affordable public transport. His budget expense summary every after travel series will make you pack your stuff and travel the way he did.
Lakad Pilipinas
The paragraphs are worth reading but the photos speak everything – that's how Christian of Lakad Pilipinas captures the world in four corners. All the photo angles and elements are properly observed and implemented in every shutter click. And the best thing here is that, he does not keep his technique a secret by sharing some photography tips.
Out of Town Blog
Melo Villareal, the brainchild of Out of Town Blog, has interesting hotel reviews, great event coverage, appetizing list of dainty hotspots, and fascinating list of must-see places on his portfolio. He also writes about travel accessory reviews too. Though the Out of Town blog focuses on travel niche, the blog publishes articles that cover everything close to that of the travel industry.
Now, let me know who do you read.