I couldn't be sure if the sundown has passed. My phone ran out of juice and there was no other way for me to check the time. The sky was rather gloomy that day. Fine drizzles wetted the upper part of my shirt, which gave me an unusual chill.
I stopped by at a mobile snack bar to get some siopao and refreshment. I remembered that I skipped lunch, so I had to grab some bites to fuel up. Not to mention, it was my birthday and I spent most of my day on the road. Traveling more than 15 hours, plus the multiple stopovers, was quite gruelling and draining. Thus, my ultimate wish that day was to get a bed and sleep.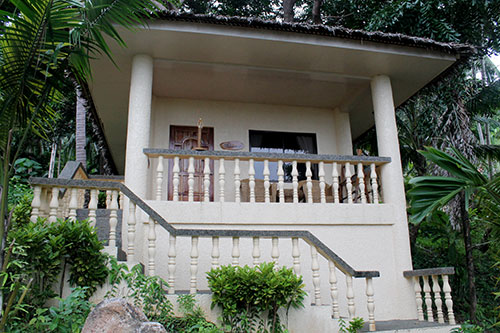 Easy Diving and Beach Resort: An Awesome Place to Stay in Sipalay
I hopped on a motorbike taxi (habal-habal) afterwards and headed to my ultimate stop, Easy Diving and Beach Resort. The resort is a priced hospitality spot and, at the same time, a recommended place to stay in Sipalay.
Seating on a sloped terrain along Punta Ballo Beach, Easy Diving diving offers a stunning view of the sunset, a chic beachfront, and a scenic locality.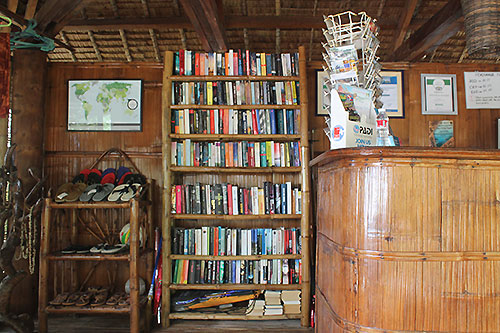 Since I was dropped near the main gate, I had to walk along a forested alley to reach the main resort premise. I wasn't aware that the reception was still a long downhill hike.
By the way, motorbikes and trikes and are allowed to go in. Unfortunately, my driver that time was not well-informed. It wasn't a bother for me though, since I find adventure in everything I do.
The Service Going an Extra-mile
Easy Diving and Beach Resort is perched on a cliff-side location, thereby requiring a lot of stairways to access the bungalow rooms, the reception, the souvenir shop, the dive center, the beach, and the restaurant which are spread around the property.
The steps pose a challenge to some, especially the elderly and disabled individuals. However, the resort has able to devise a workaround to compensate the difficulties. With a single request, the staffs are more than willing to carry you around.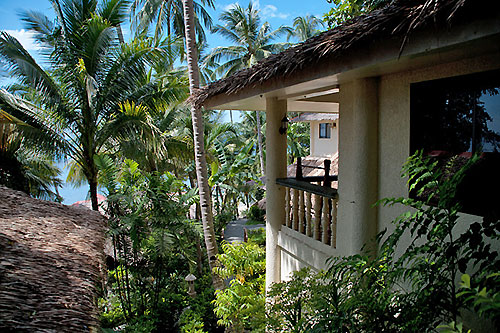 But still, I'd read bigoted individuals complained about the stairways. They even gave the resort a bad review on the basis of having a lot of steps alone, which I think is completely unfair to the resort.
Comfy and Spacious Bungalows and Rooms
Anyway, I got a free buko juice as welcome drink upon check-in. It was smooth. The receptionist even guided me personally to my room. Since it was already late, she also ask for my dinner of choice.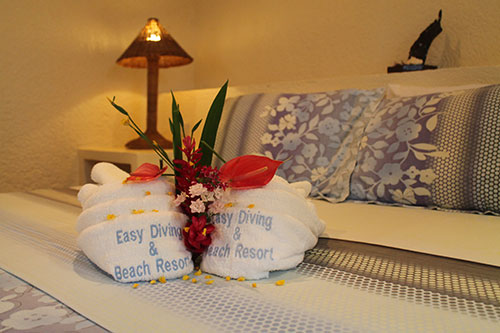 I got a deluxe bungalow for my 2 nights stay. It has its own veranda with comfortable set and a spacious room equipped with an A/C, a mini bar, twin beds, a clean and capacious toilet and bath, toiletries, drying stands with hangers, dresser, working table, and a scenic view of the hotel premises.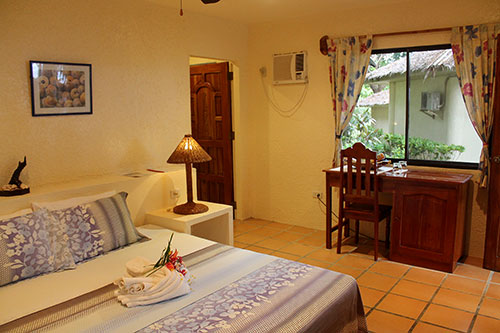 The deluxe bungalows, by the way have two types. One comes with twin beds and other with queen-sized bed.
Aside from the deluxe bungalow that I availed, Easy Diving and Beach Resort also offers a super deluxe which comes will all the facilities and amenities from deluxe plus a television set. This, of course, comes with a king bed, instead of twin or queen bed.
Super deluxe and deluxe rooms are within stand-alone bungalows while the standard rooms are located in multiplex studios.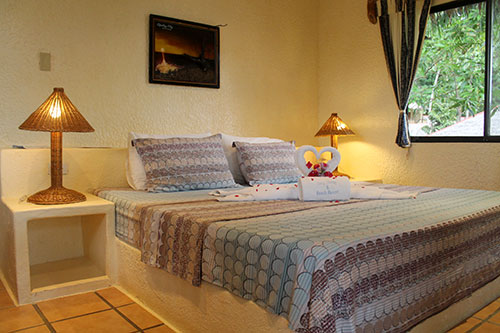 For budget travelers, you can choose between two standard rooms: standard aircon and standard fan. The difference of the two, of course is the ventilation system.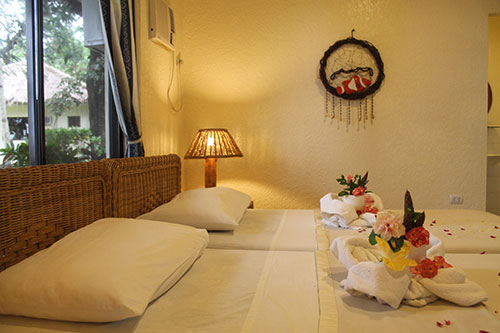 Both are equipped with a spacious room with twin beds, a balcony, a dresser, a clean toilet and bath, toiletries, drying stands with hangers, and the same scenic view.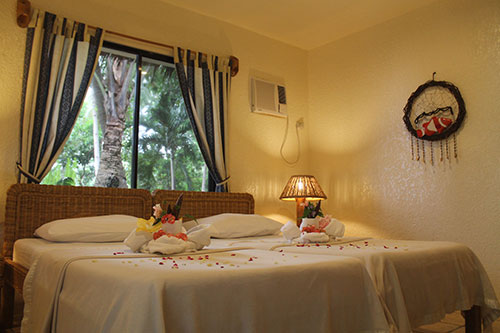 Good Food at Restaurant Acuaria
Easy Diving serves full-board meals at Restaurant Acuaria when included in your booking. However, the restaurant is also open to serve walk-in diners.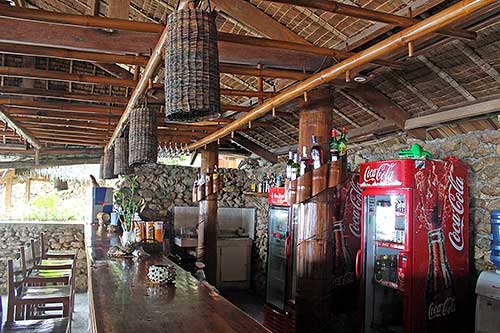 The menu is so diverse. It listed selections from select Asian cuisines, including Filipino food, as well as European delis and staples. You can order your food in advance and set your dining time so they can prepare everything for you while you are busy with your outdoor activities.
The restaurant is also a host to an in-house bar which serves wide selections of liquors, beers, and cocktails.
In-House Activities at Easy Diving and Beach Resort
You will never run out of things to do while staying at the resort. Guests normally spend weeks or months at Easy Diving and no one went home bored.
Among the awesome activity offers are:
DiveSafari
The DiveSafari is a flagship diving adventure program of Easy Diving and Beach Resort. It is a 5 or 6-day sea excursion where participants are brought to different parts of the Visayas to explore its exquisite underwater wonders. Depending on the package you avail, you can spend your nights at partner resorts or at the boat's deck itself.
The Negros-Bohol-Cebu DiveSafari will bring you to Sunken, Sumilon, Apo, Balicasag, Panglao, and Pescador Islands. If requested, this trip will also bring guests to Kawasan Falls, and Chocolate Hills. That's a 6-day of unlimited diving experience around the famous diving spots of the Central Philippines.
The 5-day Cagayan Islands DiveSafari will convey you to Caganyancillo in Palawan. The Cagayancillo islands and atolls lie just 120 kilometers west of Sipalay. This small archipelago is one of the most beautiful diving areas in the world, perhaps one of the top 10. Moreover, this group of islands is a protected area and, at the same time, a World Heritage Site as designated by UNESCO.
You must be a certified diver to join the DiveSafari. For non-divers, you still have a chance. EasyDiving does have an in-house, PADI-certified dive center to facilitate your training and certification. Not to mention, the resort has listed over 40 dive sites.
Aqua Sub
Imagine water skiing? Now do it underwater. That is what Aqua Sub is.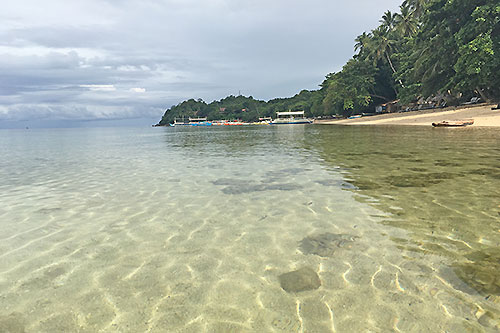 If water skiing requires a good sense of balance to keep you on the water surface, Aqua sub does not need you to break a leg to enjoy it. You just need to put on your snorkelling goggles, jump on the water, and hold the rope tight. Then, you will be towed by a boat. You can enjoy the spectacular view of the wonderful world of the deep while gliding peacefully above it.
Learn the Art of Archery at Archery-Asia
Archery-Asia also stands within the scenic and woody compound of Easy Diving. It has target ranges for newbies to practice and a parkour that traverses a mini forest for a shooting game. The parkour features 23 shooting areas with inanimate figures as targets and two relaxing sheds. The target distances range from 7 to 30 meters.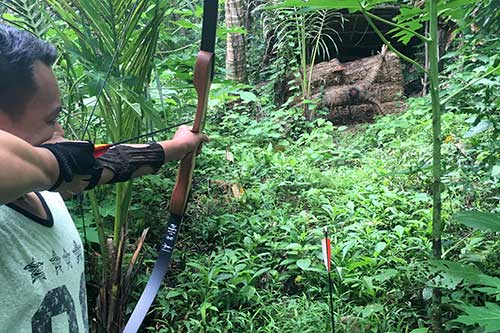 The parkour event usually takes 2-3 hours depending on your group's size.
Punta Ballo Parrot Farm
Punta Ballo Parrot Farm protects and breeds exotic species of birds, mostly parrots and hornbills. It is a satellite wildlife conservation center of Talarak Foundation, Inc.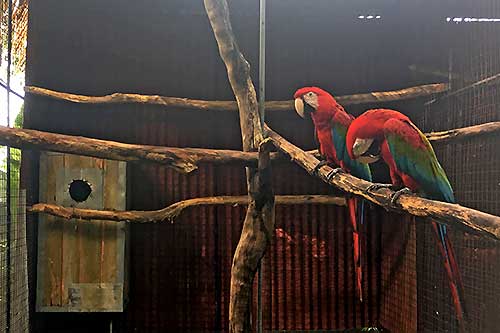 Since the farm requires delicate care and protection, it is not open to the public. However, you can request from the Easy Diving and Beach Resort management to arrange a short viewing schedule for you. Christian, the resort's owner and GM is really accommodating.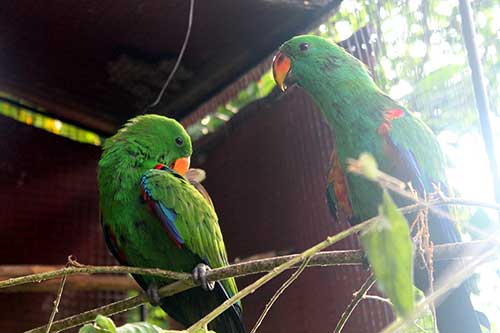 Punta Ballo Beach
If you visit for plain relaxation, Easy Diving is a good hotel of choice. Its quiet neighborhood and scenic locality will give you the real peace and comfort that you are looking for.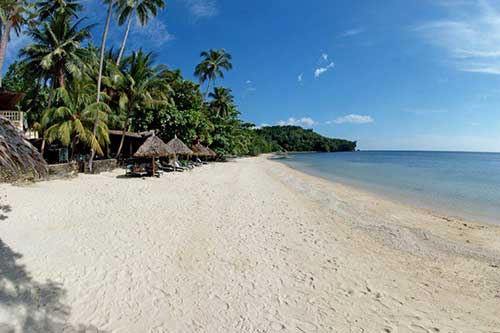 Punta Ballo Beach, though a public beach, is not too crowded. You can frolic along the entire strip, paddle around with a kayak, and snorkel to appreciate the beauty beneath its waters.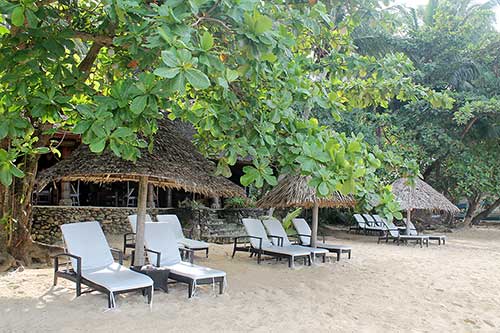 Contact Easy Diving and Beach Resort
Easy Diving and Beach Resort seats on a slope fronting Punta Ballo Beach in Sipalay City Negros Oriental. To get there, you can take a Bus from Bacolod that is Sipalay or Hinobaan-bound. From Dumaguete, take any bus that will pass Kabankalan City and transfer to a Van or Bus to Sipalay at Kabankalan.
From Sipalay City proper, you can either take a habal-habal (fare: 50/head) or a tricycle (fare: 150/head) directly to the resort's premises.
For a hassle-free transfer, you can contact the resort in advance to pick you up anywhere within Negros and Cebu Islands.
Address: Punta Ballo, Sipalay City 6113, Negros Occidental, Philippines
Contact number: +63 917 300 0381
Website: www.sipalay.com
Easy Diving Facebook page: https://www.facebook.com/sipalay/
Punta Ballo Parrot Farm Facebook page: https://www.facebook.com/Punta-Ballo-Parrot-Farm-Sipalay-City
Archery-Asia Facebook page: https://www.facebook.com/puntaballo/