One Monday morning, I suddenly thought of travelling to Baler. I considered going alone but upon thinking of the expenses, I became reluctant. I did some research and presented the itinerary with the corresponding expenses to my office mates. I also included a day side trip to Minalungao National Park in the list of the things to do. Five of them confirmed to join me, while two others promised to follow on the second day.
After spending most of our Day 1 in the road and in Minalungao, we headed to Baler by boarding a van in Cabanatuan City. We paid ₱200.00 each for the 3½-hour ride.
We arrived in Aurora's provincial capital at 11:00PM, however, we couldn't proceed to our accommodation since we hadn't book any yet. Two trike drivers approached us (Kuyas Michael and Bernie) and offered to look for lodges and hotels for us. We negotiated to pay ₱15.00 each.
During our hotel hunt, Kuya Michael offered us a tour package. He asked ₱700 per tricycle for a whole day tour including our fare for finding a place to stay that night. I immediately agreed. I'd read articles from fellow bloggers that they paid more even though they're just going to Ditumabo falls. By the way, one tricycle can carry up to 3 individuals.
We spent more than an hour knocking hotel doors in the middle of the night to look for vacancies. Fortunately, Amihan hotel, which is conveniently located smack of the town, had available fan rooms for us. A room with shared T&B costed ₱400 while a room with a T&B inside was worth ₱500. We took both rooms and assigned the one with in-house washroom to the meticulous ladies.
Kuya
s Michael and Bernie picked us up early in the morning the next day and brought us to the rolling store, just beside the park. We ordered fried blue marlin and it seemed everybody enjoyed the meal. In fact, they [my companions] planned on returning the next day.
After the imposing palate, we rolled to our first stop.
Ermita Hill
Ermita Hill is just few minutes trike ride from the town proper. Gazebos overlooking the ocean are installed for public use and are free.
The only disappointing scenery here were the vandals left by the visitors – some of which contain disturbing texts. Then I thought; if some people really couldn't resist the temptation of writing their personal thoughts, messages, expressions, and numbers in the thrusts and columns of these gazebos, maybe its time to put up a freedom wall where they can freely write and draw whatever they want (calling the attention of the local government and the tourism office).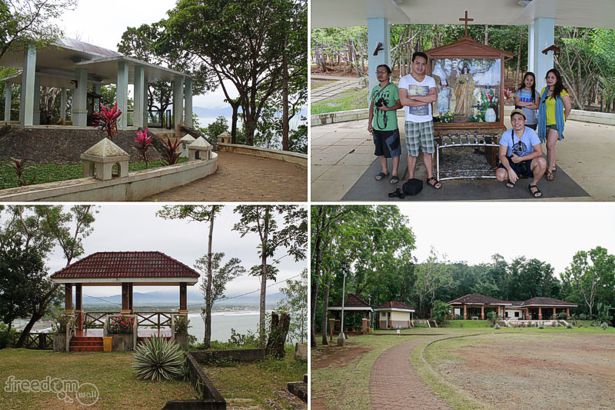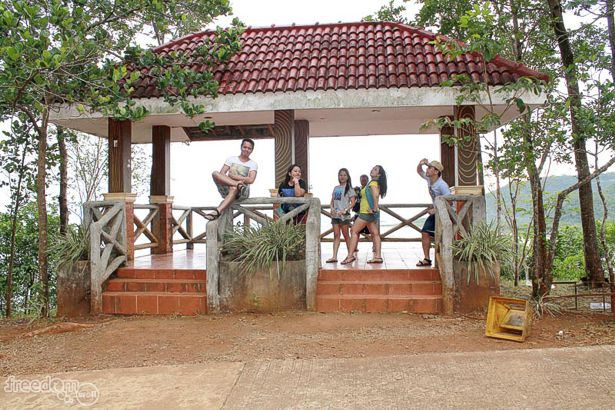 We drove downhill afterwards and found the monuments that depict the Aurorans' escape from the 1735 tsunami. Here, right in that very spot, my most memorable moment in Baler happened (Sorry, details are being withheld).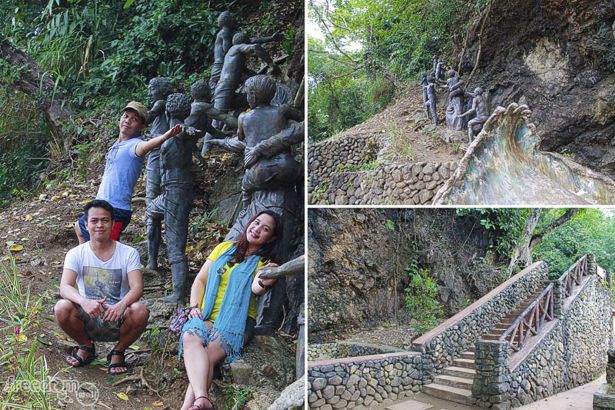 Diguisit Falls
Not too distant from the Ermita Hill are the twin Diguisit Falls which are both made of contiguous cascades. The water flow wasn't that strong so we waded carefree to the stream it made. We stayed there for a while, captured some awesome moments, and got slightly wet.
We were still on the early stage of the tour so we couldn't afford to get soaked or else, we'll shiver in cold.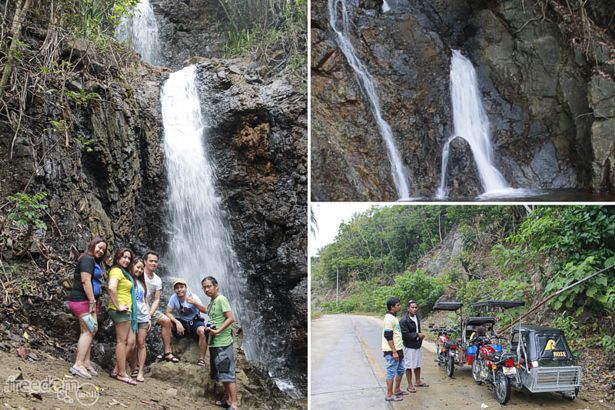 Aniao and Diguisit Beach in Dicasalarin Cove
Our next stop was Diguisit Beach, part of the Dicasalarin Cove. We paid ₱20.00 each to access the beach which was pretty busy with campers, beach bummers, and picnickers.
Few meters from the beachfront were rock islands, locally called Aniao. They were partly accessible by foot the time we visited because it was low tide. We did not lose any precious time and posed for the photo shoot with Kuyas Micheal and Bernie as photographers.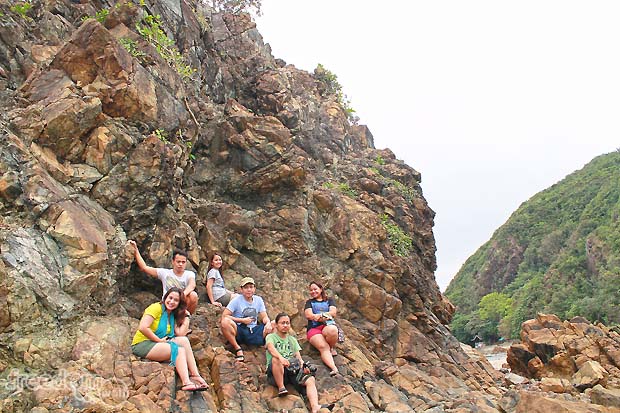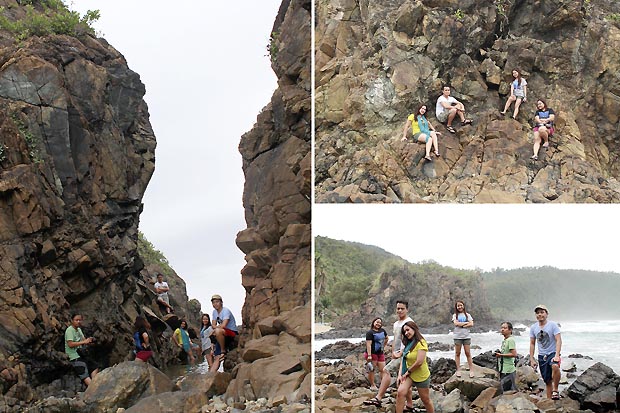 Baler Fishport
Our trike drivers-slash-tour guides also dropped us at the Baler Fishport and it turned to be another photo session.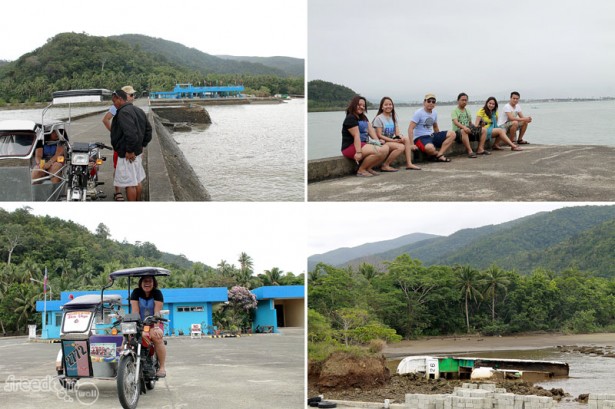 Ancestral House of Doña Aurora Aragon-Quezon
We headed back to the town after accessing the remote areas of Baler and checked the birthplace, I mean, the birth-house of Doña Aurora Aragon-Quezon. It is a simple yet elegant piece of abode made from fine hardwoods with nipa roofs, and decorated with important artworks and photographs in the interior.
Parked beside the house is a 1936 Chrysler Airflow which served as the very first presidential car.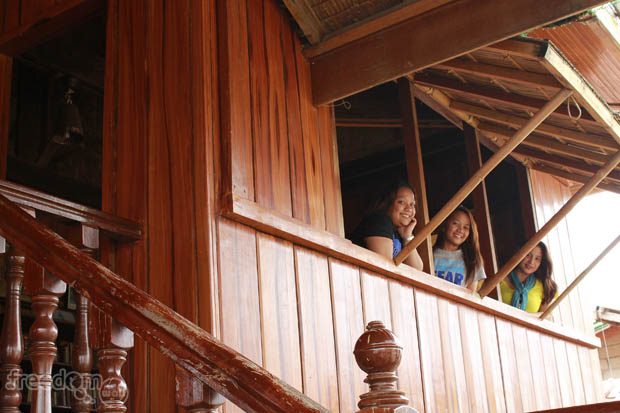 Museo de Baler
We visited Museu de Baler next. It features the mementos of Baler's cultural heritage, collections of artifacts amassed from the wreckage explorations in the Philippines, and some important memorabilia relating to the history of Baler and the province of Aurora as a whole.
Displayed outside the museum is another vintage luxury car, the Gen. Douglas Mac Arthur car, which he used during his entire stint in the country.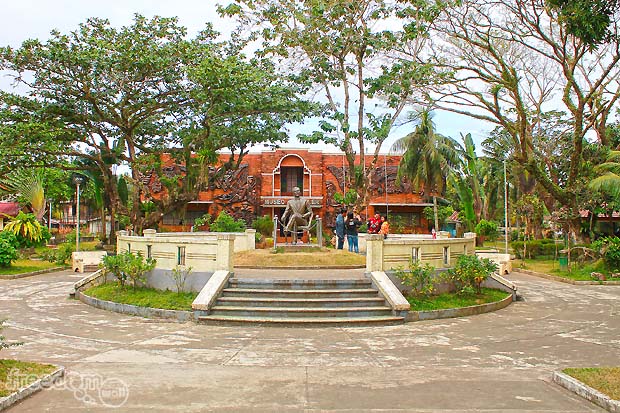 Lunch at Gerry Shan's Place
Our two office mates (Jo Anne and Francis) who promised to follow texted us that they were close. And since we were already hungry, we decided to have our lunch while waiting for them. We headed to Gerry Shan's place and fell in line. The place was jam-packed with diners. I guess, 'twas their ₱185.00 eat-all-you-can offering that persuaded guests to dine in such a humble eatery.
The food were good except for the beef dishes that required extra effort to chew, a strategy maybe.
Jo Anne and Francis joined us later and had their lunch in the same restaurant.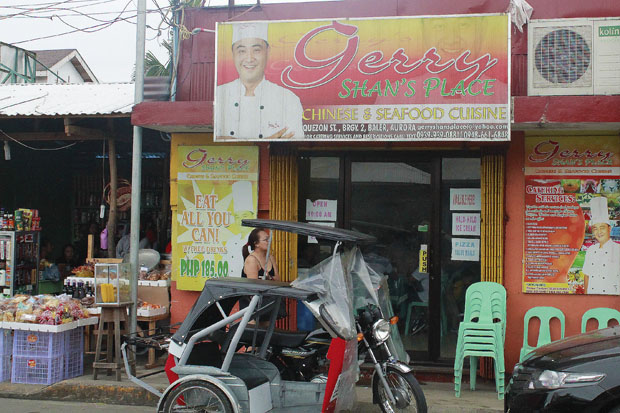 Ditumabo Falls
The group was complete when we headed to Ditumabo Falls. I have the story posted in a separate article.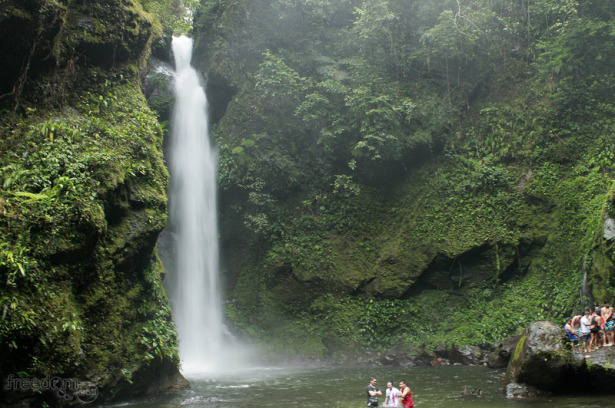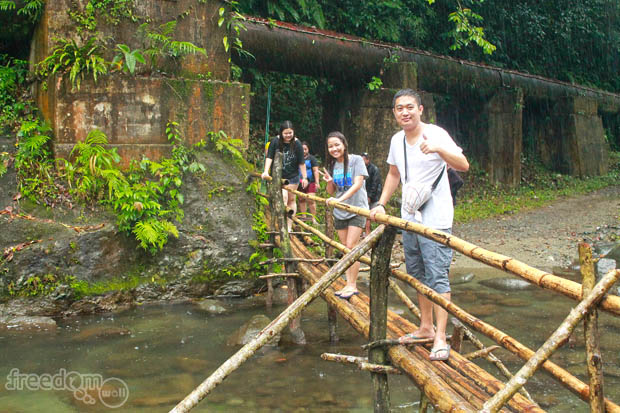 Old Balete Tree
From Ditumabo Falls, our tour guides brought us to the 6-century-old Balete Tree. It is the largest of its kind in Asia, and is believed to take 60 grown men, holding one another at arm's length, to encircle its gigantic hallow trunk.
There were holes going to the inwards of the tree but it was kind of creepy. When we got company (other tourists arrived minutes later), we explored the tree. We were startled with what we found inside – a huge hollow that can house up to 10 adults.
It was already dusk so we shorten our stay in the tree and headed to our hotel afterwards.
It was, indeed, an awesome Day 1 in Baler or Day 2 of our Minalungao-Baler Series.