The NEDA board approved the Government's third PPP (Public-Private Partnership) priority project lined up for bidding for this year last May 30, 2012. DPWH received a consent from NEDA Board Chair President Benigno S. Aquino III to hold a bidding of the 13 to 15-billion peso NAIA Expressway project.
The proposed NAIA Expressway project involves the maintenance and improvement of the existing NAIA Expressway Phase I road, the construction of Phase II of the NAIA Expressway, the construction of at-grade feeder roads leading to and from the PAGCOR Entertainment City, the operation and maintenance of the completed Phase 1 and Phase 2 as a toll road, and the maintenance of the at-grade feeder road as a free road.

-stated from the article posted in Official Gazette
The Phase II of NAIA expressway is a 4-lane elevated expressway with a total length of 5.2 kms. It will start from Sales Road (South of Resorts World Manila) going to Andrews Ave, Domestic Road, MIA Rd. and ends at Roxas Blvd. It includes to construction of toll plaza and 5 on and off ramps.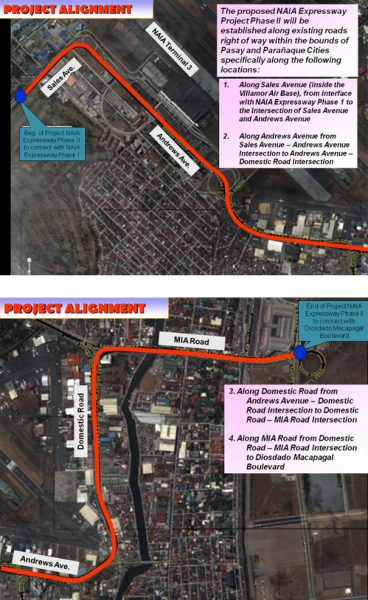 DPWH will receive bids in July 2012 and will issue a Notice of Award a month after. Detailed design and construction is expected to commence on the last quarter of 2012. The project will take 36 for completion.