I always keep an eye on airline fare promos for me to plan my future trips. Cebu Pacific, being known for their budget fares, is the top airline of choice for seat sales. I would like to seriously add travel as one of my blogging niche so as much as possible, I could schedule at least one travel in a month. So when I saw the 88-peso fare promo of Cebu Pacific early this morning, I immediately booked a trip to Tuguegarao.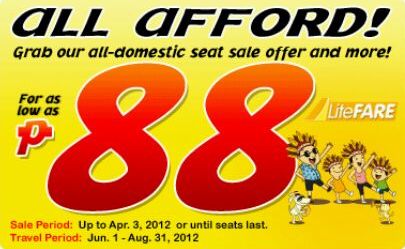 After choosing my flights, I was lead  to a new window that collects passenger information and posted beside it is the total ticket price. Seeing a sum of PhP1,557.92 was really shocking provided that the base fare is just PhP88.00 (I was aware in the first place that a 20-kg baggage fee was still included for each flight). When I checked the price details, I was puzzled on how the airline computed its Base Fare Value Added Tax. They charge PhP106.92 VAT for the total of PhP176.00 base fare. PhP106.92 is twelve percent of PhP891.00 so i have no idea how they manipulated the taxation fee computation.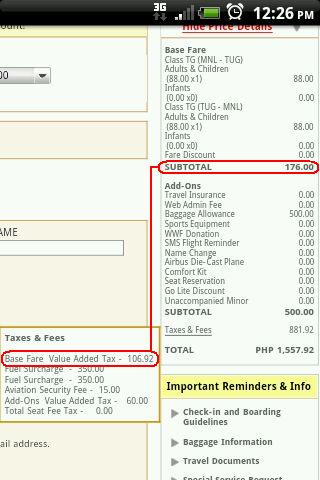 I fully understand that they collect 350-peso fuel surcharge, 15-peso aviation security fee, and 12% VAT for baggage fee. However, the minute "Total Non-Flight Service Fee" still needs an explanation.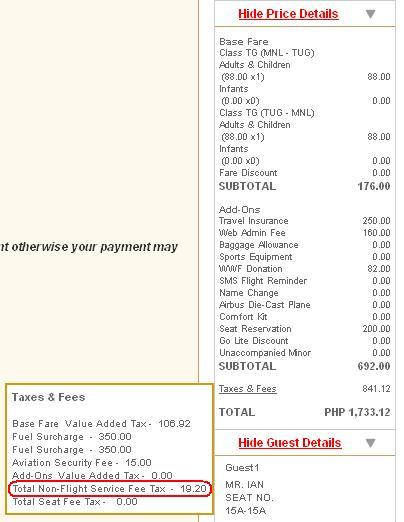 I have no other avenue to seek for a clarification so I have to write this observation hoping that this will reach to the knowledge of the airline authorities for them to provide some sort of explanation.