I usually draw my energy from the sun, yes, like Superman. But unlike your childhood superhero, my skin won't get as hard as steel. I don't get enhanced hearing power, and can't emit amplified solar energy from my eyes.  I don't even levitate.
The energy that I get from the sun, however, is the feeling of being light and free. It is the feeling that can tolerate almost every peskiness, annoyance, and stupidity—a feeling that can forgive whoever offends me. With it, I feel like I can devise resolutions to every issue, conflict, or predicaments that I might encounter. That is why, I like it to be sunny, for at least at one point of the day.
When the day is all gloom, I am austerely affected as well. I feel sick, I feel like not going out, and I feel like staying in bed the whole day.
Amorita Resort: A vibrant tropical getaway resort in Panglao
Since being persistent is already part of my humanity, I usually won't surrender to negative energy. On one of June's gloomy weekends, I decided to sail to Panglao, Bohol with friends. We checked in at Momo Guesthouse, and then Amorita Resort the following day.
Amorita wasn't a budget-friendly resort. But nonetheless, the price translates to world-class elegance and utmost comfort.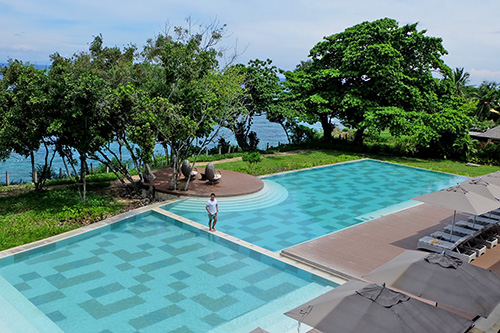 Surrounded by lush vegetation, Amorita Resort harnessed natural embellishment when it designed its landscape. The cream and brown motif of the Zen-inspired edifices blends effortlessly with the foliage of greens.
Seating on a cliff at the eastern edge of Alona Beach, the resort seems a tranquil hideaway that offers maximum privacy, while not completely away from where the fun is.
The 98-room luxury resort marries first-class service and signature Filipino hospitality. That is why; it wasn't really surprising that it won the Best for Service category of the Condé Nast Johansens Award in 2017.
Smooth check-in, the Amorita-style
We arrived in Amorita via a service vehicle from Momo Guesthouse. The staff greeted us with smiles, even before we reached the hotel lobby. We also received an herbed refresher as a welcome drink and cooling towels to freshen up.
With an ID, our check-in was fast and smooth. And in few minutes, we were escorted to our room.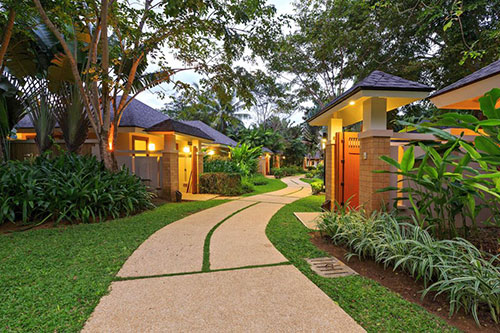 Even though the resort was fully booked at the time, we didn't see that much crowd within its premises. That is because the accommodations are spread across the edges of the spacious property, which gives the guests a lot of space to stroll, relax, or unwind.
Inside the Junior Suite
We got a junior suite that is located in a building near Saffron, the resort's flagship restaurant.
When I got in, I immediately noticed the wooden mesh that separates the bed area from the dresser and comfort room. It gave us the impression that we were staying in a one-bedroom suite. Aside from the two full beds, a comfortable sofa seats at one corner that is adjacent to the window. It is overlooking the beautifully landscaped surroundings.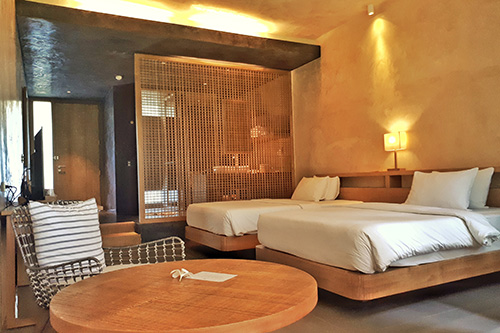 The suite also comes with a flat-screen TV with international channels, a pair of robes, a minibar filled with complimentary drinks and sweets, a safe for valuables, and all other standard amenities offered by a 5-star hotel.
The materials used for the interior design are of top-notch quality. Furnishings are carefully crafted and delicately arranged to maintain the simple yet elegant look of each suite. I like the way how they channel the natural light to reduce the need for electricity for illumination.
Relaxing in each room is disturbance-free, and that is guaranteed.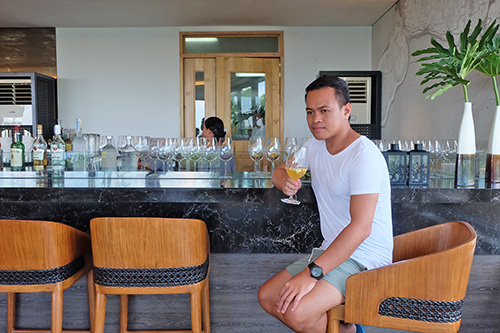 Tomar Tapas x Bar
After settling in and taking a short rest, we headed to Tomar for our lunch. We tried their carefully curated signature menu, including classic tapas, paellas (seafood and negra), and pintxos. Tomar offers a wide selection of wines and whiskey. Since I have a low tolerance for spirits, I ordered an alcohol-free, fruit-based drink.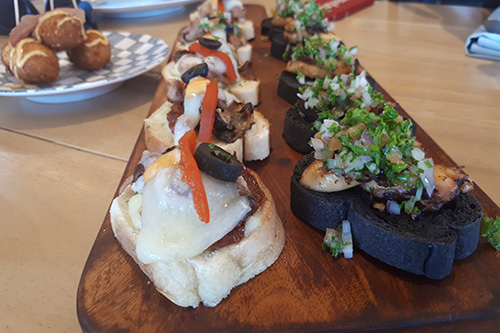 Saffron Restaurant
Saffron is a buffet restaurant that is located in the same building as Tomar. It serves a wide range of continental and Asian food favorites. Being situated adjacent to the infinity pool, dining at Saffron is a dramatic experience.
Like Tomar, Saffron also houses wide cellars filled with the finest selections of spirits sourced from all over the globe.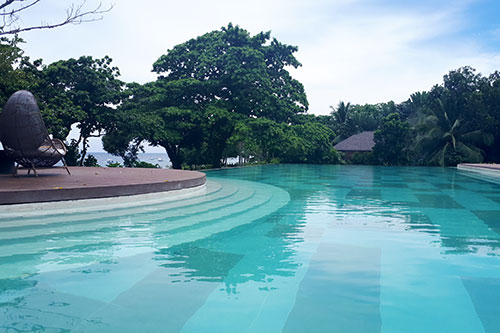 Two Infinity Pools
After our lunch, we roamed around to check all the common amenities. The two infinity pools both offer a stunning view of Bohol Sea, and immense water space to play around and swim.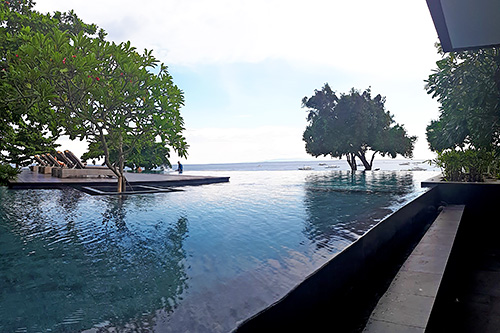 Pools Villas: Exclusivity at its best
Aside from the premium suites, Amorita Resort is also a host to two-bedroom, garden, and ocean villas. Each villa has its own private pool that seats immediately at the fringe of the cozy veranda.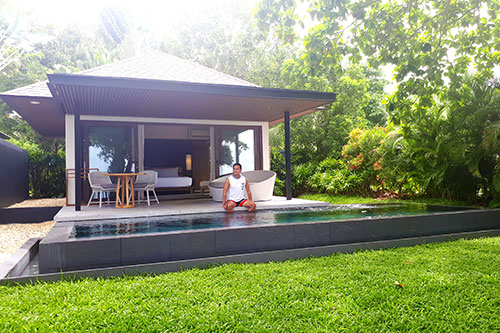 The villas are already located within the safe boundaries of the resort premises but are still provided with their own gates. These types of accommodations target honeymooners and families who prefer a more secluded venue.
By the way, if you book a villa, you'll a bottle of complimentary wine. That is on top of the standard amenities offered in suites rooms.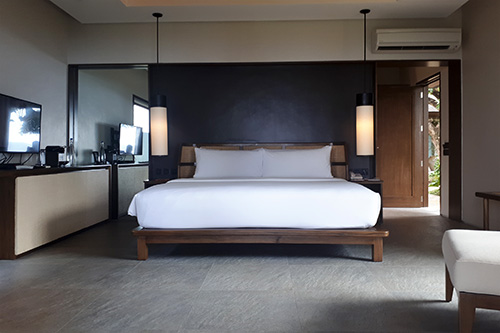 We only stayed in Amorita Resort for two days. It felt incomplete, but still an awesome experience. If I will have another chance, I will still choose to stay in Amorita.
Booking a suite or villa at Amorita Resort
If you are not yet convinced, better check the resort yourself. You can book your stay in Amorita Resort using the following channels:
Website: www.amoritaresort.com
Phone: (T) +63 2 856 1443 | +63 2 553 9549 | +63 38 502 9003 | (M) +63 917 861 9441
Email: inquiries@one-ofcollection.com
Agoda: agoda.com/amorita-resort