Speaking for myself, under normal circumstances, nothing is lazier than waking up in a dawn chill. Pulling yourself up is one hard thing to do, and dragging your indolent body to the shower room could be pretty demanding—unless you have one good, convincing reason to hasten the process.
When I finally came to my senses, I suddenly feel the urge to rush everything out. I barely had an hour to prepare, and getting to the pickup point may cost me another 15 minutes. Luckily, my adventurous personality is equally persistent. I did not squander a single second. And in a snap, I arrived at the rendezvous way earlier than the rest of the team.
Cabana Beach Club Resort
We were bound for Moalboal that day. Cabana Beach Club Resort in Panagsama invited us to experience their food and hospitality services.
We left the city around four. Travel was smooth, so we arrived just in time for breakfast.
The resort seats just a stone throw away from the most popular coral edge of Panagsama. Fronting it is a water gazebo, which serves as an extension of the resort's flagship restaurant, Cucina Italiana.
Adjacent to the restaurant is a chic pool that is 4 to 8-feet deep. It is sometimes used as a training venue for the introductory dive course offered by the in-house dive center. Though located within the resort premises, the dive center is operated by a third-party vendor.
Cabana Beach Club Resort offers a suite, deluxe, family, and honeymoon rooms. These rooms are located on the other side of the restaurant. A room for two starts at ₱3,000 per night.
Moalboal Island Hopping (Boat Tour)
After our breakfast, we checked in at our respective accommodations, and then headed out for island hopping. Well, that tour was not really an island hopping since there was only one island stop.
Pescador Island
The first stop was Pescador Island. The azure deep and the colorful underwater community give life to an almost barren piece of rock. Only the most tenacious species of flora survive the dry, salty, and craggy surface of Pescador.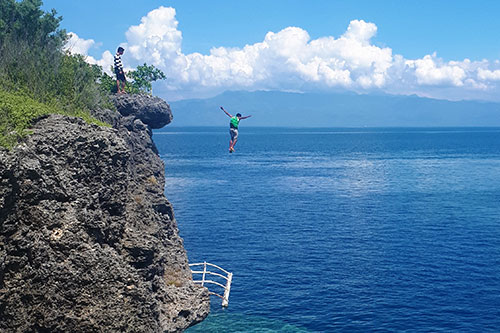 The local youngsters found other ways to enjoy the island though. They identified around 5 safe points for cliff jumping. The lowest part is around 10 feet and goes as high as 30ft.
A lighthouse also stands at the top of the island but is highly secured. Scaling it is not possible because you cannot access the stairway.
Talisay Point
Sea turtles are frequently seen feeding on marine weeds around Talisay Point. The area is also a good place to snorkel and scuba dive because it is a host to vast a coral bloom and a number of swimmers of different colors, vividness, and stripes.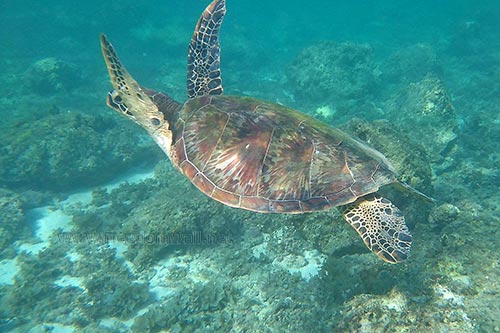 Sardine Run
The last stop was the sardine run. This natural phenomenon is usually spotted near Pescador Island. However, during our visit, we witnessed the herrings swam and synchronized harmoniously near the coral edge of Panagsama.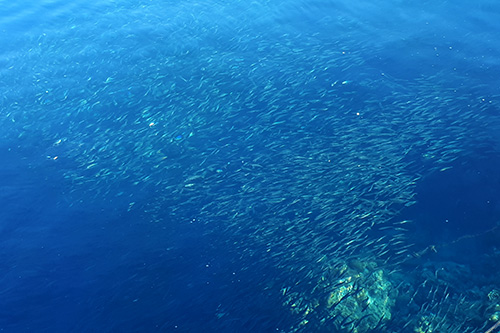 Swimming across their school is spectacular to behold. You will witness how they beautifully divide as they avoid your presence.
Lunch at Cucina Italiana
After that awesome boat tour, we had our lunch at Cucina Italiana. The alfresco restaurant offers both Italian and Filipino flavors. But for our lunch that day, we all had Filipino favorites.
By the way, the restaurant's water gazebo is overlooking Moalboal's famous sardine run. You need not to swim deeper just to see it.
Cabana Sister Resorts
In the afternoon, after everyone had rested, we were given a resort tour. Cabana Beach Club Resort also operates midrange resorts that cater to travelers on a tight budgets.
Sole E' Mare Beach Resort
Sole E' Mare is a sister of Cabana Beach Club Resort. It is located just across the street. Targeting budget-conscious travelers, rooms at Sole e Mare are pretty affordable compared to Cabana.
If you choose to stay at Sole E' Mare, you can also use and access the common amenities of Cabana Beach Club.
Marina Village Beach Resort
Marina Villa Beach Resort is the newest addition to the Cabana Beach Club Resort collections. The concrete-clad multiplexes combine native furnishing with contemporary design.
You can also use and access the common amenities of Cabana if you choose to stay at Marina Village.
Marina Lodge
For backpackers on a shoestring budget, Marina Lodge is perfect for you. A bed in a twin room will cost you ₱300 per night only. The accommodation comes with a fan, free wifi, and free coffee. Though you have access to Cabana, the resort will charge you ₱200 for the use of the swimming pool.
In the evening, the owners of Cabana hosted an Italian Dinner for us. They served us the favorites from their Cucina Italiana and La Tegola restaurants.
How to Get There
From Manila, take a flight to Cebu City.
From Cebu's South Bus Terminal, hop on a bus bound for Bato. Make sure that you take the bus via Barili route. And then from Moalboal Bus Stop, transfer to a tricycle or habal-habl to Panagsama Beach.
If you are coming from Sumilon Island, return to the mainland, and wait for a Santander- or Bato-bound bus. Alight at Bato terminal, and then transfer to another bus bound for Cebu. Make sure that you hop on a bus via Barili route.
If you are coming from Kawasan Falls or from Canyoneering, wait for a Cebu-bound bus from the highway.
Booking a room at Cabana
To book a room, you may walk-in at the resort, and then check for available accommodation.
However, during peak season, I suggest you book a room in advance. Contact them using any of the following numbers:
Telefax: +63 32 474 30 24
Landline: +63 32 474 30 11
Mobile: +63 999 4947261
If you have any questions, you may comment them below, and I will try my best to provide you the answers.