The comment form you see below this post is an example of an IntenseDebate comment form. The form is very much sophisticated and powerful since there is an option for you to share you comments with your friends through facebook and an option to tweet your comment directly after posting. Yo can also reply to others comment.
IntenseDebate comment form is much easy to use because there are four ways to log-in. You can log-in through your twitter, facebook, IntenseDebate account and can use your open ID. You may also comment as guest where you will only provide your name or alias provided that you will enter your email but will not be disclosed to anybody else.
For blog owners, you have to option to moderate comments where an approval is required before it will appear as a comment. Unfortunately, IntenseDebate comment form is not compatible with classic templates. If you want to change your template, CLICK HERE and complete the procedure before you will proceed to the instructions below.
Here are the instructions on how to install IntenseDebate comment form below you post.
1. Sign in to IntenseDebate and tick on 'I want to install IntenseDebate on my website'.
2. Enter your blog's URL on the next page under 'SPECIFY URL', select the blogger icon under 'CHOOSE PLATFORM'
3. You will be asked on how would you like to install IntenseDebate, tick on 'templates'. If you will choose widget then you will have only one comment form for all you posts that would make a confusions to users. Tick on 'On all blog posts' if you are asked which blog posts should have IntenseDebate comment disabled.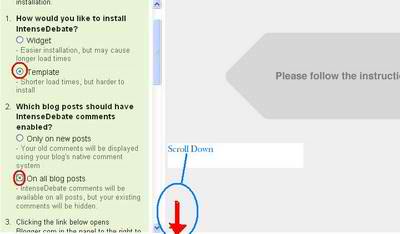 4. Click 'Open blogger' then sign in to your account.
5. Open the 'layout' of the blog where you wish to install the comment form. Select 'Edit HTML' under 'layout' tab. Download the template and then save it. Click 'browse' then select the template you have just downloaded then hit 'upload file'. See the image below.
6. Delete everything inside your html box and paste the new html codes provided. Hit Save Template and then you new comment is now embedded below your posts. Click the image below to see the actual guide.