Time stamp is based on GMT+8:00 (Manila and Singapore) time zone.
Trending Today:
Whitney Houston remained as most tweeted until noon today while #GRAMMYs is making a great wave, from fans' anticipation of the Grammy 2012 Awards to the red carpet show and the declaration of winners.
S.F.C is also talked and I am sorry I didn't spend time to find out why. Others mistakenly thought it as Southern Fried Chicken.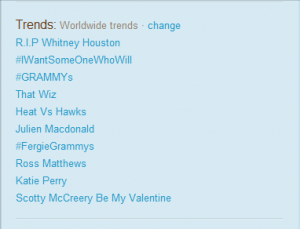 The lady who won 2 Grammys in just two minutes and got a total 6, Taylor Swift (T. Swift), jumped to the top of the trending list.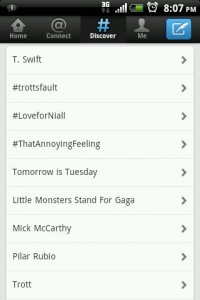 On Yahoo!, Whitney remained the top searched followed by her daughter Bobbi Kristina, who talked hard about her mother's death. Grammys top Yahoo! Philippines search followed by the Vikki Belo, the controversial surgeon, who talked about another issue with lover, Hayden  Kho. Whitney is on number 4.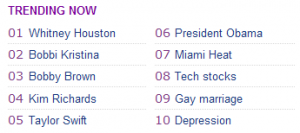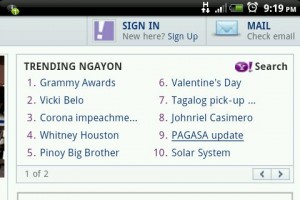 On History:
Same day as today in 1633 when Galileo Galilei faces court inquiry due to the charges of heresy ( the belief of the accused is in conflict with the accuser) in Rome. Galileo Galilei,  an Italian philosopher, astronomer, inventor and mathematician, was an advocate of Copernican theory, a theory that states that the Earth revolves around the Sun. Such belief lead to his prosecution where he pleaded guilty to get a lighter sentence.