Above were grey haze. The horizon was inevident and the people around seemed copying the murky atmosphere. The gloomy surroundings, however, suddenly changed when we arrived in Bais City.
We broke the city's silence. Laughing out loud to the corniest of jokes, that was.
Locals were curious, pointing all eyes in slow moving trike we were on.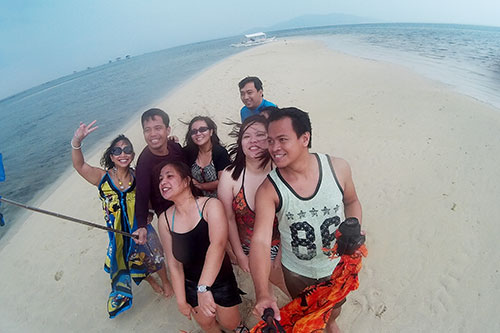 Manjuyod Island Hopping and Dolphin Watching
We reached the Capiñahan Wharf past 8AM and there were few boats left to bring us to our sojourn. Without any hesitation, we agreed to rent the smaller boat with the lowest rate.
Within minutes, we found ourselves navigating along Tañon Strait, finding our first dolphin pods. We were probably too late, or just too unlucky that day. We never had a sight of a single ocean mammal.
The gust blew stronger and the surface of the water was getting rougher. We decided to give up and headed to our next stops: Manjuyod Coral, Majuyod Sandbar, and Talabong Mangrove Forest and Bird Sanctuary.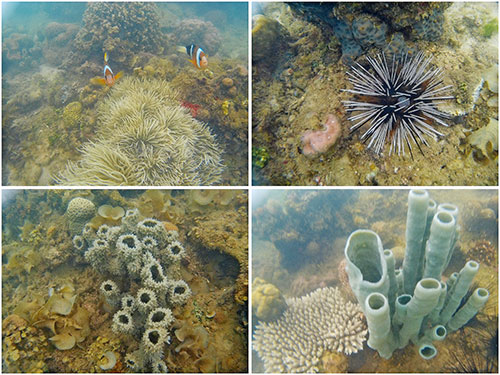 How to Get there
For DIY travelers, the boat for the Dolphin Watching, Manjuyod Coral, Majuyod Sandbar, and Talabong Mangrove Forest and Bird Sactuary are stationed at Capiñahan Wharf in Bais City, Negros Oriental.
To get to Bais City, board a bus to Bais City at Dumaguete Ceres Terminal. You can also take a bus to Bacolod, Manjuyod, Guihulngan, Ayungon, and Canlaon and get off at Bais. The fare is around PhP50. Trikes from Bais City center to Capiñahan Wharf is just PhP10/head.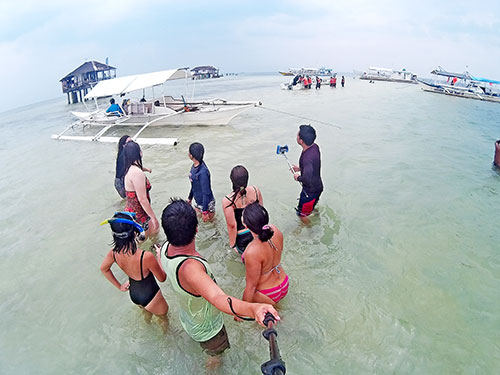 Dumaguete City, by the way, is an hour flight from Manila via Cebu Pacific and Philippine Airlines. It is also accessible via Cebu, Bohol, and Dipolog.
If you are coming from Niludhan Falls, hop on a bus Mabinay. Alight at Paniabonan junction, and then transfer to another a bus to Dumaguete City. Make sure that you disembark at Bais City bus stop.
If you are coming from Apo Island, return to Malatapay, and then from the highway, board a bus to Dumaguete City. From Dumaguete Ceres Terminal, transfer to a bus that is bound for Bais.
If you are coming from Kansalakan Enchanted River or Hinakpan Mystical Hills, return to Guihulngan City bus terminal, and then take a bus to Dumaguete. Make sure that you get off at Bais City.
Boat Transfer and Fee
Boats that can carry up to 15 individuals cost around 3,000. You can contact Bais Tourism Office though +63 35 402 8338 / +63 917 300 5945 / +63 918 265 0474 or baistourism@gmail.com to book. Bais Tourism will provide you competent guides.
The tour would usually take hours so make sure you bring something for lunch and enough water for the tour.
Sumapao Shoal (Manjuyod Sandbar) Stilts
If you're more adventurous, you can actually spend a night at the stilts of Sumapao Shoal a.k.a Manjuyod Sandbar. For rates and availability, you can also inquire at Bais Tourism Office.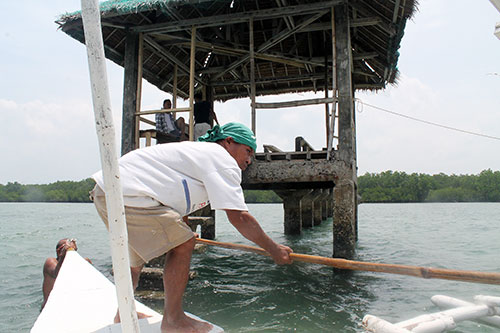 Where to Stay
In Dumaguete City
For a list of places to stay in Dumaguete City, check this post: Where to Stay in Dumaguete.
In Bais City
Casa Sandoval Pension House and Restaurant
Address: National Highway, Villanueva Subdivision, Brgy, Talungon, Bais City
Booking: www.Agoda.com/CasaSandoval (click to view rates)
La Planta Hotel
Address: Mabini Street, Poblacion, Bais City
Booking: www.Agoda.com/LaPlanta (click to view rates)

Velez Pensionne House
Address: Mabini cor. Roxas Street, Poblacion, Bais City
Booking: www.Agoda.com/VelezPensionne (click to view rates)