Spending a night or two below the ground, in a chamber where no sunlight could penetrate is not among my bucket list entries. Whenever I travel, I always look for blue sky, green massifs, white beach, aquamarine deep, and vivid sunsets, so I never imagine myself camping in deep caverns. However, my strong sense of adventure dominated over my preference to vibrancy and colors. Thus, I said yes to the Gobingob and Langun Cave Connection and Spelunking invite.
I tried spelunking before when I visited Sagada, but we spent only 4 to 6 hours in Lumiang and Sumaguing Caves. Gobingob and Langun Cave Connection, on the other hand, is way more intense. The itinerary indicated that we will stay up to three days inside, and then explore the farthest mapped sections of both caves.
Since it was my first time to camp inside a cave, I made a lot of preparations and brought many stuff, which I found out later as unnecessary.
I was so excited, so I headed to Tacloban a day earlier, spent a night there, bought my food provisions, and then proceeded to Calbiga the morning after.
Safety Orientation and Trekking to Gobingob Cave
I met with other travelers for the first time. Some of them accompanied Sir Joni of Trexplore, the tour organizer, to the tourism office to secure our permits. Langun and Gobingob Caves are within a protected area, so permits are required to enter their premises.
We also received a comprehensive orientation from Sir Joni himself, including what to expect, and other reminders to preserve the protected zone.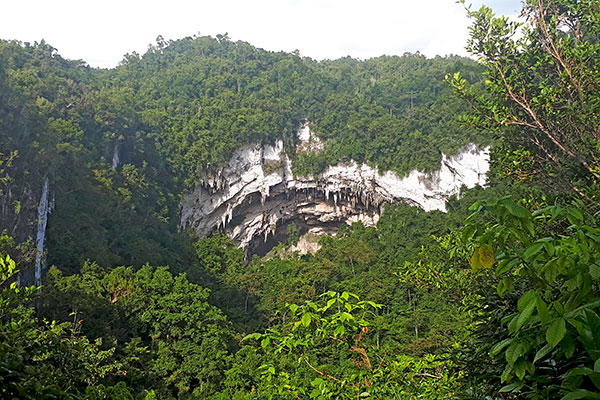 When we were all gathered, we took a motorbike taxi (habal-habal) to the jump off, and then trekked for an hour to the view deck of Gobingob Cave. Afterwards, we trekked downhill for another 15 minutes to get to the mouth of the Philippines' largest cave system.
Kuya Lando, our head guide, oriented us about the safety, including the dos and don'ts. He also checked our gears and flashlights to make sure that they are dependable. Since Sir Joni was barred to enter any cave in Samar, he entrusted us to the expert guidance of Kuya Lando and Mang Remy. Two LGU-provided guides, Jason and Alvin, were also with us that day.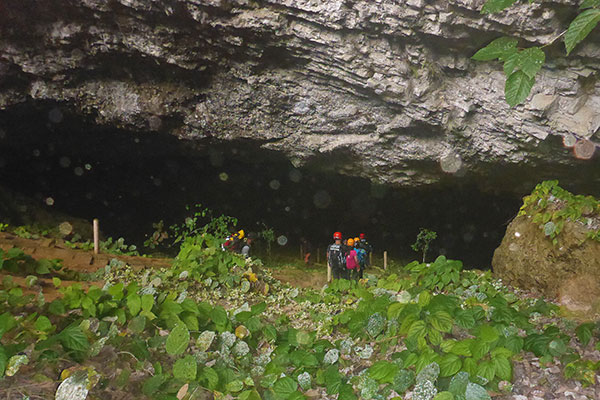 We entered Gobingob Cave past four in the afternoon. The mouth was so enormous. We were like tiny planktons being fed to a mouth of a whale shark.
The Stage
The team scaled boulders, crossed mud, and slid down the steep flowstones to get to our campsite inside Gobingob Cave. Before we reached the campsite, we passed near a huge flowstone, which the guides called as "the stage." Its surface glittered when hit with a dim light. We were tempted to touch it, but we had to abide the rules. Nobody from the team wanted to be labeled as persona non grata in the first place.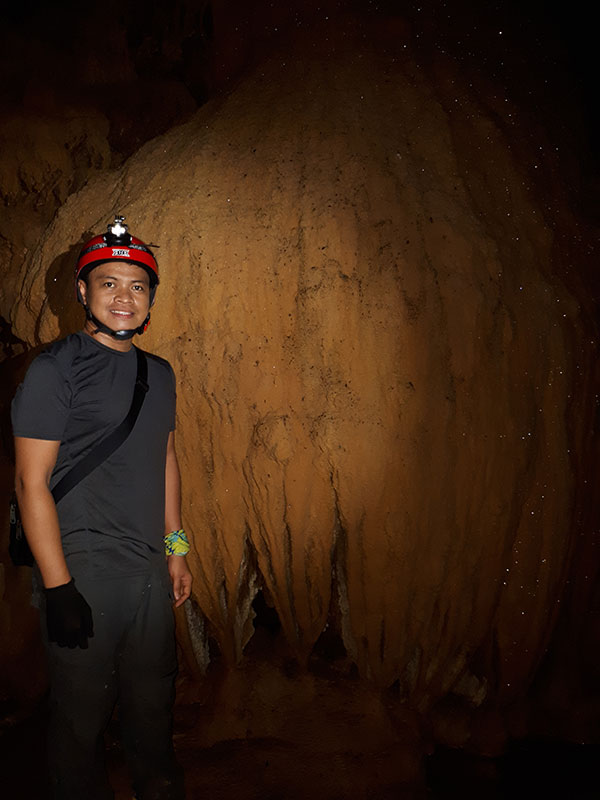 The Baseball Field
Our campsite was located at the edge of the "baseball field," the largest chamber of Gobingob Cave. According to an Italian explorer, that area is comparable to the size of a baseball field. Stalagmites are abundant on the side, while the middle ground is mostly mud.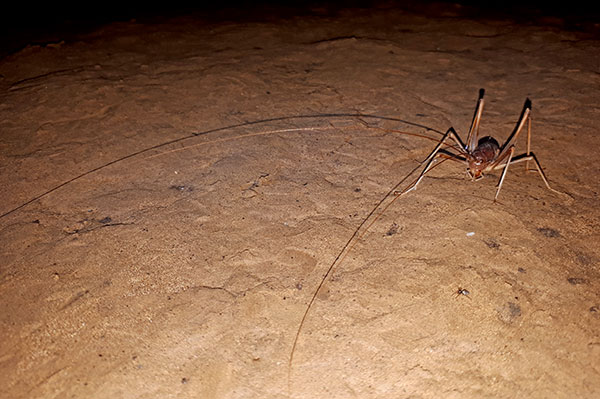 The baseball field is also infested by cave crickets. They are harmless, but they could disturb you in your sleep.
When we reached the campsite, we rested a bit, and then prepared our dinner. Our day did not end after dinner, by the way.
Exploring Perno
It was already past seven when we started the spelunking proper. We left our stuff in the camp, brought the essentials, such as water and camera, and then trekked to Perno, the farthest mapped chamber of Gobingob Cave. Our guides had different and unclear stories as to why the place was named Perno, so asked them about it when you happen to visit Calbiga.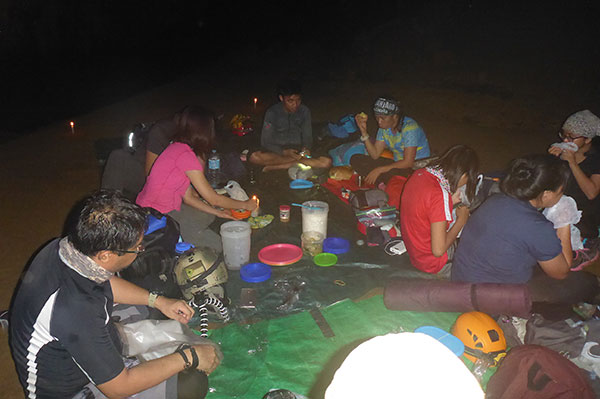 Anyway, that was supposed to be a three-and-a-half-hour trek, but we did not complete it. Our guides told us that the formations are the same. Since we were all tired—it was already 10PM that time—we agreed not to proceed. We had no regrets though. We had already seen a lot of speleothem. Some were white, ivory, crystalline, and glittering. Others were colossal, forming columns and towers cones.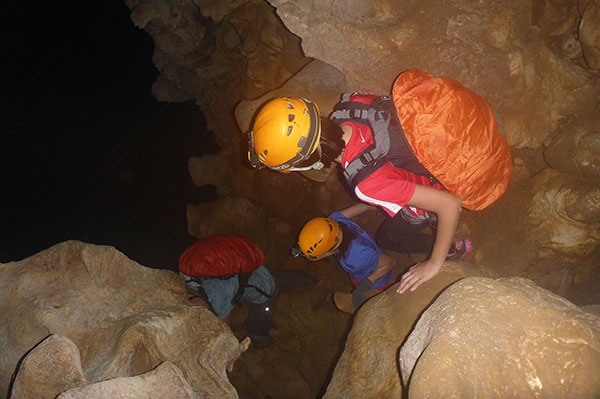 We headed back to the camp, and then cleaned ourselves with wet wipes. I was so glad to have brought two packs. I was thinking to swim in the water around the baseball field, but when I noticed the crickets gliding, the deep mud, and the perturbed flaps, I decided to settle with wipes. Using soap and shampoo is discouraged anyway.
Traversing to Langun Cave
The following day, we woke up and missed the sunrise. (As if we could see one.) We packed all our stuff after breakfast, and then moved to our next campsite in Langun Cave.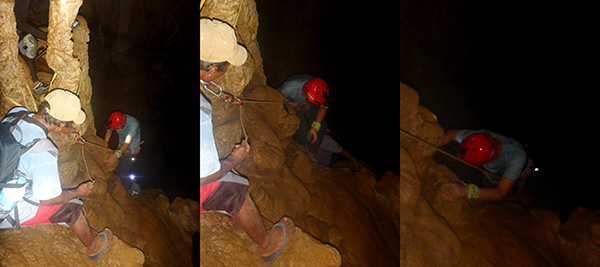 To get to Langun, we went through a steep uphill trek and a rope-assisted vertical descent. Upon observation, I noticed that Kuya Lando and Kuya Remy are more technically adept to safety, compared to the guides provided by the LGU, who didn't have any safety gears with them.
After the descent, we continued trekking for another two hours. I started to regret bringing a DSLR, a burner, and cook set that I did not use. My backpack could have been three kilos lighter.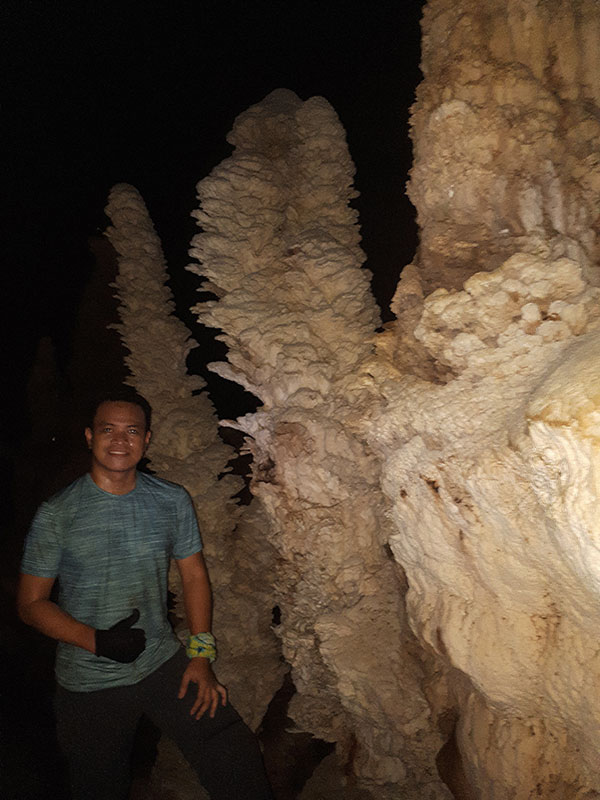 Like Gobingob, live speleothems grow at almost every section of upper Langun Cave. The famed stalagmite forest is also situated in Langun.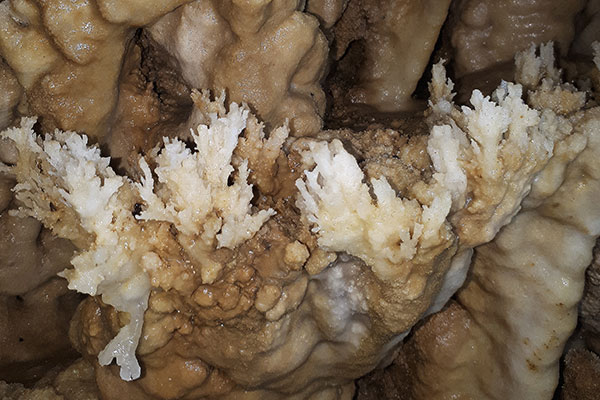 We suddenly got excited when we finally saw a natural light peeking through the hole atop the upper Langun. It was like a ray of hope, which reminded us that we were finally close to the second campsite.
Crossing the Guano Challenge
The challenge did not end there, nonetheless. We had to cross a deep guano deposit before we could get to the camping area. The first step was heel deep. Every time our shoes were buried, hundreds of cockroaches rushed to the surface. And then, they dug into the bat shit to hide themselves. Unfamiliar spiders and cave crickets were also romping on the cave walls.
As we moved at the middle of the guano stack, it became deeper and grubbier. Since it also stank, I tried holding my breath as long as I could. It felt so good when I finally escaped that filth.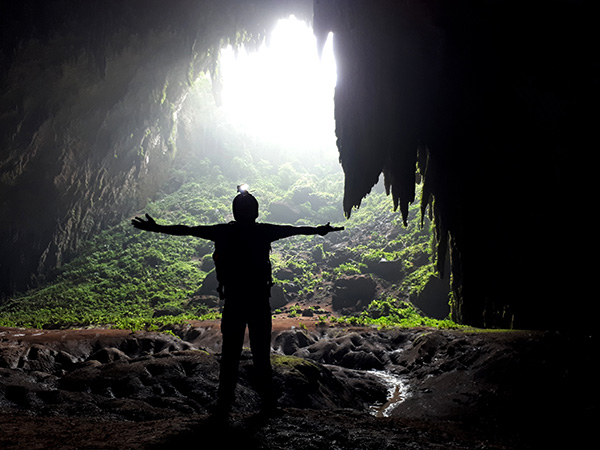 We set up a new camp at the mouth of Langun Cave, had our lunch, and then lied down to rest.
Fascinated with the Circling Bats
We were scheduled to explore Lower Langun Cave that day, but we could not do it earlier. Lower Langun is a home to hundred of thousands of bats, so we had to wait for them to leave the cave.
At around 6PM, we witnessed a fascinating scenery. The resident flying mammals circled around the mouth of the cave multiple times before they headed out to get food.
Lower Langun Cave Spelunking
We headed to lower Langun Cave after dinner, but we couldn't descend yet because of another concern. Our guides found two snakes resting at the snake chamber. Unfortunately, that chamber is our only way to get to lower Langun Cave. They had to drive them away for us to pass. Eventually, one went out, but the other remained at the higher section of the chamber.
Getting into the snake chamber is pretty challenging. We descended by maintaining a firm grip on the rope knots as our feet reached the lower end.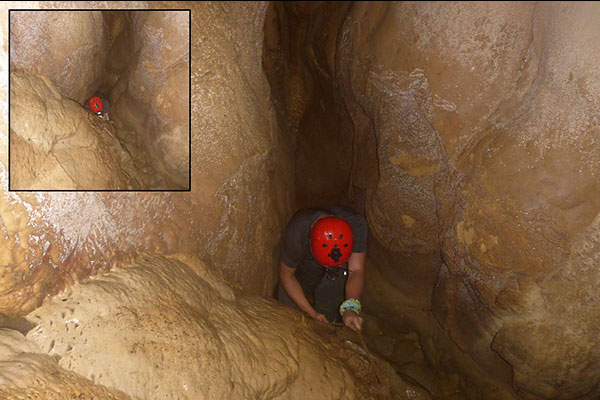 To get to the main chamber of lower Langun from the snake room, we squeezed ourselves into a small hole. Since the horizontal diameter is smaller, we had to crawl sideways. I was a perfect fit.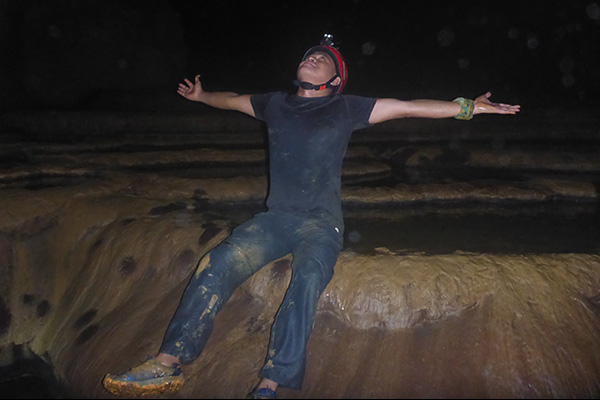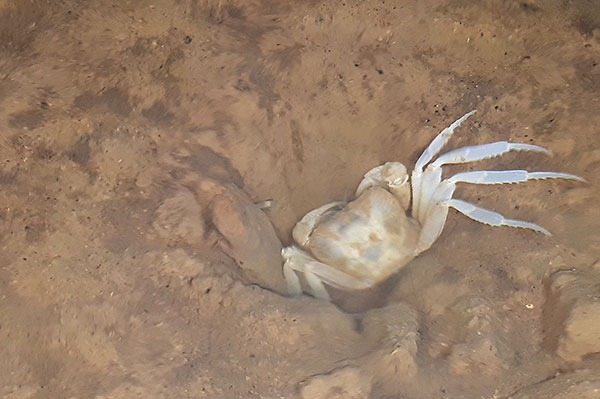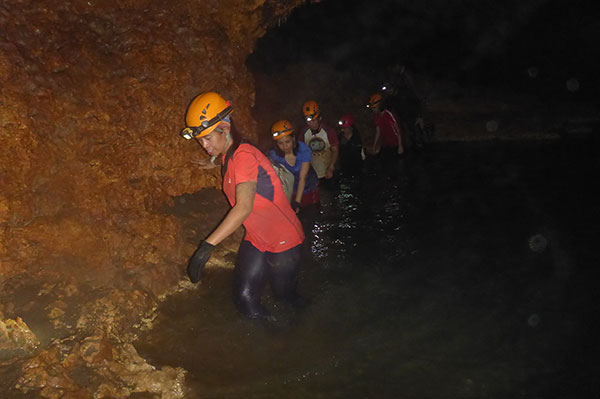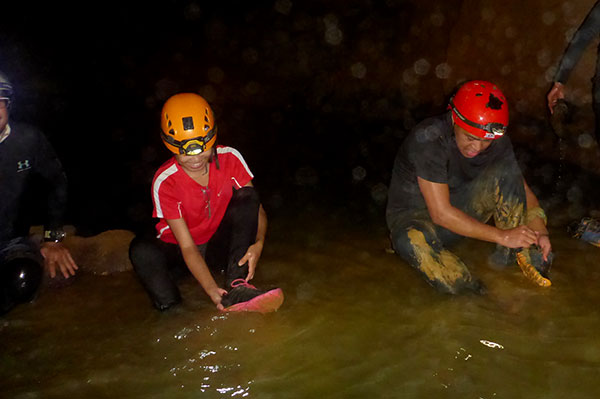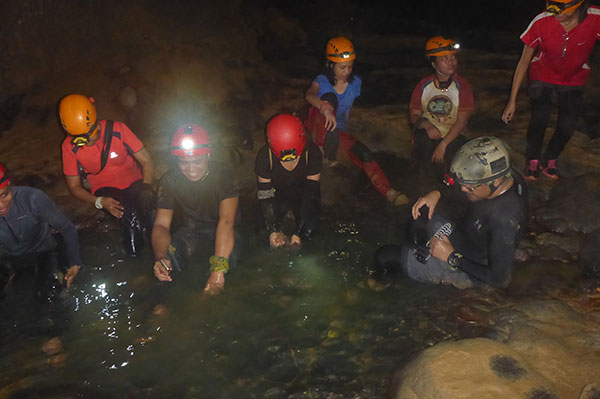 Inside Langun Cave, we found water terraces, albino crabs, and interesting formations. We also crossed a river multiple times, hop on an island, and took photos near the waterfalls. Yes! There was a waterfall inside lower Langun.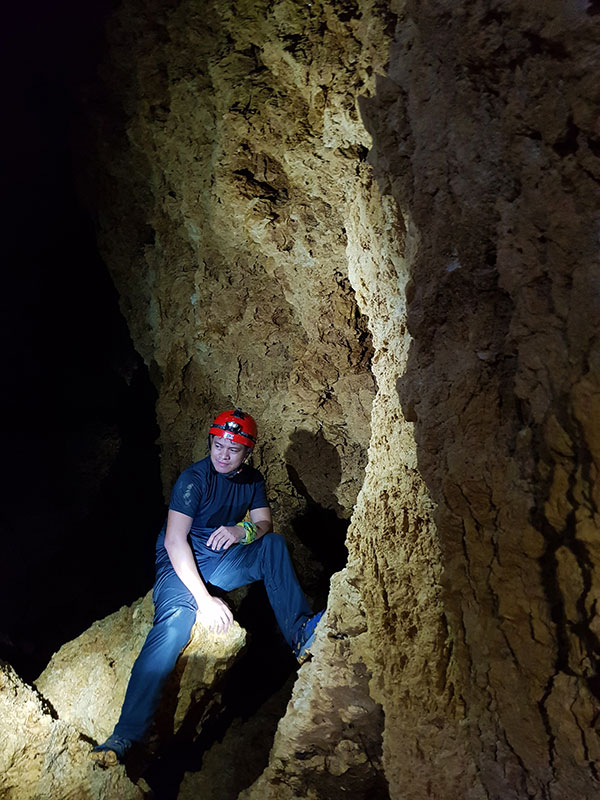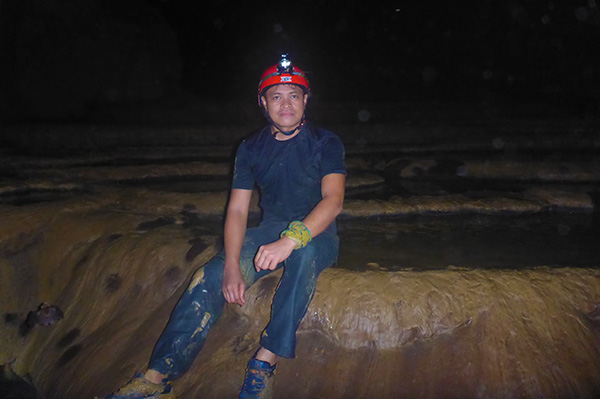 We passed the snake room again to return to our campsite.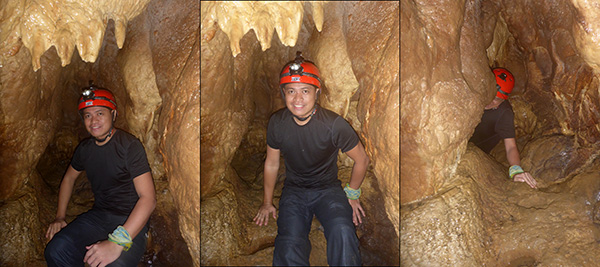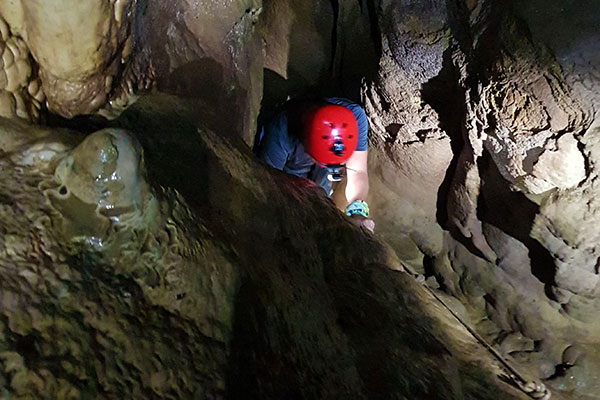 We were wet and dirty when we returned to the camp. That, however, was not the top of our concerns. I've read stories from previous guests about snake encounters while asleep. The unfamiliar growls also added an eerie feel.
It was good that Kuya Remy was with us. He was very protective, and did not allow the crawlers to go near us.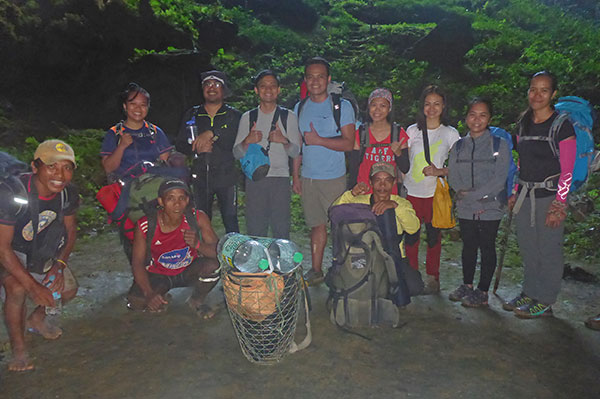 Four-hour hike and trek from Langun Cave to Mapaso Spring
We trekked across the low land jungle of Calbiga to get to Mapaso Spring. We missed our soaps, shampoos, and toothbrushes the passed three days, so when we finally had a chance to use them, we were really happy to do so.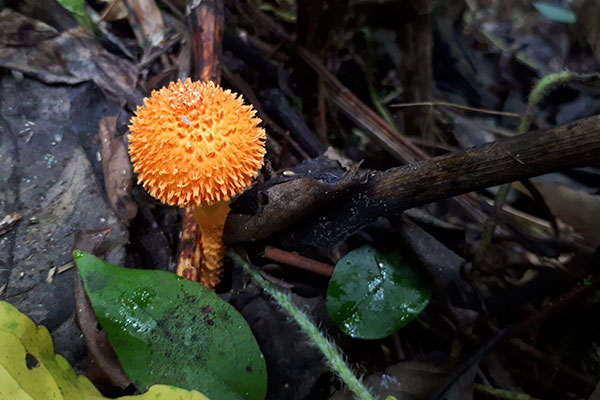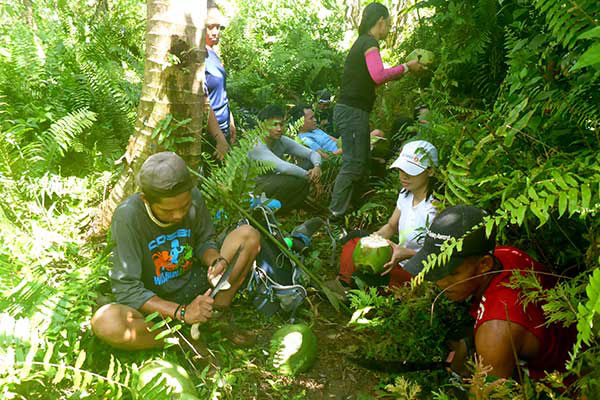 Book Your Tour via Trexplore
The caving tour was offered by Trexplore, an extreme outdoor activity organizer based in Catbalogan City, Samar, headed by Sir Joni Abesamis Bonifacio. They offer spelunking tours to Samar's beautiful cave systems, canyoning, river trekking, waterfall hopping, and many more. I also noticed that in every activity they organize, Sir Joni always involve the locals. He trained residents to become expert guides.
I doubted the idea of spending more than 24 hours inside the cave, so I made some research. I learned that Sir Joni was primarily involved in mapping Samar's cave system. He joined and assisted international teams of cave explorers, which made him more knowledgeable and experienced in such field in Samar.
He also shared his expertise with the locals, so these people can assist guests on his absence, without compromising safety.
If you were to ask me, I will never enter Gobingob and Langun Caves if the guide is not Sir Joni or Kuya Lando and Kuya Remy. There are sections in the cave that require technical capabilities, such as the rope-assisted vertical descent. By the way, Kuya Lando and Kuya Remy are Sir Joni's most-trusted guides.
The guides from the LGU violated some safety practices. They did not wear helmet and did not bring safety harness for vertical descents. They even smoked and drank liquors while everybody else was resting.
How To Get There
From Manila, book a flight to Tacloban. You can also fly via Calbayog but this route is not available on a daily basis and is usually more expensive.
From Tacloban, hop on a van to Calbiga. You can also take a van for Calbayog, and then alight at Calbiga. If you book with Trexplore, the meetup point is at Rutchel's Eatery. Trexplore will arrange your habal-habal ride to the main entrance of the Gobingob Cave.
If you are coming from Sambawan Island, return to Naval, take a van to Tacloban, and then another van to Calbiga.
From Kalanggaman Island, return to Palompon town proper, take a van to Tacloban, and then take another van to Calbiga.
If you are coming from Biri Island, return to Lavesores Port, hop on a trike to Allen, and then transfer to a van Bound for Tacloban. Make sure that you alight at Calbiga.
From Cebu City, you can either fly directly to Tacloban or hop on a fast craft to Ormoc, and then a van to Tacloban.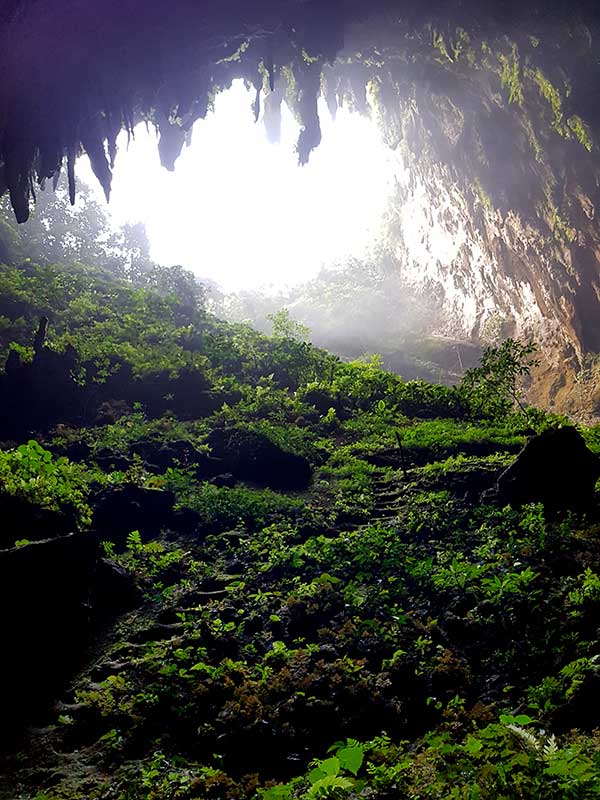 Important Tips, Notes, and Reminders
You can bring your camping burner and cook set, and then prepare your meal provisions. The campsite has abundant water supply. The water, by the way, is potable, but is not recommended for those with sensitive stomach. You can boil it for your coffee and cup noodles.
You can also ask Trexplore to prepare your food for an extra charge.
Wear lightweight but heavy-duty closed shoes. You will do a lot of trekking, bouldering, and mud crossing.
Pack light. Bring only the essentials, such as sleeping mat, a pair of sleeping clothes, activity clothes (trekking pants preferred), food provisions, water, wet wipes, flash light, head lamp, helmet, and insect repellent. You can also rent a complete set of gear and sleeping mats from Trexplore.
Always follow your guides. They know the safe way, especially the guides from Trexplore.
Do not break any rock formation.
Do not urinate or poop anywhere in the cave. Your guide will bring a collector for these excretions.
After spelunking, you can do the TORPEDO extreme boat ride or visit Lulugayan Falls.
PLEASE, do not leave any vandalism! We already saw one. I hope that would be the last.