One Friday eve, I went to Cebu's port and boarded a ferry bound for Palompon, Leyte. Everything happened on random, and I had no fix itinerary in mind. But what I had been thinking that moment was spending a beach camp in Kalanggaman, an island floating off the coast of the boat's destination.
Short Introduction of my Random Trip
The dawn chilled a bit as I walk around Palompon. The town was deeply asleep, except for the few "sikad" (rickshaw) drivers who were busy attending the new arrivals, and some teens who enjoyed staying late for some reasons.
I realized that 2:30AM was too early to knock on the Tourism office door to book for a slot to Kalanggaman, hence, I looked for a place to spend the rest of the dawn.
It was surprisingly loud in the transport terminal. A nearby "videoke" bar was alive and some eateries and bakeries were open to serve hot drinks. So I stayed there for a while, talked to some random strangers, and then weighed my options.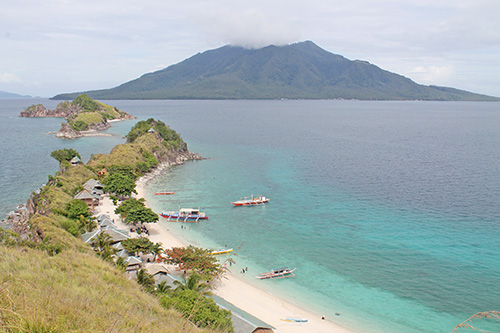 Sambawan Island has long been on my travel list. I've done some research before on how to get to the island. Going there solo is a bit pricey though. So that morning, I wasn't considering Sambawan Island as an option.
Vans and buses bound for Tacloban and Ormoc started to queue at three o'clock. And then suddenly, Sambawan came to mind. For some reasons, my focus unwittingly switched to Sambawan and forgot everything about Kalanggaman.
Before the sun rose, I found myself boarding a bus to Ormoc, and then a van to Naval, Biliran.
Luckily, I met a couple (Arianne and Mark) who were Sambawan-bound in Naval port, I immediately made acquaintance, and then agreed to share the boat expenses.
By the way, it was in Sambawan when I accidentally dropped my phone in the water, the phone awarded to me by Smart Communications. As of this writing, the phone is still in the service center and needs battery and motherboard replacement. The bill will cost me a fortune.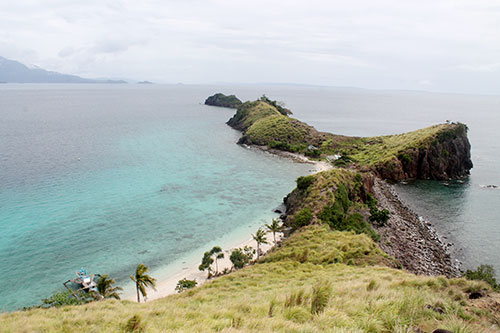 How to get there
If you are coming from Manila, you may take a flight to Tacloban.  If you are coming from Cebu, you may either take a flight to Tacloban or a ferry to Ormoc.
From either Tacloban or Ormoc, you may hop on a van bound for Naval, Biliran. The fare is approximately ₱130 and the travel time is 2 hours.
From Naval Pier, board an outrigger passenger boat to Maripipi. The boat fare is ₱60. There are three boats that travel the Naval-Maripipi route. Ma. Lourdes docks at Maripipi town proper (Brgy. Ermita) while Viga Express unloads passengers at Binalayan port. The earliest boat leaves Naval at 10:00AM and the other two follow 30 minutes after. The boats return to Naval the following day at 04:30, 05:00, and 05:30AM respectively.
Note that there are no ferry transfers during Sunday. Your only option is to take the more expensive "pakyaw" (charter) from Kawayan in mainland Biliran to Maripi (₱600/way) or directly from Kawayan to Sambawan (₱3000 two-way for up to 10 passengers).
From your port in Maripipi, you can take habal-habal, the only mode of transport in the island, to Sambawan boat station in Barangay Ol-og. The fare is ₱50 but they usually charge ₱100 especially for those who obviously look tourists (with all the get up and sunglasses).
The boat transfer from Barangay Ol-og to Sambawan Island will cost you ₱600 for two way. It can carry up to five passengers. The bigger you are in a group, the cheaper you have to shell out. You do not need to contact them before hand because the boats are operated by Sambawan Dive Camp & Beach Resort. The stand-by personnel at the boat station will arrange a boat transfer for you.
Reminder: Make sure that you choose a flight or boat with the earliest arrival in Tacloban or Ormoc. Travel time to Naval could exceed 2 hours. Note that the boat that will bring you to Maripipi leaves Naval around 10:00AM.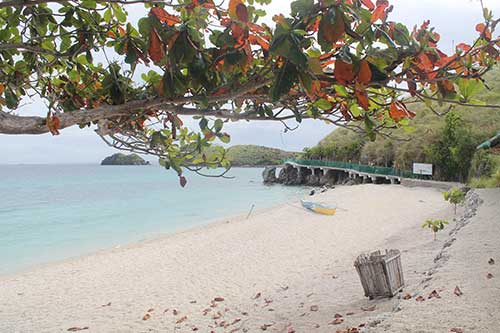 Sambawan Island Facilities and Fees
The island is manned and operated by Sambawan Dive Camp & Beach Resort. The entrance fee is ₱80 and the environmental fee is ₱20.
If you are staying overnight with your tent, you have to pay additional ₱100/tent. Larger tents do have higher rates.
Roll mats with pillow and blanket can be rented at ₱100 per night.
Snorkels are available for rent for only ₱150/day.
Paddle boats (sagwan) can be rented for ₱300/day.
The island has generator which is only operational from 06:00PM to 05:00AM. Phone charging is available during these hours (when the generator is on) and will cost you ₱10 per full charge.
Wash rooms and comfort rooms are available but the water coming out from the faucet is seawater.
Non-potable fresh water is also available for ₱25 per 4-gallon container. I found it soft so I think it's rain water.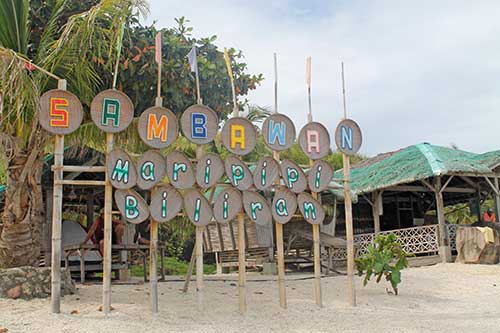 Where to stay
If you don't want to spend your night in Sambawan Island, then you can stay at any humble accommodations in Maripipi town proper. A friend recommended Judith Gaviola's Homestay (+63 929 766 9790).
In the Island, you may pitch your own tent (₱100/tent per night) or choose from the following options:

Sambawan have 3 rooms with own CR and balcony that can house up to 8 individuals. Each room can be rented for ₱2,500 (or ₱2,800 during peak season starting March 16).
Cottages can be rented for ₱500 (or ₱650 during peak season starting March 16)
Kamalig can be rented for ₱1,000 (or ₱1,200 during peak season starting March 16).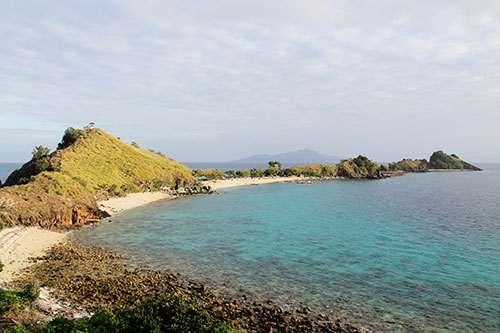 Things to do
Beach bumming. The beach is not actually white sand but crushed corals or pebbles.
Snorkeling and scuba diving.
Boating or kayaking.
Trekking.
Sunset and sunrise watching. The watch tower gives you an awesome view of the island.