I am not sure if Go Hotels patterned their accommodation chain with Tune Hotels but the marketing, the branding, and the offers are almost the same. While Tune Hotels is a sister company of the budget airline, AirAsia; Go Hotels of Robinsons Land Corporation partners with Cebu Pacific Air, also a brand under the Gokongwei group.
Tunes Hotels, however, has established reputation in 5 countries already such as Malaysia, Philippines, United Kingdom, Australia, and India while the Go Hotels chain is only present in the Philippines.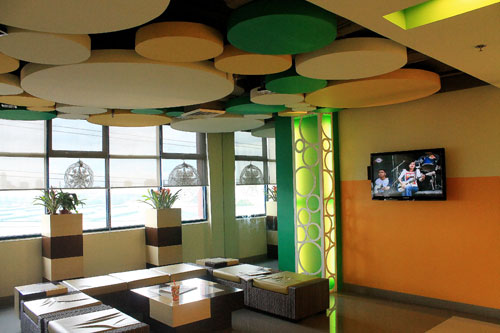 I found a very affordable room at Go Hotels Otis branch so I immediate booked a room for a night – just to experience the overall impression and the quality of sleep they offer.
The hotel does not have its own building, unlike Tune Hotels. It only occupies the 5th of the BPO building beside Robinsons Otis. Getting there was easy anyway. I took the Pandacan-bound ordinary bus from SM City Manila.
I particularly liked the green and yellow circles on the walls and ceilings. The design actually reinforces the branding and any customer would immediately recognize that they are in the Go Hotels vicinity.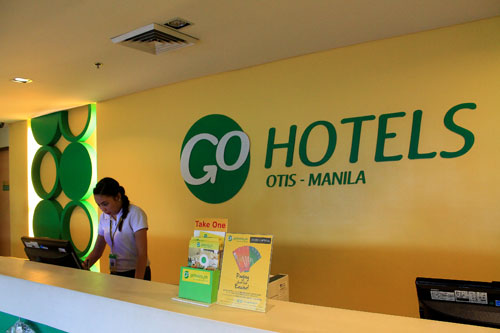 Check in was fast and easy, thanks to the warm, welcoming and accommodating reception staffs. They handed me the access card and the 24-hour Wifi access pass and briefed me about the hotel policies. The "Strictly No Smoking" policy is always highlighted.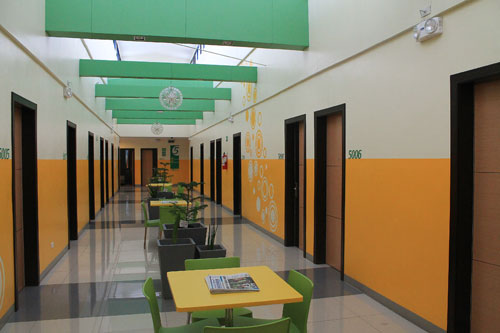 Unlike any other hotels, the hallways of Go Hotels Otis is designed to be wide enough so that they can put up multi-purpose chairs and tables. Guests can use them for dining, accepting visiting friends, and for a small gathering.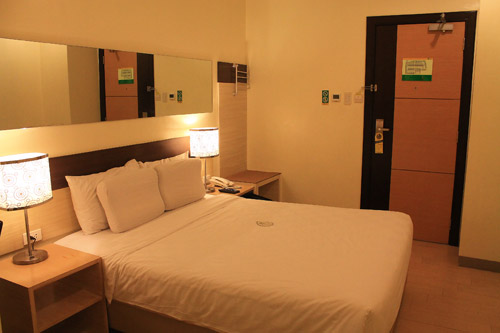 When I got to my room, Tada! It was sweet with extra pillows, smooth linens, and pampering bed. The room also had a wall-attached folding table, a 32-inch flat screen TV with international channels, a bigger comfort/power room, and a set of toiletries. I just paid below a thousand-peso for the room but I had the complete set. There was no breakfast though.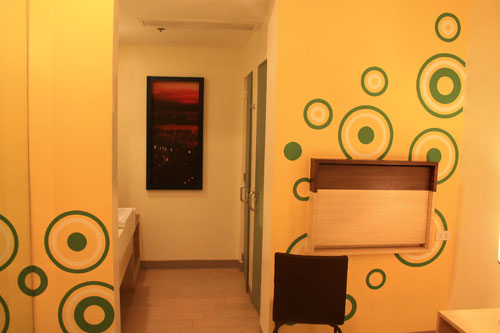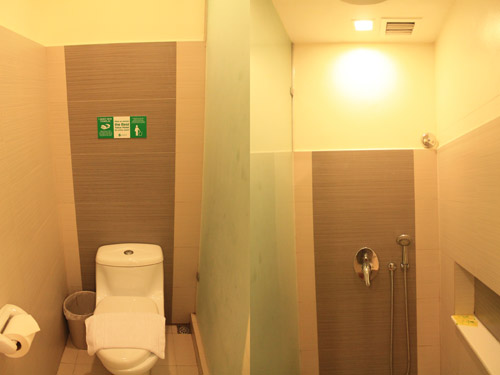 I also noticed that I got no window in my room making cellular signals very scarce and WiFi speed really slow. Well, if your intention is just to sleep, then you don't need them as much.
The experience of the stay was great. It would be excellent if the WiFi is faster so I could finish a blog article or a window is available so I could use my own data.
For bookings, check their rates at Agoda.