From El Nido, I planned to take the 10PM bus bound for Puerto Princesa for me to catch my 11:55AM flight the following day. However, the plan changed. I thought that I must take a good rest before going home since I still have to report to the office few hours after my arrival in Manila.
I looked for a cheap yet comfortable place to stay in Puerto Princesa through Agoda. Then I found Centris Inn which offers the best rate. My requirement was just a place to stay – I don't need the other perks. I immediately booked the only available room.
So, instead of leaving El Nido at 10PM, I left the town at 9AM. My itinerary wasn't ruined though. I already completed both Tours A and C and I don't have any particular plans for my last day, hence, it is fine if I leave early. Also, I need to make my stay sulit.
I arrive in Puerto Princesa's San Jose Bus terminal past 3PM. One tricycle driver offered to bring me to Mercado de San Miguel, where Centris Inn is located. I bluntly declined when he asked ₱120.00 for the one-way trip. "Hello!?, Manong, that is corruption!" (shouting inside me). So, I boarded a multicab to the city proper and paid a humble ₱8.00.
Mercado de San Miguel is easy to recognized since it is one of the few new structures of the main road (Puerto Princesa North Road). I asked the driver to pull over when I got a glimpse of it.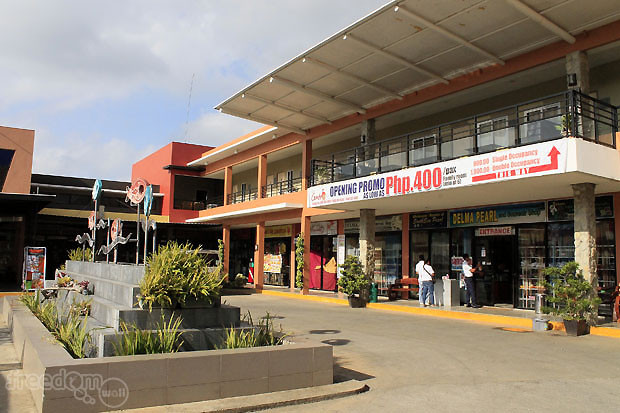 Centris Inn is situated in the second level of the main building of Mercado de San Miguel. I took the right stairs and the reception was right next to it in the second floor. I presented the electronic copy of my booking and viola, I got checked-in without further hassles.
They handed me the key with a huge wooden key holder and showed me the way to my room.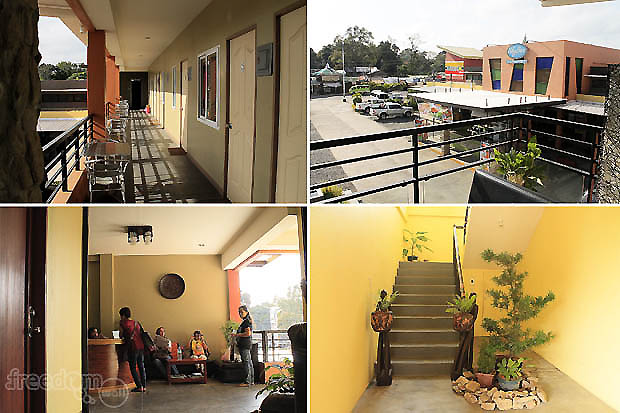 It was a bit impressive for its price. I only paid ₱714.00 at Agoda but I got a spacious room with a queen-sized bed, a not-so-sossy couch, a drinking table, a study table, A/C with electric fan, a 21″ flat screen TV, towels, and a T&B with hot and cold shower. However, it didn't include any breakfast. Well, that wasn't an issue since restaurants were just a staircase away.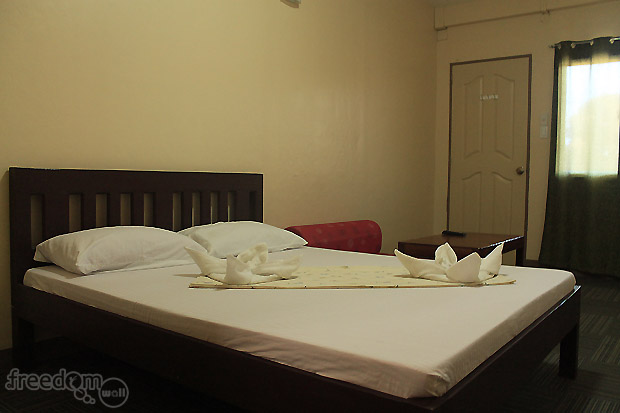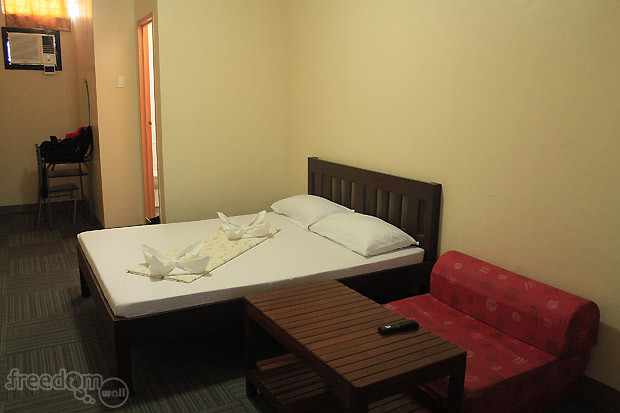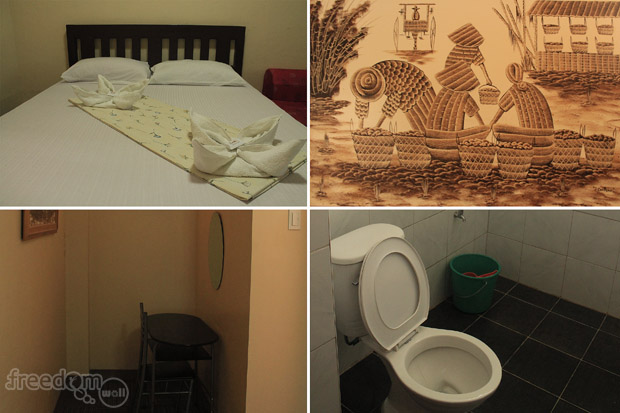 Outside the room is another table set where you can relax, count the number of cars that pass, smoke, or drink your favorite beer. In the middle of the hallway are grand couches where you meet-and-greet with other guests and groove to the beat of music of the live band just nearby.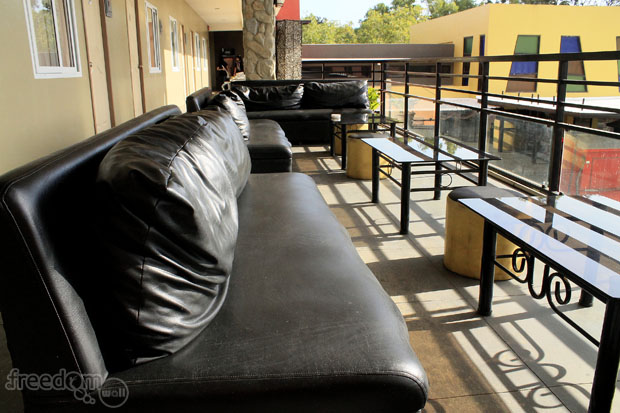 Once hungry, you can select from the number of restaurants downstairs. Pasalubong centers are also open to offer you some bring home options while a convenient store is open to sell items you need during your stay.
The only downside I remembered was that, I can hear the loud music from the outside, and the footsteps and chitchats of those passers-by along the hallway. The partitions are also made of plywood (probably two layers) so I can barely hear what the guests from the adjacent rooms were doing/talking.
But it was still a good stay though.
Rates
As off February 2014, A room like the one I stayed cost ₱800. Just add ₱200 if you are two.
A room that can accommodate 6 persons cost ₱2400. They published ₱400/head but you must be at least 6 in a group to avail such price.
Contact Info
Address: Puerto Princesa North Road, Mercado de San Miguel, Brgy. San Miguel, Puerto Princesa City
Booking Site: Agoda
Contact Number: +63 916 236 2565