I had been to some great destinations around the Philippines. Palawan is a top choice, then there is also Mountain Province, Ifugao, Cebu, Camiguin, and a lot more. I had been to some random southeast Asian destinations too. To mention, I backpacked Thailand, Cambodia, and Vietnam in 2013 followed by Indonesia–Singapore–Malaysia series in 2014.
[Related Post: 15 Interesting Places in the Philippines to Spend the Long Weekend]
You might be wondering how I managed to pay all these travels despite being a middle-income employee. Well, to tell you honestly, I only have three secrets: I plan a year ahead to get promo airline tickets, buy attraction passes in advance at a discount, and book hotel accommodations in advance.
Cebu Pacific Air, AirAsia, Tiger Airways, JetStar, and Malindo Air offer relatively low airline tickets in Southeast Asia on special occasions. It's better that you subscribe to their respective newsletters and updates to receive ticket sale notifications.
There are places that are visited because of their attractions. Hong Kong, for instance, have Disneyland and OceanPark. When I visited Hong Kong before, I bought my tickets in advance and got them with significant discounts. You can also book discounted attraction tickets/passes for Hong Kong, South Korea, Thailand, Singapore, etc at Klook.com.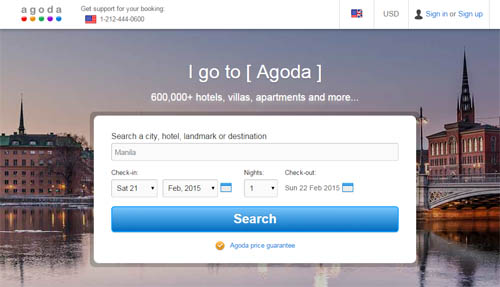 When it comes to hotel accommodation, I usually book at Agoda.com. They regularly offer Flash Friday Deal wherein participating hotels cut their prices by up to 50%. You got it right – I usually book my accommodations on Fridays.
Tune Hotels, for example, sell add-ons on top of the room rates, however, when you book your Tune Hotel room at Agoda, you have all the cozy add-ons included at a lower price.
Make sure that you read all the terms and inclusions (breakfast, bed size, room view, etc.) when you do the booking.
Ready for your next adventure? Book your hotel now at Agoda.