I jestingly invited my friends to witness the live crucifixions and penitential rites in San Pedro Cutud an eve prior to the village's annual Lenten programs. Unknowingly, one of them ( Mico) had seriously taken the invitation. Since I was prying too of seeing these individuals nailed on the cross, I set our rendezvous and met at 9:00AM (which was previously scheduled at 11:00AM).
It was pesky knowing that Genesis Bus in Pasay has suspended its travel operations during Good Friday, so we walked further and tried Five Star Bus in Tramo Street. Unfortunately, they had no trips going or passing San Fernando, Pampanga.
But our hopes wasn't frail, thus we continued walking and reached Victory Liner terminal. So lucky we were when a bus for Guagua, Pampanga was about to depart. 'Twas 11:00AM when we got off at SM City San Fernando and negotiated a tricycle for 50 pesos each to bring us directly to San Pedro Cutud.
It was my first time to visit the place and it was surprising that a small village was overly populated with foreign and local tourist alike, media men, and photojournalists equipped with sophisticated cameras.
The re-enactment rites started when Pontius Pilate tried Jesus in front of the people then carried his cross to "Mount Calvary". A mound especially created to mimic Mt Calvary was fenced to avoid spectators to flock closely. Again, Ruben Enage, role played as Jesus Christ and was been nailed for the 26th time since 1985. The Lenten Rites in San Pedro Cutud was first played in 1955.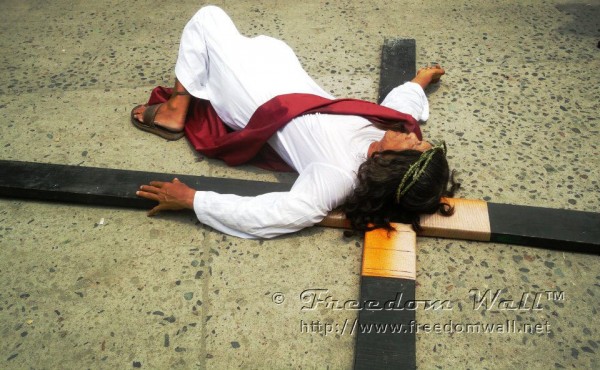 There were 9 individuals being crucified while three women were denied including the students who submitted themselves for crucifixion for their thesis.