Lectures, in the Philippines, are not only held in classrooms, business conferences or meetings, company-related functions, or tutorials sessions but also in a court hearing, broadcasted live and or in delayed telecast on the national television.
While the impeachment trial is one of the most followed telenovela-like series on most of the Philippine broadcast channels,  the impeachment court is acting as the classroom for the feisty law mentor, Senator-Judge Miriam Defensor-Santiago. With the principal (Senate President Juan Ponce Enrile) and fellows (The rest of the Senator Judges) watching, the lady senator is teaching the prosecution team constitutional laws.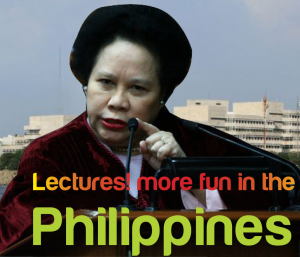 What a shame that these individuals, who had already passed the bar, are again receiving lectures in front of the public. You can not hurdle Bachelor of Laws if you're not a responsible student during your learning years (elementary to college) but these gentlemen were not showing responsibility, scolded for not doing their assignments and being not ready for the trial.
Senator Santiago's lectures are indeed more fun and only in the Philippines.