The holiday season is just around the corner. Christmas carols are playing over the air lanes, vibrant lights are dazzling on the streets, and people are on the shopping rush. And as we fill the final pages of 2016, we anticipate for the opportunities in the year to come. We start to plot our plans and look forward for a fruitful and eventful 2017.
The 2017 Giving Journal
The 2017 Giving Journal of The Coffee Bean & Tea Leaf® (CBTL) is a perfect complement for all those plans that you project and, eventually, the memories that you will create.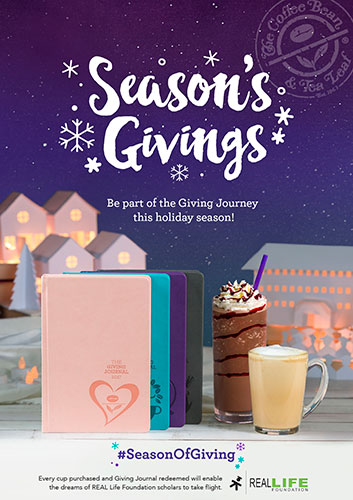 The journal comes in four colors—rose, purple, gray, and turquoise. The smooth, leather-like cover is embossed with symbols that represent how Coffee Bean promotes goodwill and participates in community and social development.
Through the 2017 Giving Journal, you empower scholars by giving them gift of education through the Real LIFE Foundation, the Giving Journal's beneficiary since 2011. By supporting their educational needs, you bring them one step closer to achieving their goals, enabling their dreams to take flight.

– The Coffee Bean & Tea Leaf®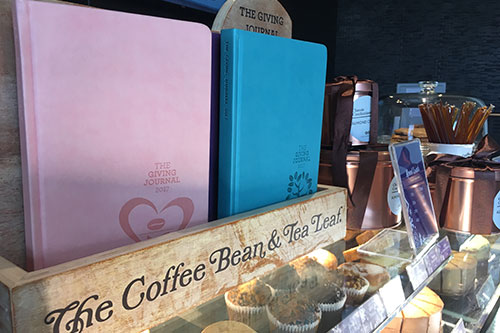 I am definitely getting a journal this year, not to blend in with the year-end trend, but to support the noble cause behind it.
How to Avail the Journal
Starting October 22, Coffee Bean patrons can now start collecting stamps from all CBTL stores around the Philippines. You only need to fill the 12 circles of the stamp card with stamps which you can earn after purchasing the corresponding beverage. Once the stamp card is filled, you can have it exchanged with your preferred journal. By the way, buying a box of CBTL™ capsules earns you two stamps.
If you can't wait any longer, you can purchase the CBTL™ Single Serve Beverage System that comes with a free 2017 Giving Journal.
About CBTL
The Coffee Bean & Tea Leaf® was established by Herbert and Mona Hyman in Brentwood, California in 1963 with a commitment to bring premium beverage flavors to different parts of the world. When it launched, it was the first to offer freshly roasted gourmet coffees and tea.
In less than twenty years, the brand expanded and diversified its products. The Original Ice Blended® line started the iced coffee craze.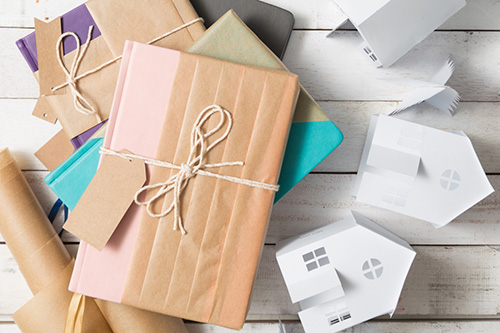 The CBTL franchise reached the Philippines only in 2003 and has rapidly expanded to nearly 100 branches nationwide.
Connect with Coffee Bean & Tea Leaf®
You may connect with Coffee Bean & Tea Leaf® using the following sites and social media accounts
Website: http://www.coffeebean.com.ph/ | brewyourbestyear.com
Facebook: The Coffee Bean & Tea Leaf (Philippines)
Instagram: @CBTLPH | @BrewPH
Twitter: @CBTLPH | @BrewPH