There is something very special about the island of Macau. Formerly a Portuguese colony, this autonomous region is now back in the hands of the People's Republic of China. Nevertheless, it reflects a huge mix of cultural influences, and is a fascinating place to visit. Given its westernized past, it's unlike anywhere else in China. That is why, it should be on the bucket list for anyone looking to travel across Asia. If you want to know more about Macau and its traditions, be sure to put these must-see attractions on your to-do list.
Senado Square
This architecturally-stunning square has been the urban centre of Macau for a number of centuries and remains a key location for locals today. The paths still have Portuguese influence with the mosaic-style paving. It provides a timely reminder of Macau's western past. The fountain is the centerpiece of Senado Square, surrounded by majestic neo-classical buildings. You'll find the old Senate building directly opposite the fountain.
Ruins of St Paul's
The ruins of a 17th-century cathedral comprise one of the most unmistakable sights in Macau. Built originally to house St Paul's College, it is now recognised officially by UNESCO as a World Heritage Site. The Macanese government have restored the cathedral's ruins and transformed them into a museum.
Venetian Macau and Parisian Macau
Macau's casino scene is second-to-none in Asia. In fact, in terms of gaming revenues, it even puts Las Vegas in the shadows. Being one of the world's biggest casino resorts, a trip to Venetian Macau is an experience itself, with its lavish Italian-themed interiors. Slightly newer than the Venetian, the Parisian Macau is yet another casino resort. Its theme is inspired on the city of Paris, which has its own replica of the famed Eiffel Tower. Note that if you're a complete novice when it comes to playing in a casino, you'll need to know what to say and how to behave.
Rua du Cunha
This narrow side street is named after Portuguese explorer, Tristao da Cunha. It's arguably the place to be for fanatical foodies. Street food is a big deal in Macau, and if you're not afraid to try new things, make sure that you take a slow amble down this tight alleyway to sample local delicacies such as Lowd Stow, Gelatina Mok Yi Kei, and the unmistakable Seng Cheong Crab Porridge.
Macau Tower
Day or night, the Macau Tower offers magnificent 360-degree views of the city. At 338 meters in height, it has an impressive observation deck that allows you to stare into the Pearl River Delta. A third of the way down the tower, there is a revolving restaurant at 223 meters, which is perfect for a romantic meal to celebrate that special occasion.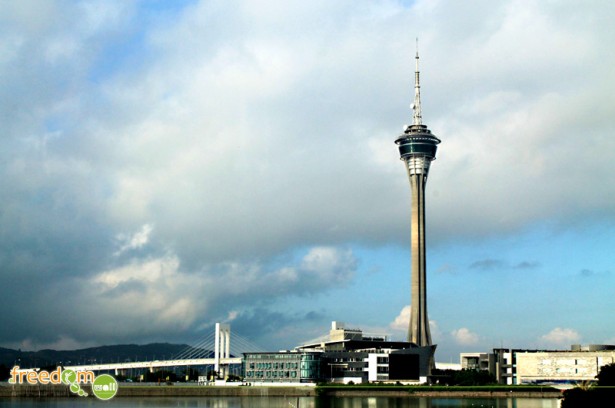 Macau Giant Panda Pavilion
Animal lovers will adore a visit to the Macau Giant Panda Pavilion, with two 330 sqm indoor areas, as well as a 600 sqm outdoor space for the pandas to explore. There are two different viewing levels, which ensures that it never gets too busy either for the visitors or the giant pandas.
As you can see, Macau is a rich and varied city, from the glitz and glamour of its casino scene to its Portuguese ruins and monuments. It's also a stone's throw from Hong Kong, which is also a magnificent city to explore from Macau by boat. Happy travels!