Cebu is unarguably one of the Philippines' major gastronomic destination. People experiment on spices and try whatever is ostensible in the kitchen. And when it clicked, expect it soon in the eateries and eventually in restaurants.
Local cooking includes larang, tuslob-bua, balbacua, dugo-dugo, paklay, lansiao, and many more. Some of these dishes were local version of Luzon's famous staples with a slight deviation in terms of the preparation. Larang, for instance, is pretty close to sinigang sa kamias. The way it is cooked, however, is different. Larang includes sauteing contrary to that of sinigang.
Cebuanos are discriminatory when it comes to taste but conscious when it comes to budget. However, paying a premium is not an issue for a premium flavor.
Cebu Food Trip
Connections and friends are the most influential when deciding where to eat. Viva voce works perfectly when we talk about food marketing in Cebu. If they like the food, then tend to be a bunch of loyalist.
It took me three months here in Cebu to come up with a list. Here are the local suggested places and foods you should try on your next Cebu visit.
Yummy Lechon, the Tastiest Pig
If you've been to Singapore, you could relate if I say, Lechon de Cebu is a "die, die, must-try".
Locals recommend Rico's Lechon, CnT, and Kusina ni Nasing.
Rico's and CnT Lechon are just two of the top places to go when locals crave for lechon. They prepare their lechon the traditional way and cooked on a low charcoal heat.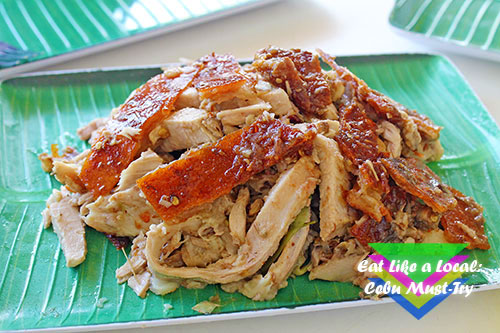 Kusina ni Nasing, on the other hand, offers boneless lechon which skin's crispiness could last for more than a day. It's the tastiest I've ever tasted, at least for me, especially the parts that come in contact with the spices.
Visit their humble "lechonan" along V. Rama Street and try the original and spicy versions of their lechon.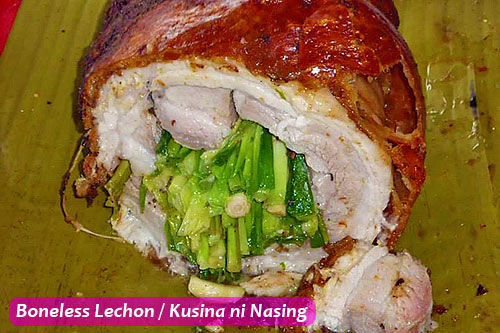 Siomai sa Tisa, Wanna Try? You Should Try!
Many claim to have started it all but one thing is sure, you should try the siomai at Barangay Tisa for at least once and join the local craze.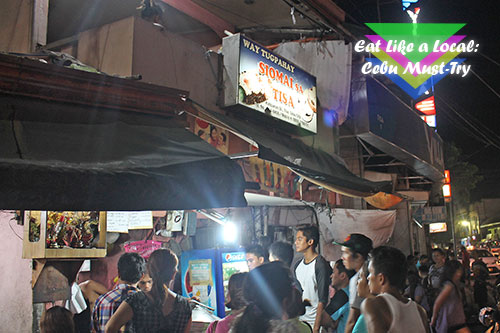 If you want an interesting siomai twist, try the ones sold at Braddex. Braddex, known for their steamed rice, infused boiled duck eggs on their siomai.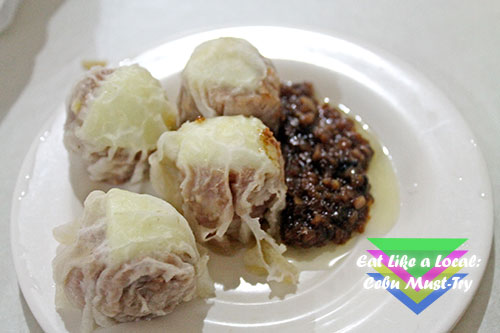 Chinese Ngohiong Ma'am, Sir!
Ngohiong (or Ngoyong) when partnered with hanging rice or pusô, is a favorite meal, especially for the tight budgeted. This specially-seasoned ground heart of palm and white turnip roll tastes really good when freshly fried.
Chinese Ngohiong near University of San Carlos (USC) and Lotching's Chinese Ngohiong along Tojong Street in Ayala are the most recommended.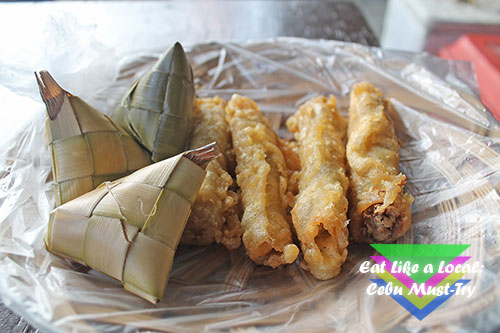 Take Home Liempo
A friend approached me one time and asked, "Ian, have you tried Balamban Liempo?". I said no. And then, she immediately told me to try it as soon as possible. So after office, I went to the closest branch and ordered a piece. I finished a serving that is enough to feed up to three individuals. The tenderness of the meat, the crunchiness of the skin, and the spiciness of every bite all blended well to give me an unforgettable munch.
Kusina ni Nasing is also one of the most sought after liempo roasters in the city.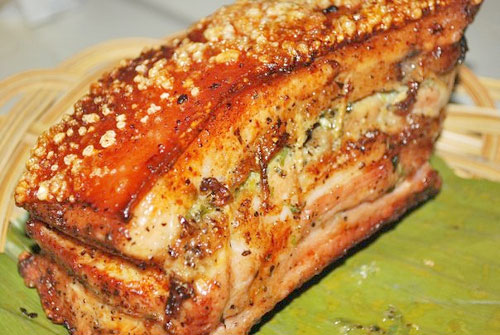 The Halo-halo Concert
In Manila, you can only find halo-halo in a fast-food or on select restaurants where it is offered as a dessert option. And then, there is one chain selling halo-halo from Pampanga that tries to penetrate everywhere with their very limited ingredients. There is actually no "where to go" place when you crave for a vibrant-filled halo-halo in the capital.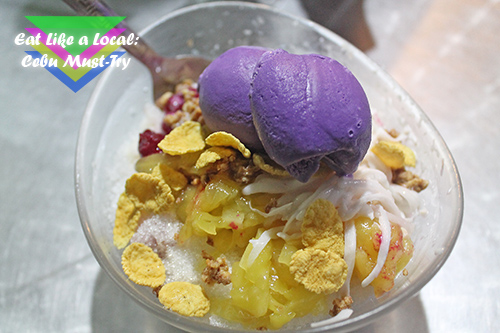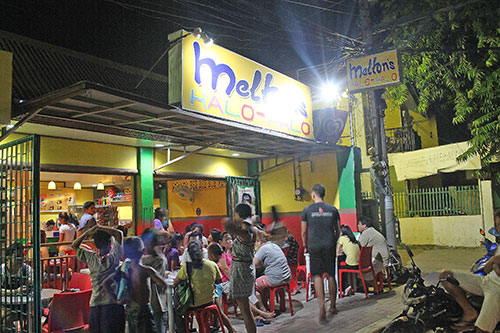 In Cebu, you can have a halo-halo feast at Melton's Halo-halo and try their fruity twist or experience the gelatin-filled and creamy bowl at Ice Castle.
Monbis in Barangay Tisa offers a very interesting version. Instead of using normal ice, they replace it with crushed iced candy making your cup a lot flavorful.
If you go down south of the metro, you can also try Victoria's Halo-Halo in Barangay San Isidro, Talisay City, Cebu.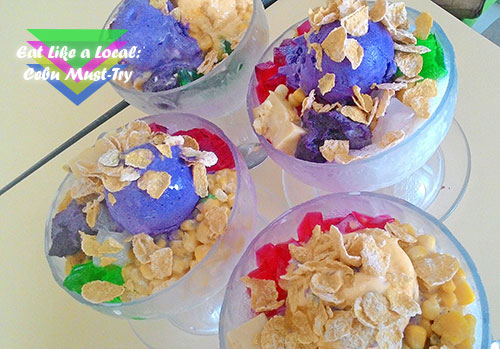 SuTuKil ta Bay!
Sutukil is SUgba (or sinugba which means grilled), TUwa (or tinolang isda which means fish stew), and KILaw (or kinilaw/kilawan which is similar to that of ceviche). At a traditional set up, you'll buy a big fish, usually trevally, skipjack tuna, or mackerel, and then have it cooked the sutukil way. The head part will be stewed, some of the flesh will be processed into ceviche, and the rest will be grilled.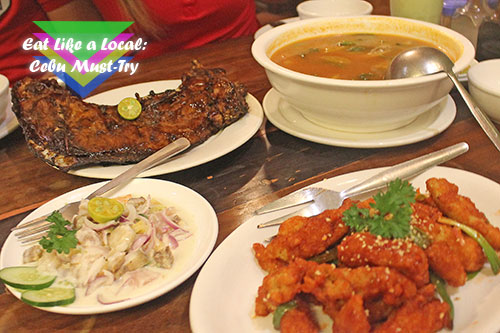 Sutukil is very familiar to the rural areas of Cebu province. In the city, a close version is offered at STK ta Bay! Paolito's Seafood House. Aside from sutukil, STK ta Bay! also offers a bunch of house specialties and must-try. The decorations of the dining area are also fascinating, creating an entirely different dining experience.
Eat Like a Local: Larsian BBQ and Pungko-pungko
A Cebuano friend told me that you've never been to Cebu if you haven't tried the barbecue at Larsian. So, when I got a chance, I tried it with my visiting friends.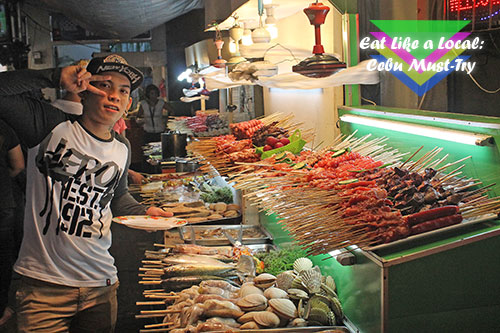 Since Larsian is a complex, a lot of barbecue operators here will approach you on your visit, summarizing their freebies just to get you seated at their stall. Though this may be overwhelming sometimes, listen to their offers carefully to bargain and get discounts.
Avoid the seafood though, they are way more expensive. However, it is still worth a try. Now you're confused.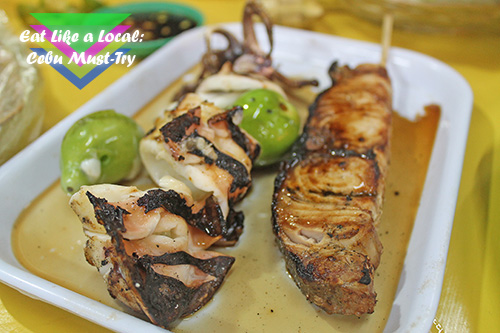 Pungko-pungko is affordable and more fun. Eating needs no spoon and fork nor chopsticks, but bare-handed. You have an option to wrap your hands with plastic if you have sanitary issues. Meals at pungko-pungko are everything fried paired with hanging rice or pusô. You can try spring rolls, ngohiong, lumpia, crablets, lengua, chicken/chicken skin, hotdog, pork fat, intestines, meat balls, etc.
Pungko-pungko, by the way, is street food dining in Cebu where patrons squat or seat on makeshift bench or mono blocks chairs along sidewalks or wherever the local government allows for this purpose.
Schedule your next Cebu food trip now.